Articles by George Dvorsky
We found 1 results.
---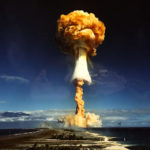 Morbid Researchers Imagine a 'Best-Case Scenario' for Nuclear War, and the Results Are Grim
George Dvorsky | Gizmodo – TRANSCEND Media Service, 20 Jun 2018
13 Jun 2018 – New research published today in the peer-reviewed journal Safety suggests no nation should possess more than 100 nuclear warheads. This is the maximum number, beyond which the blowback from a nuclear strike will affect the aggressor nation in the form of environmental, socioeconomic, and agricultural devastation, in addition to serious losses of life at home—even in the event the enemy doesn't retaliate with its own nuclear missile strike.
→ read full article
---