Articles by Glenn Greenwald and David Miranda
We found 2 results.
---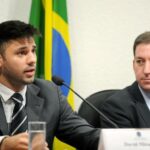 The Far-Right Bolsonaro Movement Wants Us Dead. But We Will Not Give Up
Glenn Greenwald and David Miranda – The Guardian, 3 Feb 2020
29 Jan 2020 – Courage is contagious. Those are the people who inspire us and so many like us in Bolsonaro's Brazil who are confronting state repression to defend the democracy that so many people suffered so much to bring about. Demagogues and despots like Bolsonaro are a dime a dozen. They centrally rely on intimidation, fear and the use of state repression to consolidate power. A refusal to give into that fear, but instead to join hands with those who intend to fight against it, is always the antidote to this toxin.
→ read full article
---
NSA's Top Brazilian Political and Financial Targets Revealed by New WikiLeaks Disclosure
Glenn Greenwald and David Miranda – The Intercept, 6 Jul 2015
4 Jul 2015 – President Rousseff just yesterday returned to Brazil after a trip to the U.S. that included a meeting with President Obama, a visit she had delayed for almost two years in anger over prior revelations of NSA spying on Brazil.
→ read full article
---