Articles by Glenn Greenwald and Victor Pougy
We found 1 results.
---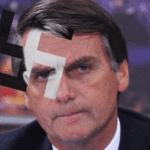 Bolsonaro, under Fire, Dismisses His Culture Minister for Giving a Nazi Speech, but It Is Still Representative of Brazil's Governing Ethos
Glenn Greenwald and Victor Pougy – The Intercept, 20 Jan 2020
18 Jan 2020 – Brazilian President Jair Bolsonaro, under severe pressure from multiple corners, yesterday fired his Culture Minister, Roberto Alvim, for recording and publishing what can only be described — with no hyperbole — as a Nazi speech about Brazilian art. WATCH: the literal Nazi speech with English subtitles that has shone a light on the true ideology of the Bolsonaro movement.
→ read full article
---