Articles by James Badcock
We found 1 results.
---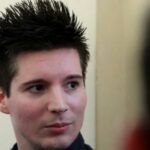 Portuguese Whistleblower Named as Leaker behind Isabel dos Santos Leaks
James Badcock – The Telegraph, 3 Feb 2020
27 Jan 2020 – A Portuguese whistleblower has claimed responsibility for leaked files that allegedly implicate Isabel dos Santos, the billionaire daughter of the former Angolan president, in murky international business deals. Lawyers for Rui Pinto today claimed he was behind the so-called "Luanda Leaks" and likened him to the whistleblower Edward Snowden.
→ read full article
---