Articles by Kate Hodal
We found 3 results.
---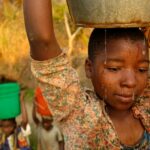 World's 22 Richest Men Wealthier Than All the Women in Africa, Study Finds
Kate Hodal – The Guardian, 3 Feb 2020
20 Jan 2020 – The world's 22 richest men have more combined wealth than all 325 million women in Africa. Startling scale of inequality laid bare as Oxfam report highlights chronically undervalued nature of care work.
→ read full article
---
Revealed: Asian Slave Labour Producing Prawns for Supermarkets in US, UK
Kate Hodal, Chris Kelly and Felicity Lawrence – The Guardian, 30 Jun 2014
Thai 'ghost ships' that enslave, brutalise and even kill workers are linked to global shrimp supply chain, Guardian investigation discovers.
→ read full article
---
Journalist Seeking Truth about Khmer Rouge 'Fears for His Life'
Kate Hodal in Phnom Penh – The Guardian, 2 Apr 2012
Award-winning film-maker Thet Sambath says he has been followed, harassed and chased during his research.
→ read full article
---