Articles by Kyle Swenson
We found 1 results.
---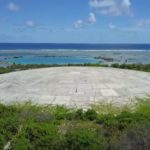 The U.S. Put Nuclear Waste under a Dome on a Pacific Island–Now It's Cracking Open
Kyle Swenson – The Washington Post, 27 May 2019
20 May 2019 – Radioactive material was transported to Runit Island, where a 328-foot crater remained from a May 1958 test explosion. Locals took to calling it "The Tomb." In 1980, a massive concrete dome — 18 inches thick and shaped like a flying saucer — was placed over the fallout debris. Although the $218 million project was supposed to be temporary, no further plans were hatched. Cracks have reportedly started to appear in the dome. Part of the threat is that the crater was never properly lined, meaning that rising seawater could breach the structural integrity.
→ read full article
---