Articles by Laura Geggel
We found 2 results.
---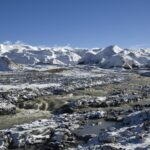 Ancient Never-Before-Seen Viruses Discovered Locked up in Tibetan Glacier
Laura Geggel | Live Science – TRANSCEND Media Service, 27 Jan 2020
22 Jan 2020 – For the past 15,000 years, a glacier on the northwestern Tibetan Plateau has hosted a party for some unusual guests: an ensemble of frozen viruses. Scientists recently took a look at two ice cores from this melting Tibetan glacier, revealing the existence of 28 never-before-seen virus groups unknown to modern science.
→ read full article
---
The 10 Happiest Countries Are All in Latin America
Laura Geggel, Live Science – TRANSCEND Media Service, 23 Mar 2015
20 Mar 2015 – For the first time in a decade, the top 10 happiest countries in the world are all in Latin America, according to the 2014 Gallup Positive Experience Index.
→ read full article
---