Articles by Nayd Riham
We found 1 results.
---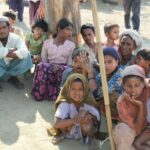 Are We Out of Options on Myanmar?
Nayd Riham | Pressenza - TRANSCEND Media Service, 23 Aug 2021
22 Aug 2021 – Rohima Kadu's idyllic village of Rakhine was visited by Myanmar's much-dreaded military, the Tatmadaw and its local Buddhist militia associates. A helpless Rohingya widow of 50, Rohima's eldest daughter was bedridden with malaria and too weak to run. So, Rohima grabbed her grandchildren and fled to the nearby forest. She returned when the pillaging was over, but all that remained was a charred skull of her daughter lying on the ground.
→ read full article
---