Articles by Oliver Holmes
We found 3 results.
---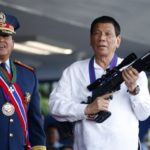 Philippines' Duterte Shops for Arms on Controversial Israel Trip
Oliver Holmes – The Guardian, 3 Sep 2018
2 Sep 2018 – The Philippine president, Rodrigo Duterte, who once compared himself to Hitler and his bloody war on drugs to the Holocaust, will meet the Israeli prime minister, Benjamin Netanyahu, on Monday [3 Sep] on a first visit by a Filipino head of state to Israel.
→ read full article
---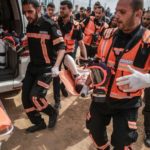 Palestinians Hold Day of Mourning after 773 'Shot with Live Ammunition'
Hazem Balousha and Oliver Holmes – The Guardian, 2 Apr 2018
31 Mar 2018 – Gaza hospitals, running low on blood and overstretched by the huge number of wounded, were reeling after one of the enclave's bloodiest days outside of open war, in which Israeli soldiers shot 773 people with live ammunition, according to the ministry of health.
→ read full article
---
UN Report on Rohingya Hunger Is Shelved at Myanmar's Request
Oliver Holmes – The Guardian, 23 Oct 2017
17 Oct 2017 – The United Nations food aid agency withdrew a critical report revealing desperate hunger among the persecuted Rohingya population after the Myanmar government demanded it be taken down, the Guardian has learned. Document warned of spiralling food crisis among Rohingya population.
→ read full article
---