Articles by Patrick Wintour
We found 3 results.
---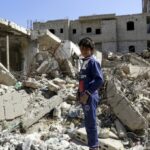 UN Predicts 'Famine Not Seen in 40 Years' Due to Pompeo's Yemen Policy
Patrick Wintour | The Guardian - TRANSCEND Media Service, 25 Jan 2021
14 Jan 2021 – Mike Pompeo's designation of Houthis as foreign terror group will block food and other aid, senior humanitarian says.
→ read full article
---
Growing Awareness of Colonial Past Fuels Radicalisation, Says Czech Minister
Patrick Wintour – The Guardian, 26 Jun 2017
An awakening in the Muslim world about the atrocities committed in the West's colonial past is feeding contemporary radicalisation of communities, said the Czech foreign minister on Wednesday [14 Jun]. Lubomír Zaorálek, likely Social Democrat candidate for prime minister, says in dark speech that the West has 20 years to reach a settlement with Muslim world.
→ read full article
---
Guardian's NSA Revelations: Spies to Go under Spotlight
Patrick Wintour, Rowena Mason and Dan Roberts – The Guardian, 14 Oct 2013
British deputy prime minister Nick Clegg is to start conversations in government about how to update the legal oversight of the UK's security services in the light of disclosures by the Guardian that powerful new technologies appear to have outstripped the current system of legislative and political oversight.
→ read full article
---