Articles by Rich Warner
We found 1 results.
---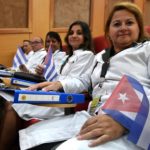 Why Cuban Doctors in Kenya Don't Deserve the Treatment They're Getting
Rich Warner – The Conversation, 2 Jul 2018
27 Jun 2018 – Well over 131,993 Cuban doctors have taken part in international missions in 107 countries. Kenya is the latest. The first 50 specialists arrived in the country recently, with 50 more to follow. All are expected to work in underserved rural areas. But their arrival has been met with a storm of protest. Some Kenyan health professionals have strongly opposed their arrival on the grounds that they'll be taking away local jobs.
→ read full article
---