Articles by Richard C. Paddock
We found 2 results.
---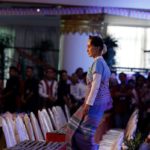 From Hero to Pariah, [Nobel Peace Laureate] Aung San Suu Kyi Dashes Hopes about Myanmar
Richard C. Paddock – The New York Times, 1 Oct 2018
29 Sep 2018 — "Rarely has the reputation of a leader fallen so far, so fast," the International Crisis Group said of Daw Aung San Suu Kyi. Myanmar's civilian leader, once a democracy icon, has become known as an enabler for the ethnic cleansing of Rohingya Muslims and a foe of the free press.
→ read full article
---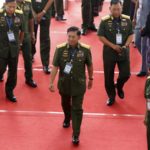 For Myanmar's Army, Ethnic Bloodletting Is Key to Power and Riches
Richard C. Paddock – The New York Times, 5 Feb 2018
27 Jan 2018 – Myanmar's army was born in blood 76 years ago and has been shedding it ever since. Its founders, known as the Thirty Comrades, established the army in 1941 with a ghoulish ceremony in Bangkok, where they drew each other's blood with a single syringe, mixed it in a silver bowl and drank it to seal their vow of loyalty. It has spent the past seven decades warring with its own people.
→ read full article
---