Articles by Richard Hoffman
We found 1 results.
---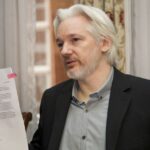 The Prosecution of Julian Assange, the Destruction of Legality and the Rise of the National Security State
Richard Hoffman | WSWS – TRANSCEND Media Service, 20 Jan 2020
15 Jan 2020 – It is worthwhile to consider briefly the lawless character of Assange's persecution by Britain, the United States and Sweden. Since the beginning, Assange has been subjected to endless procedural abuses and political interference in the legal process. Virtually every customary precept, practice and procedural protection, which an accused is traditionally afforded, has been discarded in the effort to railroad him. The disintegration of the democratic system and the rise of the national security state are hallmarks of the deepening crisis of imperialism.
→ read full article
---