Articles by Shawn Gude
We found 1 results.
---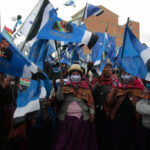 Evo Morales's Party's Massive Victory Is a Rebuke to US Elites Who Hailed the Coup
Shawn Gude | Jacobin - TRANSCEND Media Service, 26 Oct 2020
19 Oct 2020 – Immediately after last year's right-wing coup in Bolivia, US elites, including many liberals, celebrated or excused the putsch against Evo Morales. Yesterday's resounding electoral win for Morales's party is a rebuke to all of their bloviating nonsense — and a massive triumph for democracy in Bolivia.
→ read full article
---