Articles by Susan Abulhawa
We found 2 results.
---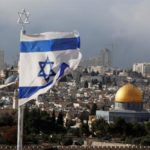 Israel's 'Nation-State Law' Parallels the Nazi Nuremberg Laws
Susan Abulhawa – Al Jazeera, 30 Jul 2018
Israel's new 'nation-state' law follows in the footsteps of Jim Crow, the Indian Removal Act and the Nuremberg Laws.
→ read full article
---
'Tears of Gaza' The Movie (on TMS In-Depth Videos)
Susan Abulhawa – TRANSCEND Media Service, 26 Sep 2011
And we should all allow our hearts be broken over Gaza. It's the least we can do. To hear these three children and ask others to hear them is the very least we can do. Vibeke Lokkeberg has given us a monumentally important record of what happened in December 2009 to January 2010; so no one can ever say "I didn't know".
→ read full article
---