Articles by Taha Siddiqui
We found 1 results.
---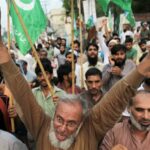 Pakistan Is No Friend of Kashmir, Either
Taha Siddiqui – Al Jazeera, 16 Sep 2019
11 Sep 2019 – Here's why. While the world indeed needs to take action on ongoing crackdown and rights abuses in India, it should not overlook the role Pakistan has played in the Kashmiri tragedy.
→ read full article
---