Articles by Tanka Prasad Pokharel
We found 1 results.
---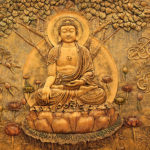 Buddhist Councils: Means and Ends for Clarity and Revitalization
Tanka Prasad Pokharel – TRANSCEND Media Service, 6 Aug 2018
Buddhism is continuously refined and evolved through practices, conventions and councils. Buddhist councils are very less often talked topic about Buddhism. This article examines the history of Buddhist councils and synods from the early gatherings after the demise of the Buddha to the 4th Buddhist Council in the 1st century.
→ read full article
---