Articles by Ted Snider
We found 3 results.
---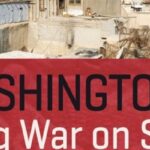 Why Are We Still at War with Syria?
Ted Snider | Antiwar - TRANSCEND Media Service, 2 Aug 2021
15 Jul 2021 – While congress continues to ask Biden to justify bombing Syria without congressional approval, the real question is: Why is the US bombing and sanctioning Syria at all?
→ read full article
---
North Korea's Rational Nuclear Strategy
Ted Snider – Consortium News, 2 Oct 2017
A favorite tactic of U.S. war propaganda is to label a foreign adversary "crazy" to justify a military attack — as is now happening with North Korea's Kim Jong-un although his nuclear program really makes logical sense.
→ read full article
---
THE WAR WITHOUT A WAR
Ted Snider - ZNet, 5 Apr 2010
There are no U.S. troops in Venezuela, but, make no mistake, the war is on. There is more than one way to change a regime. Recent history has shown the United States that the most obvious one, the one employed or permitted in Honduras, will not work in Venezuela. That has already been tried. When […]
→ read full article
---