Articles by The Week
We found 3 results.
---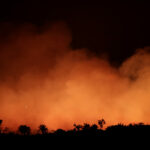 The Destruction of the Amazon, Explained
The Week – TRANSCEND Media Service, 9 Sep 2019
1 Sep 2019 – The "lungs of the earth" are on fire, and shrinking every day. What are the consequences for the planet? Here's everything you need to know:
→ read full article
---
Samsung Warns Customers Not to Discuss Personal Information in Front of Smart TVs
Meghan DeMaria, The Week – TRANSCEND Media Service, 22 Feb 2016
The company revealed that the voice activation feature on its smart TVs will capture all nearby conversations. The TV sets can share the information, including sensitive data, with Samsung as well as third-party services.
→ read full article
---
Nepal's Democracy Is Not People-Centric: Galtung
The Weekly Mirror, Nepal – TRANSCEND Media Service, 4 Mar 2013
He said that cease-fire without conflict solution may reopen the violence and conciliation without conflict solution is only pacification. "This may lead to massive instability, general strike, violence. Conflicts must be addressed creatively by the country's leadership in order to genuinely address the people's daily sufferings," he suggested.
→ read full article
---