Articles by Tina Gerhardt
We found 3 results.
---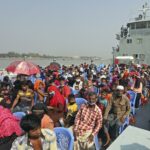 Move of Rohingya Refugees Poses Environmental and Human Rights Concerns
Tina Gerhardt | EcoWatch - TRANSCEND Media Service, 21 Dec 2020
18 Dec 2020 – On December 4, about 1,600 Rohingya traveled across the Bay of Bengal in seven navy boats from Chattogram to Bhasan Char. Bangladesh plans to move 100,000 families to the island. The move poses serious concerns, both with regard to the environment and human rights.
→ read full article
---
Young Activist Faces 10 Years in Prison After Trying to Save Public Lands From Oil and Gas Companies
Tina Gerhardt - AlterNet, 14 Feb 2011
On Friday, December 19, 2008, Tim DeChristopher participated in a public auction. As the Bush administration moved to auction off 77 parcels of federal land totaling 150,000 acres for oil and gas drilling, DeChristopher, a student at the University of Utah at the time, bid $1.7 million for 14 parcels totaling 22,000 acres of land, although he did not have the funds to pay for it. Last year, Dr. James Hansen, Naomi Klein, Bill McKibben, Robert Redford and Terry T. Williams wrote an open letter that was widely circulated in support of TimDeChristopher's "creative protest against runaway energy policy."
→ read full article
---
Baby Steps Made at Climate Summit Pale in Comparison to the Change Needed
Tina Gerhardt - AlterNet, 20 Dec 2010
"All of us will be affected by the lack of ambition and political will of a small group of countries," concluded one NGO.
→ read full article
---