Articles by Vox Populi, Vox Dei
We found 1 results.
---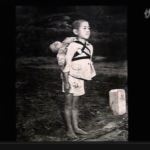 Trump, Kim Need to Grasp Reality of Famed Photo's 'Fruit of War'
Vox Populi, Vox Dei - The Asahi Shimbun, 8 Jan 2018
5 Jan 2018 – A barefoot boy, probably around 10 years old, waits in line at a crematorium. Strapped to his back is his dead baby brother. Staring straight ahead, the boy utters no words. This photo, titled "The boy standing by the crematory," was taken in Nagasaki at the end of World War II by U.S. Marine photographer Joe O'Donnell (1922-2007).
→ read full article
---