Articles by Yochanan Visser
We found 1 results.
---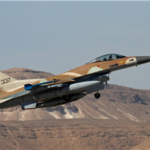 How Israel and the US Are Preparing for War with Iran
Yochanan Visser – Israel Today, 22 Apr 2019
17 Apr 2019 – The US is seriously taking in account that the current tensions with Iran will boil over and will cause a new armed conflict in the Middle East. An unspecified number of American F-35's landed in the United Arab Emirates on Monday [15 Apr]… Another indication that Israel is working in tandem with the US to contain Iran came in the form of a unique missile defense drill which was held in Israel recently… The joint drills between the Israeli army and the US military will result in better preparation for "real-life challenges" according to Brig Gen. Ran Kochav of Israel's missile defense unit.
→ read full article
---