Articles by Zach Campbell
We found 1 results.
---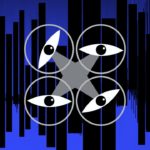 Swarms of Drones, Piloted by Artificial Intelligence, May Soon Patrol Europe's Borders
Zach Campbell – The Intercept, 13 May 2019
11 May 2019 – Imagine you're hiking through the woods near a border. Suddenly, you hear a mechanical buzzing, like a gigantic bee. Two quadcopters have spotted you and swoop in for a closer look. Antennae on both drones pick up the radio frequencies coming from the cell phone in your pocket. Cameras and other sensors try to ascertain your intentions. Are you a threat? Are you illegally crossing a border? Do you have a gun? Are you engaging in acts of terrorism or organized crime?
→ read full article
---