What Child Is This?
IN FOCUS, 17 Dec 2012
Anthony J. Marsella, Ph.D. – TRANSCEND Media Service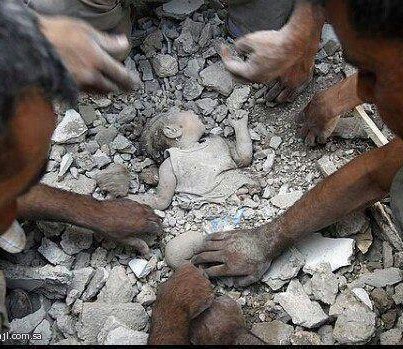 What child is this?  Whose child is this?  Is this child an Iraqi . . . an Israeli . . .  a Chechnyan . . . an Afghani . . . a Kurd?   Is she or he English, Indonesian, Spanish, Lebanese, Turkish, Congolese, Bosnian, Iranian, Brazilian?   Does it matter?  Is this child not a daughter or son to each of us?  Is this child not a human being born of a union of a man and woman whose intimacy, whose passion, whose very breathe yielded a life that sought only to live . . . to enjoy some moments of laughter and delight, some moments of comfort and calm . . . to make yet another life?
Now this child rests amidst the dust and debris of war . . . lifeless . . . torn and shattered… killed by someone whom she or he never knew and would probably never meet.  Death from a distance. . . a bomb from a drone or plane, a shell from a mortar, a strap of explosives . . .  intentional and willing, calculated and planned, a measured effort to destroy.  The source:  an agent of death and destruction, a pilot or soldier, an insurgent or terrorist . . . does it matter? They have killed their own child . . . they have killed our child.  And in doing so, they have diminished each of us as human beings, each of us as creatures of consciousness and conscience, each of us as reflections and carriers of life.  Words cannot console her or his parents — if they, indeed, survived this horror. They are left with only endless pain . . . memories of a child eating, sleeping, playing . . . a reminder of a tragic moment inscribed in mortar and blood.
Enough!  Enough!  Stand, speak, write, act against those who advocate violence and hate no matter the source — be they presidents, kings, prime ministers, generals, terrorists, mullahs, rabbis, dictators, ministers, true believers . . .  tell them that we do not share their quest for power and greed.   Tell them we do not share their hate, nor their blindness and indifference to suffering.  Tell them we do not share their empty post-tragedy rhetoric designed to keep us mired in the fulfillment of their selfish needs, pacified and contented by their explanations and assurances.
THIS IS OUR CHILD!  Today, we claim this child as our own, too late to keep her or him alive, too late to know her or his hopes and dreams, too late to know the promise and possibilities of their life had it been given the chance to be lived free of oppression, abuse, and indignity.   But, we are not too late to affirm to all living children that we will try to protect you, to guard you, and to shelter you from the terror of war and violence, and from an untimely, painful, and meaningless death, by choosing peace over war, voice over silence, and conscience over comfort.
December is often called a "Holy Month" because of the many special holidays celebrated by different religions and cultural groups, including December 5 – Ashura (Islamic), 8 Bodhi (Buddhism), 8-16: Hannukah (Jewish), 25 – Christmas (Christian), and 26 Kwanzaa (African American).  Yet, amidst the professed commitment to peace by these groups, the world is filled with violence, destruction, and war. This is unacceptable.  It is intolerable.  Let every religion and cultural group choose peace over war — without hesitancy, doubt, or excuse, and let them announce their choice on their special December day.
 ________________________
Anthony Marsella, Ph.D., a  member of the TRANSCEND Network, is a past president of Psychologists for Social Responsibility, emeritus professor of psychology at the University of Hawaii, and past director of the World Health Organization Psychiatric Research Center in Honolulu. He is known nationally and internationally as a pioneer figure in the study of culture and psychopathology who challenged the ethnocentrism and racial biases of many assumptions, theories, and practices in psychology and psychiatry. In more recent years, he has been writing and lecturing on peace and social justice. He has published 15 edited books, and more than 250 articles, chapters, book reviews, and popular pieces. He can be reached at marsella@hawaii.edu.
This article originally appeared on Transcend Media Service (TMS) on 17 Dec 2012.
Anticopyright: Editorials and articles originated on TMS may be freely reprinted, disseminated, translated and used as background material, provided an acknowledgement and link to the source, TMS: What Child Is This?, is included. Thank you.
If you enjoyed this article, please donate to TMS to join the growing list of TMS Supporters.


This work is licensed under a CC BY-NC 4.0 License.
6 Responses to "What Child Is This?"