Henry Hikes to Fitchburg: Lovely Illustrated Children's Adaptation of Thoreau's Philosophy, Full of Universal Wisdom for All
LITERATURE, 30 Sep 2013
Maria Popova, BrainPickings – TRANSCEND Media Service
An existential walk into what money can and can't buy.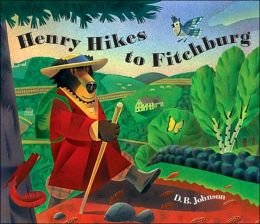 "How we spend our days is, of course, how we spend our lives," Annie Dillard wrote in her sublime meditation on presence vs. productivity. There is hardly a more enduring embodiment of this spirit than Henry David Thoreau, for whom the very definition of success rested on the ability to greet one's day with joy. Yet this philosophy of mindfulness and immersion in the richness of life is increasingly eroded by our culture's cult of productivity, which eats away at our ability to truly see life as it unfolds before us.
That's precisely what author and artist D. B. Johnson aims to counter with Henry Hikes to Fitchburg (public library) — an absolutely wonderful children's story told through Johnson's vibrant, minimalist, infinitely expressive colored-pencil-and-paint-on-paper illustrations. Based on a famous passage from Walden, it contrasts two different approaches to life — one prioritizing productivity and one worshiping wonder. It tells the tale of Thoreau and his unnamed friend, both cast as lovable bears, who decide to meet in the town of Fitchburg one summer evening, thirty miles away. Henry's friend insists that the train is the most efficient way to get there and resolves to work until he has enough money to buy the 90-cent ticket, doing chores for neighbors — including some of Thoreau's equally esteemed contemporaries, like Ralph Waldo Emerson and Nathaniel Hawthorne. But Henry decides that walking, while less "efficient," is the better way to get to Fitchburg — more present, more transcendent, more full of wonder.
Johnson tells young readers:
Henry David Thoreau was a real person who lived in Concord, Massachusetts, more than 150 years ago. He loved to take long walks through the woods and fields and write about the plants and animals he saw there. In his pockets he carried a pencil and paper, a jackknife, some string, a spyglass, a magnifying glass, and a flute. He could easily walk thirty miles in a day with an old music book under his arm for pressing plants and a walking stick that was notched for measuring things. … Henry thought people could live happily without big houses, lots of furniture, and high-paying jobs. They could spend less time working to earn money and more time doing things that interested them. Henry tried out these ideas. He built a small cabin at Walden Pond and for two years lived there alone.
As the two friends part ways and go about their plans, we begin to see how these divergent approaches frame each bear's experience of life.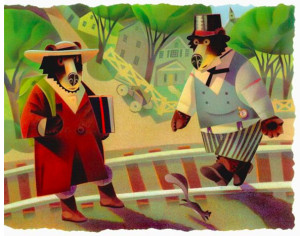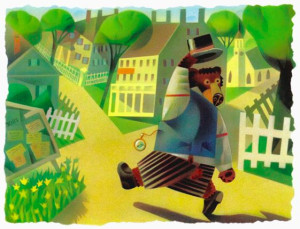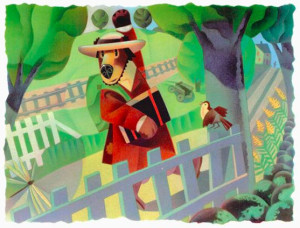 While Henry's friend sweeps the post office for 5 cents, Henry walks five miles and carves a walking stick.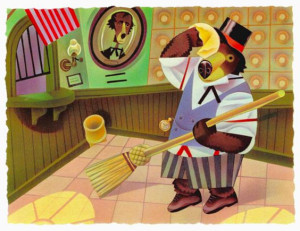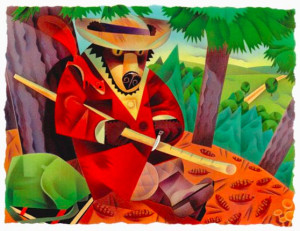 While his friend earns 15 cents ridding Mr. Hawthorne's garden of weeds, Henry collects ferns and flowers to press in his book.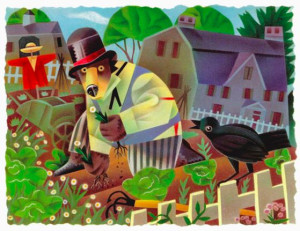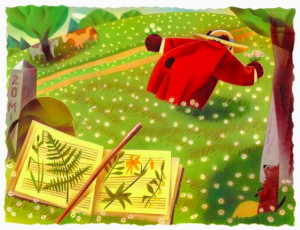 While his friend climbs bookcases to arrange Mr. Emerson's study for another 15 cents, Henry climbs a tree and enjoys the view.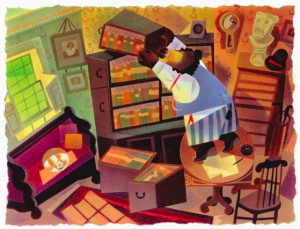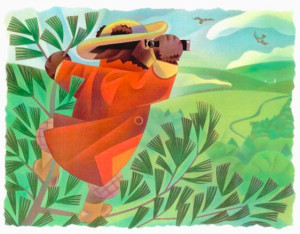 While his friend cleans out Mrs. Thoreau's chicken house for 10 cents, Henry takes delight in a bird's nest he discovers in a swamp 12 miles from Fitchburg.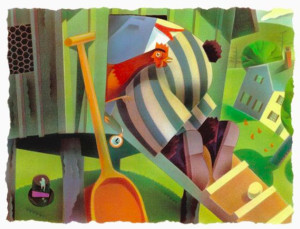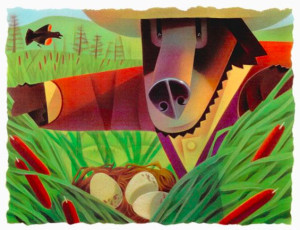 On they go, each about his strategy of choice, until Henry's friend finally races to catch the packed train, having earned his fare, while Henry takes a refreshing dive into a pond 7 miles from Fitchburg.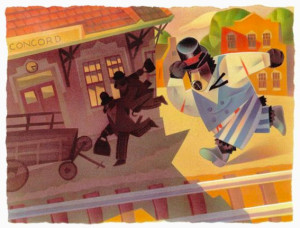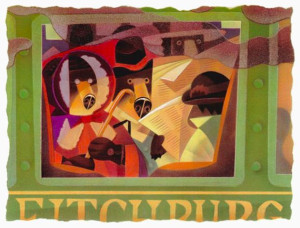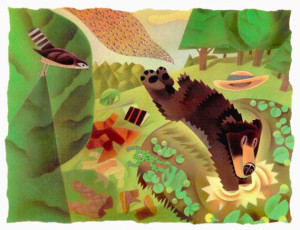 In the final scene, in which the two friends finally meet in Fitchburg, Johnson's gift for saying so much in so few words and such subtle pictures shines with the utmost brilliance: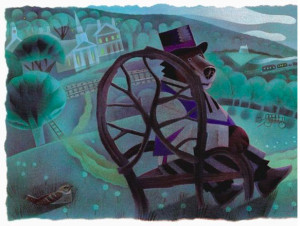 His friend was sitting in the moonlight when Henry arrived. "The train was faster," he said.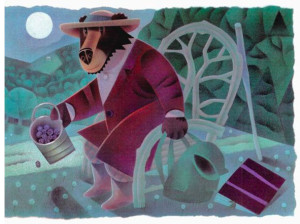 Henry took a small pail from his pack. "I know," he smiled. "I stopped for blackberries."
More than a mere children's primer on Thoreau's philosophy, Henry Hikes to Fitchburg is both a stunning piece of art and an essential reminder for all of us about what money, no matter how much we worry about it, can and cannot buy, and that the art of living lies in how we choose to pay attention.
Go to Original – brainpickings.org
DISCLAIMER: The statements, views and opinions expressed in pieces republished here are solely those of the authors and do not necessarily represent those of TMS. In accordance with title 17 U.S.C. section 107, this material is distributed without profit to those who have expressed a prior interest in receiving the included information for research and educational purposes. TMS has no affiliation whatsoever with the originator of this article nor is TMS endorsed or sponsored by the originator. "GO TO ORIGINAL" links are provided as a convenience to our readers and allow for verification of authenticity. However, as originating pages are often updated by their originating host sites, the versions posted may not match the versions our readers view when clicking the "GO TO ORIGINAL" links. This site contains copyrighted material the use of which has not always been specifically authorized by the copyright owner. We are making such material available in our efforts to advance understanding of environmental, political, human rights, economic, democracy, scientific, and social justice issues, etc. We believe this constitutes a 'fair use' of any such copyrighted material as provided for in section 107 of the US Copyright Law. In accordance with Title 17 U.S.C. Section 107, the material on this site is distributed without profit to those who have expressed a prior interest in receiving the included information for research and educational purposes. For more information go to: http://www.law.cornell.edu/uscode/17/107.shtml. If you wish to use copyrighted material from this site for purposes of your own that go beyond 'fair use', you must obtain permission from the copyright owner.