How Clint Eastwood Ignores History in 'American Sniper'
ARTS, 12 Jan 2015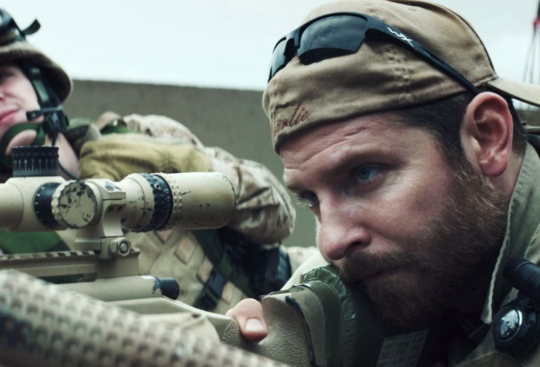 Just a few pages into "American Sniper," Chris Kyle used an epithet to describe the Arabs on the wrong side of his gun scope. "A lot of people, myself included, called the enemy 'savages,'" he wrote. "I only wish I had killed more. Not for bragging rights, but because I believe the world is a better place without savages out there taking American lives." A decorated Navy SEAL, Kyle killed more than 150 "savages" in Iraq, becoming the deadliest sniper in the annals of American warfare.
Kyle's memoir has been turned into a film starring Bradley Cooper and it's an Oscar contender even before its national release on January 16. The Los Angeles Times hails its action scenes as "impeccably crafted," while The New Yorker salutes Clint Eastwood for making other directors "look like beginners." Unfortunately, Hollywood's producing class, taking a break from exchanging catty emails about A-list stars, has created another war film that ignores history, and reviewers who spend too much time in screening rooms are falling over themselves in praise of it.
They should know better. In 2012, "Zero Dark Thirty," about the hunt for Osama bin Laden, was lavishly praised by most reviewers, and it wasn't until criticism emerged from political reporters like Jane Mayer and others (I wrote about it too) that the tide turned against the pro-torture fantasy at its core. The backlash, coming after the film made "best of the year" lists, was probably responsible for it (fortunately) being all but shut out of the Academy Awards. Hopefully the praise-and-reconsider scenario will recur with "American Sniper."
Just as ZDT director Kathryn Bigelow insisted her movie took no position on the use of torture, the makers of "American Sniper" tell us the film takes no position on the war in Iraq. Cooper, who in addition to having the lead role was one of the producers, has said "it's not a movie about the Iraq war; it's about the horror of what a soldier like Chris has to go through. It's not a political movie at all. It's a movie about a man—a character study." I talked to the movie's screenwriter, Jason Hall, and he said, "For me, this is not a war movie."
The film faithfully recycles Kyle's crude language, and while shocking to some viewers, his slurs are the least surprising or objectionable part. Dehumanizing the enemy is common in almost any conflict, particularly for snipers, who see their foes up close. If you regard your target as a savage or an infidel, it's easier to squeeze the trigger. Kyle's blinkered attitude was not unusual among the fighters I spent time with in Iraq. It's the truest part of the movie and belongs in it.
The problem is that the film makes no attempt to tell us anything beyond Kyle's limited comprehension of what was happening. More than a decade after America invaded and occupied Iraq, and long after we realized the war's false pretense and its horrific toll, we deserve better. There's a dilemma at work: a war movie that is true of one American's experience can be utterly false to the experience of millions of Iraqis and to the historical record. Further, it's no act of patriotism to celebrate, without context or discussion, a grunt's view that the people killed in Iraq were animals deserving their six-feet-under fate. When the movie's villain, an enemy sniper named Mustafa, was killed by Kyle, the crowd at the theater where I was watching broke into applause.
If Cooper, the film's star, means what he said about its lack of politics, he fails to understand how war movies operate in popular culture. When a film venerates an American sniper but portrays as sub-human the Iraqis whose country we were occupying—the film has one Iraqi who seems sympathetic but turns out to be hiding a cache of insurgent weapons—it conveys a political message that is flat wrong. Among other things, it ignores and dishonors the scores of thousands of Iraqis who fought alongside American forces and the hundreds of thousands of innocent civilians who were killed or injured in the crossfire.
While it is about a certain type of bravery, the film itself is not brave. One of the things it does well is highlight Kyle's post-traumatic stress disorder. But there is no mention of the problems returning soldiers often encounter when they try to get treatment at military hospitals–even though the disturbed veteran who killed Kyle in real life, at a Texas shooting range in 2013, had been denied the care he desperately needed. Why ignore an issue of national importance that is also the reason Kyle is no longer with us? I asked Hall, the screenwriter, and he said that while the government's inadequate care of veterans is worthy of criticism, this was a movie about Kyle's experience, and he didn't have problems with the Department of Veterans Affairs. "I think that without the time to adequately explore that, and just take a swing at the VA—that's ill-mannered and ineffective," Hall said.
I'm not so surprised about Hollywood—the making of great and true movies is not a feature built into its strange operating system amid the palm trees—but I am dismayed with the reviewers who should know better. As Alissa Quart wrote for Reuters during the backlash to ZDT (full disclosure: Quart is my wife), today's critics tend to avoid cinematic politics, in contrast to their predecessors, like Mary McCarthy and Pauline Kael. If a movie is well acted and nicely shot and carries the viewer along, that is enough to earn five stars in their reviews, because history does not matter to them. They are ideology-agnostic formalists, and this hurts us.
We got Iraq wrong in the real world. It would be nice to get it right at the multiplex.
_____________________________
Photo: Courtesy Warner Bros. Pictures
Email the author: peter.maass@theintercept.com
Go to Original – firstlook.org
DISCLAIMER: The statements, views and opinions expressed in pieces republished here are solely those of the authors and do not necessarily represent those of TMS. In accordance with title 17 U.S.C. section 107, this material is distributed without profit to those who have expressed a prior interest in receiving the included information for research and educational purposes. TMS has no affiliation whatsoever with the originator of this article nor is TMS endorsed or sponsored by the originator. "GO TO ORIGINAL" links are provided as a convenience to our readers and allow for verification of authenticity. However, as originating pages are often updated by their originating host sites, the versions posted may not match the versions our readers view when clicking the "GO TO ORIGINAL" links. This site contains copyrighted material the use of which has not always been specifically authorized by the copyright owner. We are making such material available in our efforts to advance understanding of environmental, political, human rights, economic, democracy, scientific, and social justice issues, etc. We believe this constitutes a 'fair use' of any such copyrighted material as provided for in section 107 of the US Copyright Law. In accordance with Title 17 U.S.C. Section 107, the material on this site is distributed without profit to those who have expressed a prior interest in receiving the included information for research and educational purposes. For more information go to: http://www.law.cornell.edu/uscode/17/107.shtml. If you wish to use copyrighted material from this site for purposes of your own that go beyond 'fair use', you must obtain permission from the copyright owner.