(Français) Paraguay : Terre d' eau, grandes propriétés rurales et injustice
LATIN AMERICA AND THE CARIBBEAN, ORIGINAL LANGUAGES, 27 Jul 2015
Leticia Marinoni, Investig'Action – TRANSCEND Media Service
13 juillet 2015 – En guarani, le son humain le plus basique se réfère au son de l' eau: « Y », une sorte de « i » latin fermé entre les dents, comme faisant référence à l'indispensable, l'élément capital pour la respiration, la simple réalité de la vie.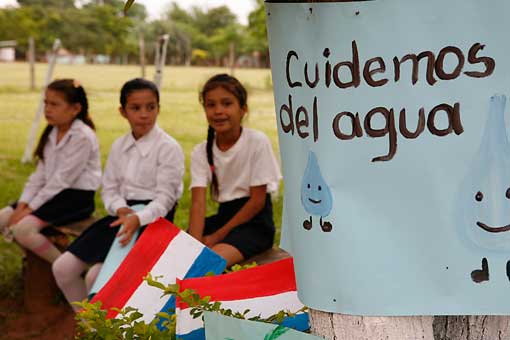 Sur la terre bilingue du Paraguay, vivre dignement est une lutte de résistance, vertu très partagée parmi la population paraguayenne depuis l'époque à laquelle les colons envahirent « La Tierra sin mal » mais aussi lors de l'infâme guerre de la Triple Alliance* (1865-1870) impulsée par l'Angleterre. Et enfin, quelques décennies plus tard, lors de la fratricide confrontation avec les Boliviens à cause des intérêts des compagnies pétrolières Exxon et Shell dans la guerre du Chaco (1932-1935).
Le métissage a hérité de la langue, des savoirs et des connaissances propres des peuples originaires victimes des envahisseurs espagnols, donnant lieu à un mélange qu'on appelle aujourd'hui « Yopara » ou « spanish-guarani-sud-américain » et qui est capable de donner une tonalité douce et harmonieuse aux mots d'amour mais également de lancer des piques contre les injustices et ainsi pousser à la lutte.
De nombreux moments de résistance ont eu lieu dans l'histoire moderne du Paraguay, notamment face au pouvoir terrifiant d'Alfredo Stroessner qui a gouverné le pays pendant trente-cinq ans (1954-1989), alors que des hommes et des femmes disparaissaient, étaient emprisonnés, s'exilaient, et que beaucoup de gens avaient peur de discuter librement et ouvertement. La langue s'était transformée en une arme silencieuse qui peu à peu allait prendre de l'importance en étant utilisée en petits groupes puis collectivement de manière intense.
Après la chute du dictateur, les gouvernements néolibéraux et « néostroessneriens » se sont succédés, tous aussi cyniques les uns que les autres, businessmen dans le soja et marchands sans scrupules, jusqu'à jeter des populations entières dans les centres urbains ou dans les rangs d'immigrés en Europe et aux États-Unis. Pendant ce temps, le FMI applaudissait l'obéissance tandis que les masses ne cessaient de s'appauvrir.
Jusqu'à ce qu'en 2009, Fernando Lugo, ex-évêque de la Théologie de la Libération gagnât les élections présidentielles face à une coalition composée du centre-gauche et du centre-droit traditionnel et rompit avec l'hégémonie de 61 ans de pouvoir du Parti Colorado.
Lors du printemps politique qui a mobilisé plus de six millions et demi d'habitants, les communautés urbaines pauvres et les communautés paysannes ont été reçues et écoutées par le nouveau pouvoir exécutif. Mais le conservatisme, la vieille oligarchie alliée au pouvoir des militaires pro-états-uniens, a modifié le panneau institutionnel, usant de techniques propres à des laboratoires, et a ainsi préparé l'embuscade.
Le 22 juin 2012, le guide du « Coup d'État en douce » a été suivi à la lettre pour mettre fin à la démocratie Républicaine du Paraguay après que Fernando Lugo ait comparu devant un tribunal politique à cause d'un massacre sur les terres malhabidas de « Curuguaty » où onze paysans perdirent la vie ainsi que six policiers à la suite d'un délogement qui amena au verdict final, déclarant le Président coupable d'avoir « apporté le chaos et la lutte des classes entre compatriotes »
Le Mercosur et l'UNASUR ont émis des sanctions politiques contre le nouveau gouvernement de Federico Franco qui, en moins de huit mois, délivra des permis pour exploiter des produits transgéniques et signa des contrats de plusieurs millions de dollars, ce qui en fit un des hommes les plus riches du pays. Monsanto, de son côté, en profita grandement pendant que l'exaspération générale gagnait les mouvements paysans, urbains et écologistes.
Depuis l'année 2013, le pouvoir est aux mains du controversé entrepreneur Horacio Cartes affilié au Parti Colorado, vieux repaire d'oligarques, de propriétaires terriens et de narcotrafiquants, qui sans pudeur a élaboré un slogan : « Usen y abusen del Paraguay » (User et abuser du Paraguay). Il a ordonné notamment de dépenser six millions de dollars pour recevoir le Pape François, provoquant ainsi des protestations au sein d'une population fatiguée de la corruption, l'émergence de forces irrégulières dont le profil se rapproche plus du para-militarisme que de l'insurrection populaire et la recrudescence d'organisations criminelles opérant dans de nombreuses régions du pays.
La Paraguay produit de l'eau de partout…
_________________________________
Leticia Marinoni est Journaliste et Productrice du programme de radio « Surco Paraguayo ».
Article tiré du Journal de Notre Amérique.
Lire aussi : La guerre contre le Paraguay : Une guerre impérialiste méconnue, par Tarik Bouafia.
Go to Original – michelcollon.info
DISCLAIMER: The statements, views and opinions expressed in pieces republished here are solely those of the authors and do not necessarily represent those of TMS. In accordance with title 17 U.S.C. section 107, this material is distributed without profit to those who have expressed a prior interest in receiving the included information for research and educational purposes. TMS has no affiliation whatsoever with the originator of this article nor is TMS endorsed or sponsored by the originator. "GO TO ORIGINAL" links are provided as a convenience to our readers and allow for verification of authenticity. However, as originating pages are often updated by their originating host sites, the versions posted may not match the versions our readers view when clicking the "GO TO ORIGINAL" links. This site contains copyrighted material the use of which has not always been specifically authorized by the copyright owner. We are making such material available in our efforts to advance understanding of environmental, political, human rights, economic, democracy, scientific, and social justice issues, etc. We believe this constitutes a 'fair use' of any such copyrighted material as provided for in section 107 of the US Copyright Law. In accordance with Title 17 U.S.C. Section 107, the material on this site is distributed without profit to those who have expressed a prior interest in receiving the included information for research and educational purposes. For more information go to: http://www.law.cornell.edu/uscode/17/107.shtml. If you wish to use copyrighted material from this site for purposes of your own that go beyond 'fair use', you must obtain permission from the copyright owner.