(Italiano) Il sistema della giustizia militare israeliano – una catena di montaggio per la detenzione di massa
ORIGINAL LANGUAGES, 27 Jul 2015
Amira Hass – Centro Studi Sereno Regis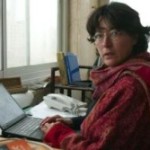 E' anche parte integrante del meccanismo di annullamento dei desideri di un popolo e della capacità di prendersi la sua terra e la sua libertà.
21 Jul 2015 – Uomo morde cane – ecco perché il caso di Mohib Zagharna attira la nostra attenzione. C'è un giudice della corte militare di Ofer che considera l'uguaglianza un valore accettabile.
Il tenente colonnello Shmuel Keidar aveva deciso che Zagharna avrebbe dovuto essere rilasciato su cauzione dopo che lui ed altri si sono azzuffati con le forze di polizia di frontiera e ispettori dell'Amministrazione civile che erano arrivati per smantellare la linea elettrica nel suo quartiere del villaggio di Ramadin, a sud della Cisgiordania.
"Quando le forze di sicurezza arrivano per distruggere la casa di una persona, è difficile immaginare una situazione in cui questa persona se ne stia in disparte e semplicemente esibisca cartelli contro la demolizione e che gli animi non si scaldino, soprattutto quando se ciò avviene di sorpresa," ha scritto nella sentenza Keidar il 29 giugno.
"Non ci si può aspettare che una persona non resista alla distruzione della sua casa, così come ha fatto la gente di ogni settore del Paese, come ad Yamit, Gush Katif, Amona, Givat Amal [a Tel Aviv] ed altrove. In questi esempi ci sono stati (parecchi) proprietari di case che hanno preso iniziative violente e sono stati arrestati, ma non mi pare che siano stati trattenuti più di qualche giorno per essere interrogati e non fino al termine delle procedure legali nei loro confronti."
L'accusa sostiene che Zagharna ha aggredito un poliziotto di frontiera con una pietra delle dimensioni di un pompelmo e che è ancora un pericolo pubblico. La difesa dice che è arrivato per difendere suo padre, che i poliziotti stavano picchiando.
Qualunque festeggiamento nel caso di Keidar era prematuro; il normale sistema di giudizio è stato immediatamente rimesso a posto. Il pubblico ministero militare ha presentato appello contro la sua liberazione su cauzione e il vice presidente della Corte d'appello militare, il tenente colonnello Zvi Lekah, ha deciso che Zagharna, arrestato il 7 maggio, debba rimanere in carcere fino alla fine del procedimento legale.
Questo è il modo in cui il sistema giudiziario militare obbliga i palestinesi al patteggiamento. L'imputato si dichiara colpevole perché se attende il processo in cui i testimoni sono interrogati in modo corretto, finisce per stare in prigione più a lungo di qualunque pena ricevesse in caso di condanna.
Un'eccezione come Keidar fa giurisprudenza e questa linea di condotta ci fa dimenticare che il sistema della giustizia militare è una catena di montaggio per la detenzione di massa, parte integrante dell'elaborato e sofisticato meccanismo di abusi per annullare i desideri di un popolo e la capacità di riprendersi la sua terra e la sua libertà.
A differenza delle colonie di Amona e Gush Katif a Gaza, il quartiere di Sidri, dove vive Zagharna, non è stato costruito sulla terra rubata agli altri. La maggior parte delle sue case è stata costruita prima del 1967 o appena dopo. Israele non ha scuse per poterle demolire, ma può rendere piuttosto miserabile la vita dei residenti.
Tra queste, non includerli nel progetto complessivo del villaggio, impedendo loro di ampliare le loro case o costruirne di nuove e rifiutando di collegarli alla rete elettrica e idrica. Benché il villaggio di Ramadin sia stato inserito nell'area B, sotto il controllo civile palestinese, il quartiere di Sidri è inserito nell'Area C, sotto il totale controllo israeliano. Perché? Per prendersi più terra possibile da annettere a Israele.
A pochi chilometri dal rione di Sidri c'è Sansana, un avamposto non autorizzato e illegale costruito nel 2000, a cui il governo ha concesso il riconoscimento ufficiale nell'aprile 2012. Sansana, ora autorizzato ma illegale, avrà bisogno di spazio per ingrandirsi, e Sidri si trova sulla sua strada.
Nel 2008 la compagnia elettrica palestinese ha allacciato il rione al XX secolo, piazzando 40 pali e portato i fili della luce fino alle loro case. Anche questo è resistere all'occupazione.
Ma nell'aprile 2012 l'Amministrazione civile [israeliana, in realtà militare, dei Territori occupati. N.d.tr.] ha emesso un ordine di demolizione dei pali elettrici. Sperando che il sistema israeliano dimostrasse un poco di correttezza, i residenti hanno iniziato una procedura amministrativa e legale per ottenere un permesso edilizio retroattivo per i pali. La demolizione ha avuto luogo nel bel mezzo di questa causa. Un arresto come quello di Zagharna ha l'obiettivo di far in modo che gli altri si sottomettano.
I giudici militari devono essere semplici ingranaggi nelle ruote del grande bulldozer, ma sono ingranaggi con libertà di scelta. Un giorno si troveranno a dover difendere le loro decisioni in tribunale.
___________________________
 15.07.15, Haaretz, (trad. di Amedeo Rossi)
Go to Original – serenoregis.org
DISCLAIMER: The statements, views and opinions expressed in pieces republished here are solely those of the authors and do not necessarily represent those of TMS. In accordance with title 17 U.S.C. section 107, this material is distributed without profit to those who have expressed a prior interest in receiving the included information for research and educational purposes. TMS has no affiliation whatsoever with the originator of this article nor is TMS endorsed or sponsored by the originator. "GO TO ORIGINAL" links are provided as a convenience to our readers and allow for verification of authenticity. However, as originating pages are often updated by their originating host sites, the versions posted may not match the versions our readers view when clicking the "GO TO ORIGINAL" links. This site contains copyrighted material the use of which has not always been specifically authorized by the copyright owner. We are making such material available in our efforts to advance understanding of environmental, political, human rights, economic, democracy, scientific, and social justice issues, etc. We believe this constitutes a 'fair use' of any such copyrighted material as provided for in section 107 of the US Copyright Law. In accordance with Title 17 U.S.C. Section 107, the material on this site is distributed without profit to those who have expressed a prior interest in receiving the included information for research and educational purposes. For more information go to: http://www.law.cornell.edu/uscode/17/107.shtml. If you wish to use copyrighted material from this site for purposes of your own that go beyond 'fair use', you must obtain permission from the copyright owner.