Articles by Amira Hass
We found 14 results.
---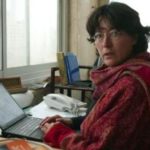 'We Die Anyway, So Let It Be in Front of the Cameras': Conversations with Palestinians in Gaza
Amira Hass | Haaretz – Reader Supported News, 21 May 2018
19 May 2018 – My friends in Gaza are outraged by Israel's claim that Hamas rules everything. 'You people always looked down at us, so it's hard for you to understand that no one demonstrates in anyone else's name.'
→ read full article
---
(Italiano) Il sionismo nella sua espressione migliore
Amira Hass | Haaretz – Zeitun, 19 Dec 2016
La terra che Israele ha destinato ai giubilanti coloni si chiama Atir/Umm al Hiran e per 60 anni ha ospitato i membri della tribù beduina di Al-Qi'an.
→ read full article
---
Zionism at Its Best
Amira Hass – Haaretz, 12 Dec 2016
The land that Israel has designated for the joyous settlers is called Atir/Umm al-Hiran, and for 60 years it has been home to members of the Bedouin Al-Qi'an tribe.
→ read full article
---
(Italiano) Il sistema della giustizia militare israeliano – una catena di montaggio per la detenzione di massa
Amira Hass – Centro Studi Sereno Regis, 27 Jul 2015
E' anche parte integrante del meccanismo di annullamento dei desideri di un popolo e della capacità di prendersi la sua terra e la sua libertà.
→ read full article
---
(Italiano) Un rapporto ONU: il 2014 ha visto il maggior numero di palestinesi uccisi dall'esercito israeliano dal 1967
Amira Hass – TRANSCEND Media Service, 13 Apr 2015
7 apr 2015 – Le forze di sicurezza israeliane hanno ucciso 2.312 palestinesi, la maggiore parte dei quali l'estate [scorsa] nella guerra di Gaza. Circa due terzi erano civili.
→ read full article
---
UN Report: 2014 Saw the Most Palestinians Killed by Israel's Military Since '67
Amira Hass – Haaretz, 13 Apr 2015
27 Mar 2015 – Israeli security forces killed 2,312 Palestinians, most in the Gaza war over the summer. Roughly two-thirds were civilians.
→ read full article
---
(Italian) Il Diritto di Israele all'"Autodifesa": Una Spettacolare Vittoria Propagandistica
Amira Hass – ZNet Italy, 26 Nov 2012
Una delle straordinarie vittorie della propaganda israeliana è che il paese è stato accettato come vittima dei palestinesi, sia agli occhi del pubblico israeliano sia a quelli dei leader dell'occidente che si precipitano a parlare del diritto di Israele a difendersi.
→ read full article
---
Where Has the Hypocrisy Gone?
Amira Hass – Haaretz, 20 Sep 2010
No one thinks to ask about the consensus among the residents of Palestinian cities and villages on whose land the settlements have been built. The millions of Palestinians don't count at all.
→ read full article
---
Noam Chomsky Denied Entry into Israel and West Bank
Amira Hass - Haaretz, 17 May 2010
Left-wing American linguist, who was scheduled to speak at Bir Zeit University, given no reason by Israeli inspectors at Allenby Bridge.
→ read full article
---
IN THE WEST THEY SAY IT'S RAIN
Amira Hass - Haaretz, 28 Jan 2010
Israel, via the Interior Ministry, continues to spit in the face of friendly countries, and those countries continue to admire the falling raindrops. The ministry's most recent gob of spit was the cancellation of the work visas that citizens of those countries who are employed by international NGOs have been getting for years. Instead, they […]
→ read full article
---
PRIVATELY RUN CHEKPOINT STOPS PALESTINIANS WITH 'TOO MUCH FOOD'
Amira Hass, Haaretz, 30 Jun 2009
A West Bank checkpoint managed by a private security company is not allowing Palestinians to pass through with large water bottles and some food items, Haaretz has learned. MachsomWatch discovered the policy, which Palestinian workers confirmed to Haaretz. The Defense Ministry stated in response that non-commercial quantities of food were not being limited. It made […]
→ read full article
---
ISRAEL KNOWS THAT PEACE JUST DOESN'T PAY
Amira Hass, 20 May 2009
Successive Israeli governments since 1993 certainly must have known what they were doing, being in no hurry to make peace with the Palestinians. As representatives of Israeli society, these governments understood that peace would involve serious damage to national interests. Economic damage: The security industry is an important export branch – weapons, ammunition and refinements […]
→ read full article
---
GAZA'S SEPARATION FROM THE WEST BANK IS ISRAEL'S GREAT TRIUMPH
Amira Hass, 28 Apr 2009
The total separation of the Gaza Strip from the West Bank is one of the greatest achievements of Israeli politics, whose overarching objective is to prevent a solution based on international decisions and understandings and instead dictate an arrangement based on Israel's military superiority. In view of the violent rivalry between the two main movements […]
→ read full article
---
IS ISRAEL DELIBERATELY STRENGHTENING HAMAS?
Amira Hass, 18 Nov 2008
Let's not be dragged into calculating how many tons of rice, flour and cooking oil there are in the Gaza Strip 10 days after Israel once again hermetically sealed all the crossings into the enclave. Let's not count the number of children who wait for a nutritious meal at UN Relief and Works Agency schools, […]
→ read full article
---