Anti-Abe Feeling Grows in SDF
ASIA--PACIFIC, 31 Aug 2015
Sentaku Magazine – The Japan Times
Aug 26, 2015 – Bitter feelings against Prime Minister Shinzo Abe are quietly permeating through members of the Self-Defense Forces, who fear being sent to battlefields abroad as chances are growing for the Diet to pass his security-related bills, which he hopes will give his name a prominent place in history.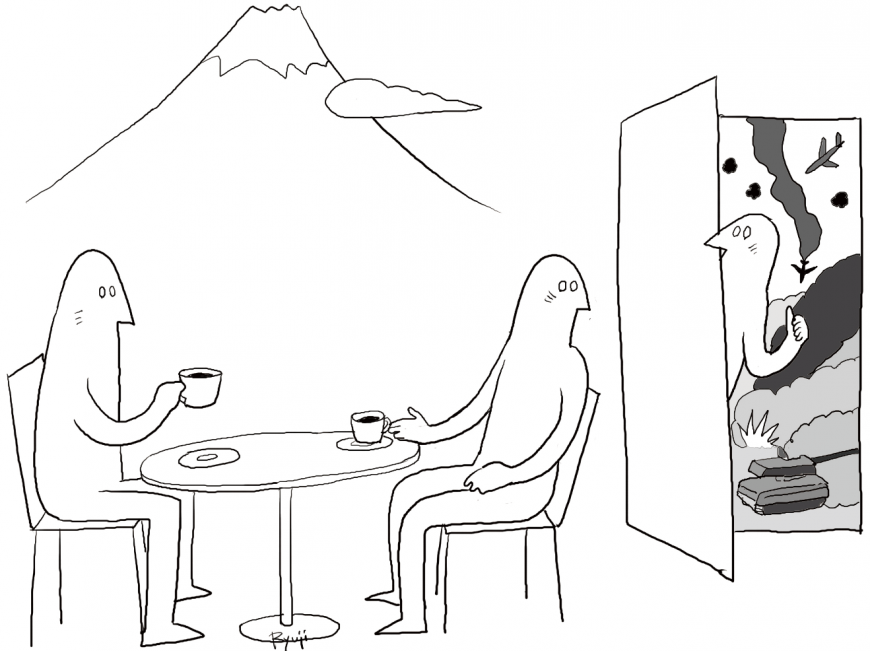 SDF members who would actually face combat quietly voice the opinion that the risk faced by them will definitely increase and that they feel deceived because they joined the SDF on the assumption that Japan will not be involved in war. Such sentiment could lead to a mass resignation of SDF personnel and a sharp decline in the number of those seeking to join it, seriously jeopardizing national security. The price Japan has to pay for Abe's political self-satisfaction is too high.
While the primary mission of the 230,000-member SDF is to defend the nation, ordinary citizens are more appreciative of their work in rescuing victims of natural disasters.
At the same time, the SDF serves as a leading "vocational training institution," since junior or senior high school graduates who join the SDF learn skills while being paid and become qualified to receive licenses in various fields. They are trained, for example, to drive forklifts and other large, specialized vehicles, to handle hazardous materials, to prepare food, to supervise condominiums, to serve as hazard-prevention managers and, more recently, to offer home-care services.
That is why they feel that the principal features of the security bills pushed by the Abe administration — such as exercising the right to collective self-defense and providing logistical support to multinational forces around the world — belong to an imaginary world and are somebody else's business.
Even today, the SDF is faced with a chronic manpower shortage as membership in the classes from sergeant down are at less than 70 percent of the prescribed numbers.
It is quite conceivable that one SDF member after another will leave the organization should it become realistic to expect an expansion of their duties. For a majority of SDF members, the Abe administration's determined efforts to enact the security bills are nothing but an annoyance, as one ex-SDF member has criticized the government for using "black is white" logic only to satisfy its desire to put the term "the right to collective self-defense" into a law.
Even a legislator of the ruling Liberal Democratic Party well-versed in national defense said that should the number of those aspiring to enter the SDF fall drastically, it might become necessary to seriously consider enacting a conscription system and even arming the nation with nuclear weapons.
Every new member of the SDF is required to make a pledge to work toward protecting the country's peace and independence, to observe the Constitution and not to fear encountering dangers in executing their duties. But this pledge is commonly understood to be premised on the "defense only defense" posture with the SDF only exercising the right to individual self-defense.
It is no wonder that some SDF members are puzzled and feel resentment toward Abe, who has come up with the illogical idea of exercising the right to collective self-defense when the existence of the country is threatened.
Feeling particularly uneasy are married SDF members with children, and younger single SDF members' parents and siblings. One married Ground Self-Defense Force member in his 40s has confided that while he sees only a small possibility of Japan getting involved in a war in the near future, the new security bills in the long term will make it unavoidable for SDF members to be injured or killed while on duty. This SDF member says that he is not sure whether he will continue to serve the SDF in the event of the new security bills being put into actual use.
Even more obvious is the worrisome feelings of the parents and siblings of younger SDF members. Between 2003 and 2009 when Japan dispatched SDF units to Iraq, there was a sharp increase in the numbers of students quitting the National Defense Academy and of SDF members retiring early.
In the peak year of 2005, 38.4 percent of the students and graduates of the academy left. One Defense Ministry official guesses that many of their family members advised them to quit.
A high-ranking SDF officer said that with the dwindling number of children in Japan, SDF members will quit in a much greater scale than during the Iraq war once the threat to their lives becomes greater or SDF members are actually injured or killed while on missions that are carried out under the new security-related laws.
Meanwhile, Abe, who is supreme commander of the SDF, keeps saying that the risks faced by men and women in uniform will not increase. There is no way for him to understand the uneasiness of SDF members who would face combat. Seeing his failure to control his feelings when an opposition lawmaker posing a question to him over the security bills, some SDF members expressed worries over the possibility of Abe issuing reckless orders.
As the SDF's role undergoes great changes with the enactment of the security bills, the schism between high-ranking SDF officers who do not have to engage in combat and SDF members who will be sent to the battlefront is bound to expand. Years ago, when the SDF was treated by many Japanese people like a social outcast, there was a sense of unity between SDF officers and lower-ranking SDF members. But that has changed.
In the old days, the National Defense Academy offered curriculums only in natural sciences and engineering. But later humanities and social sciences began to be taught. Now those who studied under the new curriculums have become officers. As "politics-oriented officers," they have established a close association with the prime minister and powerful members of the ruling parties and take great pains to use Abe.
Uniformed SDF members account for one third of the secretariat staff at the National Security Council, newly created by the Abe Cabinet, with the rest being Foreign Ministry officials and civilian officials of the Defense Ministry. They are exercising influence on politics both implicitly and explicitly. It has been decided that the Defense Ministry's Bureau of Operational Policy, staffed by civilians, will be abolished and its functions will be absorbed by the Joint Staff Office.
With the power and influence of civilian officials in the Defense Ministry rapidly waning, uniformed SDF members who served as commanding officers have gained dominance. As they become increasingly active in gaining ties with politicians, they have started treating their subordinates as pawns. Thus the gap between them keeps growing, causing anti-Abe sentiment to spiral among the lower ranks.
Core members of the SDF are working actively behind the scenes to secure sufficient equipment and manpower required by the proposed security bills. That would serve two purposes: to boost their influence on the LDP as the SDF members represent a large bloc of votes and to strengthen their ties with the arms industry, which provides them with high-paying posts after they retire from the SDF.
All told, the government's move to push the security bills would only expand the size of the SDF organization and give more vested interests to high-ranking officers. The result would be the hollowing out of the SDF as it could no longer recruit enough young people. In short, if passed, the security bills will only heighten the risks for Japan.
This is an abridged translation of an article from the August issue of Sentaku, a monthly magazine covering political, social and economic scenes.
Go to Original – japantimes.co.jp
DISCLAIMER: The statements, views and opinions expressed in pieces republished here are solely those of the authors and do not necessarily represent those of TMS. In accordance with title 17 U.S.C. section 107, this material is distributed without profit to those who have expressed a prior interest in receiving the included information for research and educational purposes. TMS has no affiliation whatsoever with the originator of this article nor is TMS endorsed or sponsored by the originator. "GO TO ORIGINAL" links are provided as a convenience to our readers and allow for verification of authenticity. However, as originating pages are often updated by their originating host sites, the versions posted may not match the versions our readers view when clicking the "GO TO ORIGINAL" links. This site contains copyrighted material the use of which has not always been specifically authorized by the copyright owner. We are making such material available in our efforts to advance understanding of environmental, political, human rights, economic, democracy, scientific, and social justice issues, etc. We believe this constitutes a 'fair use' of any such copyrighted material as provided for in section 107 of the US Copyright Law. In accordance with Title 17 U.S.C. Section 107, the material on this site is distributed without profit to those who have expressed a prior interest in receiving the included information for research and educational purposes. For more information go to: http://www.law.cornell.edu/uscode/17/107.shtml. If you wish to use copyrighted material from this site for purposes of your own that go beyond 'fair use', you must obtain permission from the copyright owner.
One Response to "Anti-Abe Feeling Grows in SDF"