(Italiano) El presidente de la paz: Una Recensione
ORIGINAL LANGUAGES, 25 Jan 2016
Nanni Salio – Centro Studi Sereno Regis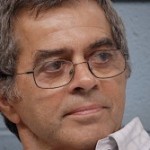 Marinella Correggia, El Presidente de la Paz-Hugo Chávez, Sankara. Roma 2015, pp. 112, € 7,00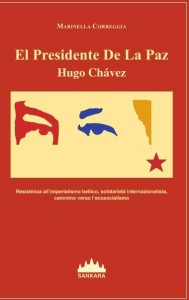 14 gennaio 2016 – Un piccolo libro, denso di riflessioni, domande, informazioni. Tre capitoli: sulla guerra, sul rapporto Sud-Sud, tra America Latina e Africa, e sull'ecosocialismo. Il tutto, nel ricordo del presidente bolivariano Hugo Chavez e anche di Thomas Sankara. Entrambi morti prematuramente, il primo per un cancro nel 2013, il secondo nel 1987 in seguito a un colpo di stato.
E ora anche l'esperienza venezuelana ha subìto una svolta, con la sconfitta elettorale.
Ma cominciamo dal problema guerre, che si concentra soprattutto su quella in Libia, iniziata nel 2011, e in Siria, subito dopo. Chavez, insieme a Castro e a pochi altri ha tentato strenuamente, nelle sedi ONU, di svolgere una funzione di mediazione, senza successo, data la debolezza dell'ONU stessa e la sua sudditanza alle grandi potenze, Stati Uniti in primo luogo. L'autrice documenta l'intenso lavoro svolto da Chavez, poco noto, e solleva la questione della debolezza e quasi totale assenza dei movimenti per la pace. Una doppia debolezza che ha portato inevitabilmente all'insuccesso, come in molti altri casi. Come non ricordare il bombardamento NATO sulla Yugoslavia, con la nostra partecipazione grazie al governo D'Alema, le guerre del Golfo, e la tuttora in corso guerra in Ucraina.
Sulla debolezza istituzionale, non si può che constatare che nonostante trattati e dichiarazioni, il diritto internazionale è «carta straccia» per le grandi potenze, Israele e Stati Uniti in testa. E i teorici del diritto si arrampicano sui vetri senza riuscire a risolvere i dilemmi della guerra giusta e senza mettere radicalmente in discussione i modelli di difesa, che sono tutt'altro che di difesa, ma di offesa, a cominciare dalle armi nucleari.
Anche per quanto riguarda i movimenti non dobbiamo stupirci. Di questi tempi, la loro debolezza – e non solo dei movimenti per la pace ma anche dei movimenti per l'ambiente o di quelli per la giustizia sociale – è ben nota. Limitandoci ai movimenti per la pace, essi sono frammentati, privi di una adeguata organizzazione stabile, senza la quale si improvvisano solo degli eventi che non sono in grado di incidere. E molte componenti sono legate o al mondo della Chiesa o, peggio, svolgono un ruolo collaterale nei confronti dei partiti.
I problemi della guerra e della pace, come pure quelli dell'ambiente e della giustizia sociale sono complessi e richiedono soluzioni anch'esse complesse, non a una sola dimensione, come spesso avviene.
Il secondo capitolo del libro, relativo alla possibile collaborazione tra ALBA (America Latina) e Africa descrive una proposta quanto mai affascinante, che si può estendere a tutti quanti i BRICS, anche se in questo momento vi sono segni di debolezza. Oltre alla sconfitta in Venezuela, anche quelle in Brasile e Argentina. Le popolazioni dell'America Latina, come quelle di tutti i paesi del mondo, sono divise al loro interno e le classi sociali dominanti dispongono di ingenti mezzi con cui condizionare l'opinione pubblica mediante il controllo dei media e la propaganda.
Per quanto riguarda l'ecosocialismo, discusso nel terzo capitolo, Chavez ha cercato di affrontare le contraddizioni di un modello di sviluppo ancora estrattivista, basato in larga misura sul petrolio. L'urgenza del cambiamento, radicale, richiede di investire in misura massiccia sulle fonti energetiche rinnovabili, che già ora sono in grado di sostituire quelle fossili. Chavez ha fatto alcuni passi in questa direzione, ma molto lavoro resta da compiere. Lavori come quelli di Amory Lovins e Jeremy Rifkin, tra gli altri, non sono solo frutto di visionari utopistici, ma si basano su solide basi e consentono di progettare un percorso di transizione concreto.
Insieme al buen vivir occorre anche promuovere la cultura della semplicità volontaria, che ha un'antica tradizione risalente a Gandhi e ancor prima a San Francesco, l'altro Francesco oltre a quello odierno.
___________________________________
Prof. Nanni Salio è membro della Rete TRANSCEND per la Pace, Sviluppo e Ambiente e Direttore del Centro Studi Sereno Regis a Torino.
Giornalista e scrittore nel settore della giustizia ecologica e un contadino ecologico, Marinella Correggia è attiva per la pace dal 1991. Associato con la Rete No War, sito http://www.sibialiria.org/, lei ha co-organizzato numerose manifestazioni a Roma, petizioni alle Nazioni Unite, l'invio di informazioni ad alcune missioni dell'ONU a Ginevra, scrivendo articoli e conferenze. Lei sostiene il movimento siriano Mussalaha per la riconciliazione, e cerca di pratica il giornalismo di pace.
Go to Original – serenoregis.org
DISCLAIMER: The statements, views and opinions expressed in pieces republished here are solely those of the authors and do not necessarily represent those of TMS. In accordance with title 17 U.S.C. section 107, this material is distributed without profit to those who have expressed a prior interest in receiving the included information for research and educational purposes. TMS has no affiliation whatsoever with the originator of this article nor is TMS endorsed or sponsored by the originator. "GO TO ORIGINAL" links are provided as a convenience to our readers and allow for verification of authenticity. However, as originating pages are often updated by their originating host sites, the versions posted may not match the versions our readers view when clicking the "GO TO ORIGINAL" links. This site contains copyrighted material the use of which has not always been specifically authorized by the copyright owner. We are making such material available in our efforts to advance understanding of environmental, political, human rights, economic, democracy, scientific, and social justice issues, etc. We believe this constitutes a 'fair use' of any such copyrighted material as provided for in section 107 of the US Copyright Law. In accordance with Title 17 U.S.C. Section 107, the material on this site is distributed without profit to those who have expressed a prior interest in receiving the included information for research and educational purposes. For more information go to: http://www.law.cornell.edu/uscode/17/107.shtml. If you wish to use copyrighted material from this site for purposes of your own that go beyond 'fair use', you must obtain permission from the copyright owner.