(Italiano) L'etica della semplicità volontaria
ORIGINAL LANGUAGES, 7 Mar 2016
Nanni Salio – Centro Studi Sereno Regis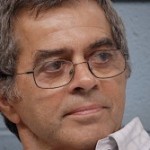 Tratto da: Cinzia Picchioni, Semplifichiamo! Semplicità volontaria in pillole, Edizioni L'Età dell'Acquario, Torino 2015. In ricordo di Nanni, a un mese dalla morte… Ciao Nanni!
Uno spettro s'aggira sul pianeta Terra: il cambiamento climatico globale e la minaccia del collasso di questa civiltà. Gran parlare, conferenze internazionali, centri di ricerca, scienziati, politici e… un nulla di fatto. Ma come risolvere il problema , tempestivamente, poiché il tempo stringe?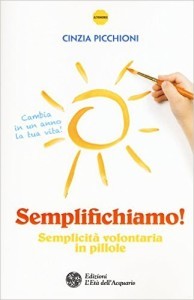 Elementare, direbbe Watson, con le pillole della semplicità volontaria!
Sono pillole certificate nientemeno che dal Mahatma Gandhi, che le ha a lungo sperimentate con il suo stile di vita in cui cibo vegetariano, vestiti tessuti a mano, semplicità ed essenzialità nell'abitare e nel comunicare, nonviolenza nelle relazioni umane hanno attratto milioni di persone e continuano a essere fonte di ispirazione ancora oggi.
Queste pillole non si trovano in farmacia, ma vengono distribuite gratuitamente da Cinzia Picchioni mediante la Newsletter settimanale del Centro Studi Sereno Regis (www.serenoregis.org). Non solo sono gratuite, ma hanno anche un ritorno economico garantito: si spende meno, si inquina meno, si vive meglio, si è più felici.
Ma come mai, se sono così efficaci e desiderabili, non si sono sinora diffuse rapidamente? Una prima ragione potrebbe essere quella che ci fornisce Lev Tolstoj a proposito della nostra ipocrisia e stupidità: «Siedo sulla schiena di un uomo, soffocandolo, costringendolo a portarmi. E intanto cerco di convincere me e gli altri che sono pieno di compassione per lui e manifesto il desidero di migliorare la sua sorte con ogni mezzo possibile. Tranne che scendere dalla sua schiena.»
Una seconda ragione è che occorre guardare meglio e non limitare lo sguardo solo al nostro mondo occidentale, per vedere quanti altri e altre usano queste pillole nella loro vita quotidiana, senza clamore né pubblicità. La semplicità di vita, gioiosa e felice è praticata da sempre da un gran numero di persone nei villaggi e nelle aree più sperdute del mondo, non ancora travolte dal nostro stile e modello di vita iperconsumista, distruttivo e non sostenibile e si va diffondendo, lentamente ma costantemente, anche nel nostro mondo.
È ancora Gandhi a invitarci fare nostro questo stile di vita:
«Vivere semplicemente per permettere agli altri semplicemente di vivere.»
Allora, cosa aspettiamo? Leggiamo e mettiamo in pratica le pillole proposte in questo libro, anch'esso semplice, e corriamo a iscriverci alla Newsletter del Centro Studi Sereno Regis per continuare a riceverle!
_________________________________________
Prof. Nanni Salio è stato membro della Rete TRANSCEND per la Pace, Sviluppo e Ambiente e Direttore del Centro Studi Sereno Regis a Torino.
Ringraziano le Edizioni L'Età dell'Acquario per averci autorizzato alla pubblicazione.
Go to Original – serenoregis.org
DISCLAIMER: The statements, views and opinions expressed in pieces republished here are solely those of the authors and do not necessarily represent those of TMS. In accordance with title 17 U.S.C. section 107, this material is distributed without profit to those who have expressed a prior interest in receiving the included information for research and educational purposes. TMS has no affiliation whatsoever with the originator of this article nor is TMS endorsed or sponsored by the originator. "GO TO ORIGINAL" links are provided as a convenience to our readers and allow for verification of authenticity. However, as originating pages are often updated by their originating host sites, the versions posted may not match the versions our readers view when clicking the "GO TO ORIGINAL" links. This site contains copyrighted material the use of which has not always been specifically authorized by the copyright owner. We are making such material available in our efforts to advance understanding of environmental, political, human rights, economic, democracy, scientific, and social justice issues, etc. We believe this constitutes a 'fair use' of any such copyrighted material as provided for in section 107 of the US Copyright Law. In accordance with Title 17 U.S.C. Section 107, the material on this site is distributed without profit to those who have expressed a prior interest in receiving the included information for research and educational purposes. For more information go to: http://www.law.cornell.edu/uscode/17/107.shtml. If you wish to use copyrighted material from this site for purposes of your own that go beyond 'fair use', you must obtain permission from the copyright owner.