What Everyone Should Know about Filming (and Sharing) Injustice on Social Media
ACTIVISM, 7 Mar 2016
Amber van Moessner, PolicyMic – TRANSCEND Media Service
25 Feb 2016 – Armed with mobile devices and social media, citizen journalists around the world have become essential agents of democracy, bearing witness to criminal behavior and abuses of power that might otherwise remain obscured and unseen. That genie's not going back in the bottle. But the next time you happen upon an unfolding scene of injustice — particularly when police are involved — there are some things you need to know before you hit record.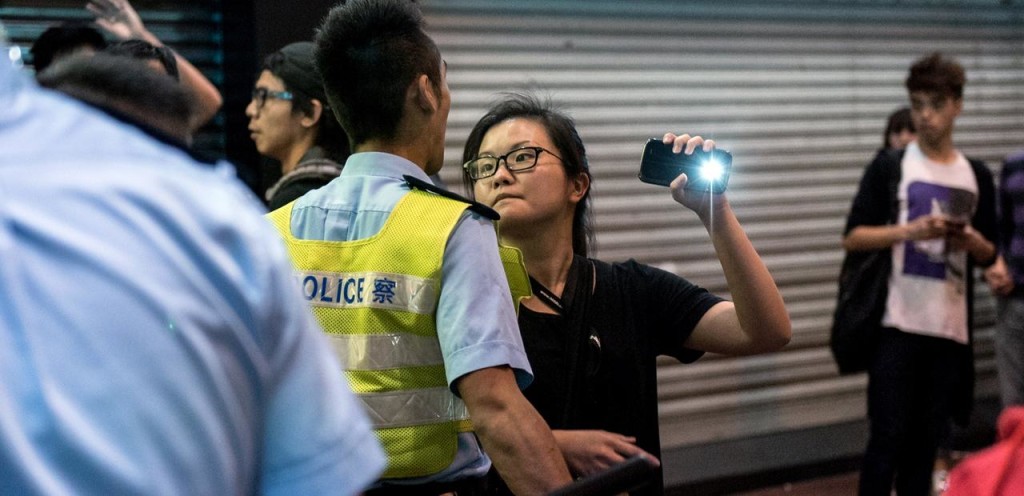 When citizens become journalists — or, as New York University journalism professor Jay Rosen put it, "When the people formerly known as the audience employ the press tools they have in their possession to inform one another" — they step into uncertain territory, opening themselves up to physical danger, harassment and even arrest.
Know Your Rights
According to Jay Stanley, senior policy analyst with the American Civil Liberties Union's Speech, Privacy and Technology Project, the First Amendment rights of citizen journalists are clear.
"If you're in a public place, you have a right to take pictures of anything that's in plain view," Stanley told Mic. "The courts have been all but unanimous that it's a right protected by the First Amendment. It's never reached the Supreme Court… but the law is very clear, and we've had litigation around the country, and we've never lost."
So long as you aren't obstructing a walkway or actively interfering with a criminal investigation, documenting events that are plainly visible in public is a constitutional right. This includes photographing or recording police and government officials in public.
"If an officer asks you to stop filming," said Stanley, who created a handy guide for photographers who are stopped or detained, "remain polite, never physically resist and politely assert your rights and remind the officer you haven't done anything suspicious or illegal and that you have a constitutional right to take photographs."
Plan Ahead
Of course, you can't predict when you might stumble upon injustice. But if you're going to a Black Lives Matter or Occupy demonstration, where conflicts may arise, there are some simple things you can do to prepare, such as download one of several apps that can notify friends or family when you've been detained. Just having contact info for legal aid is a good precaution in case of arrest.
Alex Vitale, a sociology professor at Brooklyn College in New York who has focused on police accountability for 25 years, recommends coordinating with other photographers to ensure at least one is shooting the action up close while another documents the entire scene from afar.
"What people should know is they do have a right to film the police as long as they don't interfere with the activities they're engaged in, Vitale said. "If a police officer tells them to leave or stop filming, they should say, while the camera is running, that they have a right to be here and [they're] not interfering in what [police are] doing. They should be willing to take a step back or so but should assert their right to be in the area and film what's happening."
Always Be Uploading
Keegan Stephan, a political organizer and activist who recently has documented the Black Lives Matter movement in New York City, says the first people police will target at a demonstration are the ones with cameras.
"I've had a camera knocked out of my hands, or they try to get between you and the camera," Stephan told Mic. What they have no right to do, however, is access your personal devices or request you delete anything without a warrant.
Vitale encourages those documenting police activity or protests to upload their footage continuously, using social media or the NYCLU app. "Even if you do end up getting arrested and your device is confiscated, that footage can be preserved, which may be crucial for your defense if the police try to claim you were interfering and you weren't," Vitale said.
Expect the Arbitrary
Stephan recounted a recent incident when he was filming when an NYPD officer told him to move to the sidewalk or else be arrested. When Stephan objected, that he was not in violation of any laws, a superior ordered the officer to arrest him the moment he did obstruct the walkway. "They knew not to arrest me for filming," he said. "But the moment I was doing something they could arrest me for? They were singling me out for videotaping."
Stephan believes the increased attention on police behavior has just made them smarter about playing the game. Police have "gotten the memo," he said. "They know what rules they can break and get away with and what they can't."
Stanley sees this often at the ACLU. "We saw terrible abuses in New York around the Occupy protests in particular and that is a problem," he said. "The best hope is that these encounters are on video, but police officers do have a lot of discretion and most localities have broad ranging laws, such as 'disturbing the peace' or 'disorderly conduct.'" (Translation, said Stanley: "dissing a cop.")
Who's Got Your Back?
While citizen journalists may provide the video and photos that end up looping on mainstream media outlets, unlike their professional counterparts, they often go unpaid — and unprotected.
Ramsey Orta learned that after he watched — and recorded — an NYPD officer putting his friend Eric Garner in a fatal chokehold in 2014. His cellphone video of Garner, gasping, "I can't breathe," as four officers wrestled him to the sidewalk, went viral and further fueled the growing outrage over police use of deadly force on black citizens.
Law enforcement, activists and media have rightly focused their attention on Garner's death and also the fatal shooting of Walter Scott in April in South Carolina and the many other incidents of police violence captured on cellphone video. But what about the people holding the camera?
"From then on, I've been targeted by NYPD," Orta recently told Democracy Now's Amy Goodman. "I got five pending cases right now — two in Supreme Court, three in criminal. Since then, I've just been harassed."
Orta's claims have been dismissed by Patrolman's Benevolent Association President Patrick Lynch, but the timing of his arrest has raised questions and the legitimacy of the charges is an ongoing debate. (Mic submitted a request for comment to the NYPD's Office of the Deputy Commissioner, Public Information, and has not received a response at press time.)
Professor Robert Picard of the Reuters Institute for the Study of Journalism told Nieman Lab that "media organizations have a duty of care" for citizen journalists. "All media are increasingly relying on photos, video and information provided by citizen journalists," Picard said. "They have a moral obligation to speak out when authorities inappropriately constrain, detain or attack them."
Paul Moakley, Time's photo editor, re-edited Orta's video to include an interview with him about citizen journalism and police documentation. "Just pull out a camera. That's all people need," Orta says in the video. "Once we have proof, nothing can go against that." The video went on to win a World Press Photo award for both Moakley and Orta.
Brooklyn College's Vitale said he was "pretty disturbed by the lack of press coverage" around Orta's arrest and incarceration. "That should have been a high-profile issue," he said. "There should be some tough questions for the police from all the television stations and major media outlets that use that footage and covered the story."
Demand Accountability
Citizen journalists are understandably frustrated that they can be arrested arbitrarily while the police who disregard their First Amendment rights see little or no consequences.
"It's no small matter to be arrested," Stanley said. "You have to decide what you're willing to do to stand up for your rights at that point. It's a difficult decision because police have an enormous amount of power."
For his part, Stephan is committed to his work with Black Lives Matter, despite the risk. He said documenting these protests "is the least a white ally can do," even if it results in an arrest or worse. "The NYPD has admitted you have the right to film them," he said. "They can ignore the Constitution and arrest you, but it's still worth it to help someone out who's in a worse situation than you."
Stephan added: "Until officers are publicly held accountable for these types of violations, they'll continue to do it. They need to know they'll be disciplined… and that's just not happening."
"Photography is a form of power, and police officers, like everyone else, don't like to give up power, so I think we will continue to see battles of various kinds over this right," Stanley said.
DISCLAIMER: The statements, views and opinions expressed in pieces republished here are solely those of the authors and do not necessarily represent those of TMS. In accordance with title 17 U.S.C. section 107, this material is distributed without profit to those who have expressed a prior interest in receiving the included information for research and educational purposes. TMS has no affiliation whatsoever with the originator of this article nor is TMS endorsed or sponsored by the originator. "GO TO ORIGINAL" links are provided as a convenience to our readers and allow for verification of authenticity. However, as originating pages are often updated by their originating host sites, the versions posted may not match the versions our readers view when clicking the "GO TO ORIGINAL" links. This site contains copyrighted material the use of which has not always been specifically authorized by the copyright owner. We are making such material available in our efforts to advance understanding of environmental, political, human rights, economic, democracy, scientific, and social justice issues, etc. We believe this constitutes a 'fair use' of any such copyrighted material as provided for in section 107 of the US Copyright Law. In accordance with Title 17 U.S.C. Section 107, the material on this site is distributed without profit to those who have expressed a prior interest in receiving the included information for research and educational purposes. For more information go to: http://www.law.cornell.edu/uscode/17/107.shtml. If you wish to use copyrighted material from this site for purposes of your own that go beyond 'fair use', you must obtain permission from the copyright owner.