An Appeal for Pope Francis to Share with the World an Encyclical on Nonviolence and Just Peace, and for the Church to Stop Teaching 'Just War Theory'
NOBEL LAUREATES, 25 Apr 2016
The Peace People – TRANSCEND Media Service


Press Release – 19 April 2016
Nobel Peace Laureate Mairead Maguire said from Rome,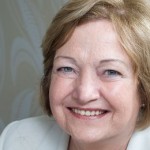 "I believe we are at an important and hopeful turning point in human history from violence to nonviolence – from war to peace.
"It was a joy for me to join eighty people from around the World meeting in Rome 11/12th April 2016 to contribute to the important discussion 'Nonviolence and Just Peace Contributing to the Catholic Understanding of and Commitment to Nonviolence'.
"Members of the three-day event co-hosted by the Pontifical Council for Justice and Peace and the international Catholic peace movement organization, Pax Christi, strongly called on Pope Francis 'to share with the world an encyclical on nonviolence and Just Peace, and on the Church to no longer use or teach Just War Theory and continue advocating for the abolition of war and nuclear weapons'.
"The appeal to the Pope also said that 'we believe there is no 'just war'.  Too often the 'just war theory' has been used to endorse rather than prevent or limit war.  Suggesting that a 'just war' is possible also undermines the moral imperative to develop tools and capacities for nonviolent transformation of conflict'.
"The Gathering in Rome consisted of lay people, theologians, members of religious congregations, priests, bishops from Africa, the Americas, Asia, Europe, the Middle East and Oceania. The welcoming address was given by Cardinal Turkson of the Pontifical Council for Justice and Peace, who read a Statement from Pope Francis.
"The Final Statement entitled 'An Appeal to the Catholic Church to re-commit to the Centrality of Gospel Nonviolence can be read on Pax Christi  www.paxchristi.com
"This was indeed a historic gathering and the participants made a brave and history-making call to Pope Francis and the Church. It calls upon Pope Francis to give strong spiritual leadership to the world's Christians rejecting war for peace and nonviolence. We are all conscious of the growing militarization of our societies and countries and the myth being perpetrated that militarism, nuclear weapons and war are acceptable.  I hope that Pope Francis calls Catholics not to join the military and so reminds them that killing cannot be with Christ.  I believe the misguided age of 'blessing wars, militarism and killing' must be abolished and the responsibility lies with Pope Francis and religious/spiritual leaders to be true shepherds of peace and nonkilling/nonviolence following the command of Jesus to love our enemies and not kill each other.
"I hope also that Pope Francis will unambiguously proclaim that 'violence is always wrong, it is not the way of Jesus and reject militarism thereby calling upon Catholics not to join armies and take up arms to kill people, thus becoming a true peace church.
"The appeal is in the hands of Pope Francis. We can now work, fast, pray for a Nonkilling/Nonviolence Encyclical , and hope that Pope Francis will continue to show  courage, be brave and bold,  a true prophet, a loving shepherd and a bright light in these dark days for all the human family, which he has so rightly described as 'this unique and terrible world war in installments".

__________________________________
The Peace People began in 1976 as a protest movement against the ongoing violence in Northern Ireland. Its three founders were Mairead Maguire, Betty Williams and Ciaran McKeown. Over 100,000 people were involved in the initial movement and two of the founders, Mairead and Betty, received the Nobel Peace Prize for that year. Since its inception, the organization has been committed to building a just, peaceful society through nonviolent means – a society based on respect for each individual, and that has at its core the highest standards of human and civil rights.
Mairead Corrigan Maguire, co-founder of Peace People, is a member of the TRANSCEND Network for Peace, Development and Environment. She won the 1976 Nobel Peace Prize for her work for peace in Northern Ireland. Her book The Vision of Peace (edited by John Dear, with a foreword by Desmond Tutu and a preface by the Dalai Lama) is available from www.wipfandstock.com. She lives in Belfast, Northern Ireland. See: www.peacepeople.com.
This article originally appeared on Transcend Media Service (TMS) on 25 Apr 2016.
Anticopyright: Editorials and articles originated on TMS may be freely reprinted, disseminated, translated and used as background material, provided an acknowledgement and link to the source, TMS: An Appeal for Pope Francis to Share with the World an Encyclical on Nonviolence and Just Peace, and for the Church to Stop Teaching 'Just War Theory', is included. Thank you.
If you enjoyed this article, please donate to TMS to join the growing list of TMS Supporters.


This work is licensed under a CC BY-NC 4.0 License.