'Human Suffering Has Reached Staggering Levels': UN Ban Ki-moon
UNITED NATIONS, 23 May 2016
Baher Kamal – Inter Press Service-IPS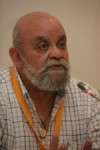 17 May 2016 – "Human suffering from the impacts of armed conflicts and disasters has reached staggering levels."
With these one dozen or few words, the United Nations Secretary General, Ban Ki-moon, briefly but sharply portrayed the current humanitarian drama, explaining why the UN has decided to hold the first ever World Humanitarian Summit on May 23-24 this year in Istanbul, Turkey.
Secretary General Ban documented his statement with specific figures: nearly 60 million people, half of them children, have been forced from their homes due to conflict and violence.
As if this was not enough, the UN chief talked about another man-made tragedy: "The human and economic cost of disasters caused by natural hazards is also escalating. In the last two decades, 218 million people each year were affected by disasters; at an annual cost to the global economy that now exceeds 300 billion dollars."
Based on these and other facts, experts and UN high officials labelled the on-going, growing human drama, as the "worst humanitarian crisis since World War II".
How to face this unprecedented human and humanitarian challenge will be the task of around 6,000 delegates expected to attend this World Humanitarian Summit.
IPS asks the Tanzania-born, British politician and diplomat Stephen O'Brien, who since March this year is the UN Under-Secretary-General for Humanitarian Affairs, Office for the Coordination of Humanitarian Affairs and Emergency Relief Coordinator (OCHA), taking over from Valerie Amos, also British.
"Every humanitarian crisis is inherently unique and context-specific," O'Brien responded to IPS in an interview. "However, taken together, there are 125 million people in need of aid in the world today as a result of conflicts and natural disasters and over 60 million people have been forcibly displaced. These are the highest numbers we have on record since WWII."
According to O'Brien, it is clear that the landscape of humanitarian action has changed significantly over the past years and "collectively we have not been able to adequately keep up with and respond to contemporary challenges."
The UN Under Secretary General then explains to IPS that it is not about one humanitarian crisis, but multiple crises happening at the same time, from the crisis in Syria and the region to the impact of El Niño, which currently affects 60 million people in the world.
And that the humanitarian needs have grown exponentially while the resources have not been able to follow suit which has created an ever-widening gap.
O'Brien who does not want to take questions prior to the World Humanitarian Summit on the expected specific outcomes of the Summit.
But he says it is a unique opportunity to sustain the momentum for change generated over three years of global consultations with key stakeholders and send a message of solidarity and support to the millions in need of life-saving and life-sustaining assistance.
"We expect key commitments from world leaders to meaningfully act to prevent, prepare for and mitigate the effects of conflict, natural disasters, displacement and other causes of need and move forward on issues such as timely and adequate funding of humanitarian work," he says.
The interview then comes to another on-going and expected to rapidly grow huge humanitarian crisis—that of the known "climate refugees."
For the UN Refugee Agency (UNHCR), the consequences of climate change are "enormous". Scarce natural resources such as drinking water are likely to become even more limited, it says.
And adds that many crops and some livestock are unlikely to survive in certain locations if conditions become too hot and dry, or too cold and wet. Food security, already a significant concern, will become even more challenging.
Recent reports cited by UNHCR indicate that 22 million people were displaced in 2013 by disasters brought on by natural hazard events. And as in previous years, the worst affected region is Asia, where 19 million people, or 87.1 per cent of the global total, were displaced during the year.
That was the situation as far back as three years ago. The numbers have certainly dramatically increased.
People will have to try and adapt to this situation, but for many this will mean a conscious move to another place to survive. Such moves, or the adverse effects that climate change may have on natural resources, may spark conflict with other communities, as an increasing number of people compete for a decreasing amount of resources, says UNHCR.
IPS asks O'Brien about this phenomena and the expected number of climate refugees in the near future.
"In the Secretary-General's Report One Humanity: Shared Responsibility, he highlights the increased disaster risk fuelled by climate change. As previous crises have shown, each crisis is different, unpredictable and context-specific and may trigger displacement and increased migration. OCHA is however not in a position to speculate or provide estimates in any hypothetical scenario," he says.
According to O'Brien what is clear is that "we need to break through existing silos to collaboratively work together, anticipate rather than wait for crises to hit, transcend the humanitarian-development divide by working towards collective outcomes, invest more on risk and leverage on available technology and best practices."
Then IPS asks the UN Under Secretary General if he expects from the Istanbul Summit an effective, immediate implementation of the decisions/recommendations that will be taken there. In other words, if he thinks there is now enough, solid political will to face the humanitarian crisis?
O'Brien states: "A core aim of the summit is the reinvigoration of political will and commitment to take forward the Agenda for Humanity." And adds "The Summit is a launch pad at the highest level: but what is even more important will be a commitment to follow up and make these actions a reality."
He also says that UN member States and other stakeholders making commitments during the Summit will be asked to update on progress against their implementation. "Follow-up at the inter-governmental level will begin with the United Nations Economic and Social Council (ECOSOC) Humanitarian Affairs Segment.
O'Brien adds that the UN Secretary-General's report to the General Assembly will address how each of the core responsibilities will be carried forward and will define the vehicles for assessing progress.
Back to the Istanbul Summit and its expected decisions/recommendations, IPS asks O'Brien if he thinks they may impact the current humanitarian funding in the sense of putting all current, available funds in just one basket, thus giving the same sum total, which is considered short, or new, additional funding?
The UN Under Secretary General responds: "Existing humanitarian funding generally takes the form of short-term grants even when responses continue for years on end. This can result to fragmentation between all actors and specifically, it can incentivise humanitarian and development actors to operate in isolation."
Asked to further elaborate, O'Brien states "It is clear that incoherent and inflexible financial structures, which are not equitable nor based on risk analysis are detrimental towards achieving long-term results.
"At the first instance, investment in humanity must of course be increased, says O'Brien.
"However, the aim is also for all actors to commit to financing collective outcomes rather than individual projects and to do so in a manner that is flexible, nimble and predictable over multiple years so that actors can plan and work towards achieving collective outcomes in a sustainable manner and adapt to changing risk levels and needs in a particular context."
The pooled fund mechanism – both at global level through the Central Emergency Response Fund (CERF) and at country level where various funds exist – is one tried and tested mechanism for flexible and readily available funding, concludes O'Brien.
The CERF was the first concrete outcome of the UN Secretary-General's reform process and the Millennium Summit. It was launched on 9 March 2006 and represents an important international multilateral funding instrument.
"It saves lives by providing rapid initial funding for life-saving assistance at the onset of humanitarian crises, and critical support for poorly funded, essential humanitarian response operations. Each year, CERF allocates approximately US$400 million."
CERF has three objectives: to promote early and coordinated action and response to save lives; to enhance response to time-crucial requirements based on demonstrable needs, and to strengthen core elements of humanitarian response in under-funded crises.
_____________________________________
Baher Kamal, Egyptian-born, Spanish national secular journalist. He is founder and publisher of Human Wrongs Watch. Kamal is a pro-peace, non-violence, human rights, harmonious coexistence defender among human beings and with Nature, with more than 43 years of professional experience. With these issues in sight, he covered practically all professional posts, from correspondent to chief editor of dailies and international news agencies.
This article originally appeared on Transcend Media Service (TMS) on 23 May 2016.
Anticopyright: Editorials and articles originated on TMS may be freely reprinted, disseminated, translated and used as background material, provided an acknowledgement and link to the source, TMS: 'Human Suffering Has Reached Staggering Levels': UN Ban Ki-moon, is included. Thank you.
If you enjoyed this article, please donate to TMS to join the growing list of TMS Supporters.


This work is licensed under a CC BY-NC 4.0 License.