Saudi Employer Owes Guest Workers Nearly $1 Billion in Back Pay
MIDDLE EAST & NORTH AFRICA, 15 Aug 2016
teleSUR – TRANSCEND Media Service
The exploitation of migrant workers is turning into a full-fledged humanitarian crisis.
14 Aug 2016 – Dawlat Khan has worked as a health and safety officer for the construction firm Saudi Oger in Saudi Arabia for nearly eight years, but his experience took a turn for the worse 8 months ago when his monthly salary of US $2000 abruptly stopped.
According to The Middle East Eye (MEE) Khan is only one of some 50,000 Saudi Oger employees who have not been paid since last summer. The kingdom's largest private company reportedly owes employees US $800 million in back pay.
Living in a work camp where rent is US $133 per month, Khan has to rely on friends for food and accommodation costs. Most crucially, like many migrant workers in the country, Khan's family is reliant on his earnings in the kingdom.
Unable to send remittances home for the past 8 months, Khan says his family is suffering, with his wife having been forced to sell all her jewelry in order to send their eldest son to university this year.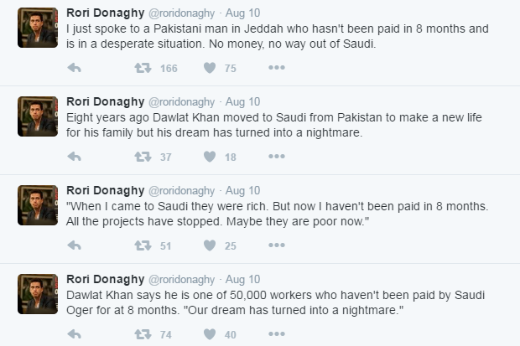 "But there is nothing left for my other children to sell," he told MEE. "My wife and children are suffering now. I don't know what we are going to do."
Last month, the State Bank of Pakistan found that the biggest source of remittances to Pakistan come from Saudi Arabia, with more than 1.6 million Pakistanis travelling there to work between 2011 and 2015.
"I came to Saudi to give my children a better chance in life," Khan said. "Before everything was good, but now I'm not getting paid and my life has turned into a nightmare."
Khan can't even leave the country, as he can't afford a flight back home – but says he doesn't want to leave without being paid.
"We can't leave the country," he told MEE. "We have no money for tickets and we are waiting for our money. If I get my money I will leave this country and I will go to Canada or America."
Vani Saraswathi, from the migrant justice organisation, Migrant Rights explained to MEE how foreign workers in the isolated kingdom are subject to more exploitation than other Gulf states.
"There is absolutely no civil society space. The country is so large, a lot of the problems occur away from the main cities. So workers find it difficult to access even the consuls or missions," she said. "The lack of legal aid in all of the GCC (Gulf Cooperation Council) is a huge issue, and particularly so in a place like Saudi Arabia … Providing food and helping with repatriation is seen as a resolution. But most of these workers would have paid heavy recruitment fees – and borrowed to do so – so going back without their dues is far from a resolution. It's just deferring their angst from one country to another."
RELATED: India Sends Food Aid to Starving Citizens in Rich Saudi Arabia
Despite calls from Saudi officials ordering Saudi Oger to pay their employees last week, after it was found that India was compelled to feed nearly 10000 Indian citizens working in the kingdom, after they had been left starving, Khan feels he isn't any closer to being paid.
"Some Saudi officials have come and told us we will get money," he said. "But they have been saying this for three months – so far we haven't received one riyal from them."
Khan told the MEE the situation can be deemed a full-on humanitarian crisis. With people starving and poor, employees are resisting against the injustice being inflicted upon them.
In June, 150 Saudi Oger employees had protested outside the company's offices in Jeddah, setting fire to vehicles. Just a month earlier, workers from the construction company, BinLadin Group, also set fire to buses after not being paid.
The circumstances for these workers are compelling some to take their own life.
Sajjad Binalis, who himself has been working for the health company Semac since last year and who stopped receiving pay just 4 months in, told MEE that his his friend Shahid Iqbal hung himself 2 weeks ago after not being paid for three months.
Binalis' family in Pakistan, like Khan's, is reliant on his money, and is in the same perplexed state. After approaching the Pakistani embassy for help, they simply said his problem was not unique to him in the kingdom.
Binalis sent MEE a video, in which him and several colleagues can be seen pleading with their manager for their salaries.The manager assures them they will be paid "next week", to which the workers protest, "You always say next week."
Binalis, like Khan, wants to leave Saudi Arabia, but is desperate to receive his salary before leaving.
Mohammed Barr's story is yet another instance of unfair treatment of foreign workers in the country. While Saudi authorities are deeming unpaid salaries to a financial crisis, Barr says the case is much more than that. .
"They are trying to get foreigners out of Saudi Arabia – they have increased the cost of ID cards and companies are not paying us our salaries," he said in the MEE.
RELATED: Indian Woman Reportedly Has Arm Cut Off by Saudi Employer
Working in in Saudi Arabia for the past 10 years as an IT technician, Barr explained to the MEE that renewing ID cards has increased by ten-fold, and sponsors that are necessary to get a work visa, take as much as 20 percent of an employee's monthly salary.
Barr is also desperate to leave Saudi Arabia, but is required to pay his sponsor $2,666 iin order to do so – money he does not have.
"We need people to listen," he said, urging the international community. "No one is doing anything and no one here will help us."
Go to Original – telesurtv.net
DISCLAIMER: The statements, views and opinions expressed in pieces republished here are solely those of the authors and do not necessarily represent those of TMS. In accordance with title 17 U.S.C. section 107, this material is distributed without profit to those who have expressed a prior interest in receiving the included information for research and educational purposes. TMS has no affiliation whatsoever with the originator of this article nor is TMS endorsed or sponsored by the originator. "GO TO ORIGINAL" links are provided as a convenience to our readers and allow for verification of authenticity. However, as originating pages are often updated by their originating host sites, the versions posted may not match the versions our readers view when clicking the "GO TO ORIGINAL" links. This site contains copyrighted material the use of which has not always been specifically authorized by the copyright owner. We are making such material available in our efforts to advance understanding of environmental, political, human rights, economic, democracy, scientific, and social justice issues, etc. We believe this constitutes a 'fair use' of any such copyrighted material as provided for in section 107 of the US Copyright Law. In accordance with Title 17 U.S.C. Section 107, the material on this site is distributed without profit to those who have expressed a prior interest in receiving the included information for research and educational purposes. For more information go to: http://www.law.cornell.edu/uscode/17/107.shtml. If you wish to use copyrighted material from this site for purposes of your own that go beyond 'fair use', you must obtain permission from the copyright owner.