(Italiano) Intrecci perversi: come reagire?
ORIGINAL LANGUAGES, 19 Sep 2016
Elena Camino – Centro Studi Sereno Regis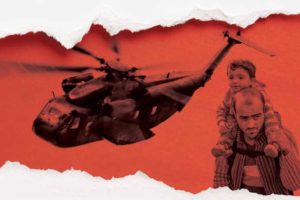 Profitti dai rifugiati
13 settembre 2016 – E' stato da poco pubblicato un Report di Mark Akkerman1 dal titolo: "Guerre ai confini. I produttori di armi traggono profitti dalla tragedia dei rifugiati in Europa". L'Autore mette in luce una situazione paradossale: i produttori e venditori di armi si stanno arricchendo anche grazie ai sistemi di sicurezza messi in atto per bloccare le migrazioni. Tra i big players del settore della sicurezza dei confini dell'Europa figurano aziende che producono sistemi militari, come Finmeccanica (che di recente ha assunto il nome Leonardo2), che è anche tra le prime quattro aziende europee esportatrici di sistemi militari, ed è attiva nel vendere i propri sistemi d'arma ai paesi del Medio Oriente e del Nord Africa, alimentando i conflitti che sono all'origine della fuga di intere popolazioni. Frontex, la principale agenzia di controllo delle frontiere, ha visto accrescere molto il proprio bilancio tra il 2005 e il 2016, portandolo da 6,3 milioni a 238,7 milioni di euro. L'industria degli armamenti e della sicurezza ha ottenuto anche gran parte dei finanziamenti di 316 milioni di euro forniti dall'UE per la ricerca in materia di sicurezza.
La Finmeccanica – Leonardo ha identificato "il controllo dei confini e i sistemi di sicurezza" come una delle voci più importanti nell'aumento delle ordinazioni e dei profitti.
Dipendiamo da loro… da chi?
Dal Presidente degli Stati Uniti….
Hillary Clinton e Donald Trump ripetutamente si sono accusati a vicenda di mancare del temperamento e delle capacità necessarie per essere dei veri 'comandanti'. La Clinton ha detto che Trump "non è uno di cui fidarsi con le armi nucleari". Trump ha definito la Clinton "mentalmente instabile." Quanto potere ha il Presidente degli Stati Uniti per decidere un attacco nucleare? La rivista Bloomberg News ha chiesto a un esperto, Bruce G. Blair, di illustrare i passi della procedura3. La riassumiamo qui.
Il Presidente è il solo a decidere. Se ritiene necessario procedere con un attacco nucleare, interpella telefonicamente i consiglieri militari e civili alla Casa Bianca, in presenza del Capo operativo del Pentagono (del National Military Command Center). Viene interpellato anche il capo delle forze nucleari strategiche.
La consultazione è rapida, meno di un minuto, perché se i missili nemici stanno puntando verso gli USA occorre decidere rapidamente. La fretta aumenta i rischi di lancio per falso allarme. Se il Presidente decide di attaccare, alcuni consiglieri possono cercare di dissuadere il Presidente, o di dimettersi per protesta, ma il Pentagono deve obbedire al suo ordine.
L'ufficiale in capo del Pentagono deve verificare l'autenticità dell'ordine, con un sistema di codici incrociati.
Parte l'ordine, che contiene istruzioni sul piano di azione e dei codici necessari per rendere pronti al lancio i missili: viene trasmesso a tutti i comandi e direttamente agli equipaggi. Sono passati appena due o tre minuti dalla chiamata del Presidente.
Gli equipaggi, che possono essere su sottomarini o in basi terrestri sotterranee, a loro volta con una serie di codici sbloccano i missili e li orientano per il lancio. Dopo 10' per le sedi a terra, e dopo 15' per i missili sui sottomarini, i lanci possono essere effettuati. A quel punto non si possono più fermare.
… o da possibili 'incidenti'?
Il 16 luglio scorso i giornali hanno dato notizia che le autorità militari turche avevano chiuso lo spazio aereo attorno alla base aerea turca e Nato di Incirlik, nel sud della Turchia, da dove partono i raid contro l'Isis. Intanto il comando militare statunitense in Europa aveva ordinato alle forze americane di stanza in Turchia di adottare le massime misure di sicurezza. Il livello di allerta è stato portato a "delta", applicabile in caso di allarme terroristico o di attacco considerato imminente: tutte le attività non essenziali sono state sospese e tutte le risorse sono concentrate sulla difesa in caso di attacco esterno. Pochi giorni dopo la base è stata riaperta. In questa base, che si trova a circa 100 Km dal confine con la Siria, secondo un recente rapporto del Simson Center4, dai tempi della Guerra Fredda si trovano circa 50 ordigni tattici nucleari5 .
Uno dei problemi più pressanti nei giorni del fallito golpe in Turchia è stato quello della sicurezza delle bombe nucleari collocate proprio nella base aerea di Incirlik: si è temuto che potessero cadere nelle mani di organizzazioni terroristiche.6
Due fonti indipendenti hanno comunicato a EurActiv.com7 che gli Stati Uniti hanno iniziato in agosto a trasferire gli ordigni nucleari dalla Turchia alla Romania, in vista di un possibile peggioramento delle relazioni tra Washington e Ankara. Secondo una delle fonti il trasferimento sarebbe difficile e impegnativo, sia in termini tecnici che sul piano politico. Non è facile spostare decine di armi nucleari in condizioni di anonimato…
Anche altre fonti sostengono che le armi americane sono state trasferite alla base aerea di Deveselu in Romania, nei pressi della città di Caracal, ma tali notizie sono state energicamente smentite dal Ministro degli Esteri romeno. Questo eventuale trasferimento renderebbe ancora più critici i rapporti tra USA e Russia.
La società civile
Notizie come quelle qui sopra riportate non compaiono sui media italiani: il pubblico viene intrattenuto su questioni spesso irrilevanti. Eppure il ruolo del pubblico è indispensabile per bloccare la produzione, il traffico, l'uso di armi – sia convenzionali che nucleari. E' evidente che l'intreccio di poteri in mano a una ridotta élite tecno-militar-finanziaria che controlla i sistemi politici ed economici di interi Paesi sta portando crescenti sofferenze e distruzioni alle comunità umane e all'ambiente globale.
Occorre unire le forze di associazioni, movimenti, gruppi, per combattere, con le armi della nonviolenza, questo nucleo di assassini, e renderlo inoffensivo. Sono in atto iniziative a vari livelli: dall'Associazione dei Sindaci per la Pace (Mayors for Peace) al Gruppo che ha elaborato il testo dell'Humanitarian Pledge8 (Impegno Umanitario), un documento che impegna le nazioni a elaborare insieme un trattato che bandisca a livello internazionale le armi nucleari. Questo documento – elaborato a Vienna nel 2014 – è stato adottato il 7 dicembre 2015 durante un'Assemblea Generale delle Nazioni Unite (Risoluzione 70/48). Delle 168 nazioni rappresentate, 139 hanno espresso un voto a favore. L'Italia non ha finora aderito.
Qui di seguito è disponibile un elenco – anche se largamente incompleto – di realtà positive alle quali rivolgersi per aggiungere la propria voce e la propria volontà di pace.
In Italia:
Archivio Disarmo – Istituto di ricerche internazionali
Istituto di ricerca per la pace (IPRI) e Rete Corpi Civili diPace (CCP)
M.I.R. (Movimento Internazionale della Riconciliazione) e M.N. (Movimento Nonviolento)
Peacelink – telematica per la pace
A livello internazionale:
Anti-nuclear organizations (con una lista delle principali organizzazioni)
Anti-nuclear power groups (anche qui una lista di siti)
Bulletin of the Atomic Scientists
Campaign for Nuclear Disarmament
France and weapons of mass destruction
Friends of the Earth International
History of the anti-nuclear movement
International Association of Lawyers against Nuclear Arms
International Campaign to Abolish Nuclear Weapons
International Court of Justice advisory opinion on the Legality of the Threat or Use of Nuclear Weapons
International Day against Nuclear Tests
International Network of Engineers and Scientists for Global Responsibility
International Physicians for the Prevention of Nuclear War
Nuclear Information and Resource Service
Nuclear Weapons Freeze Campaign
Physicians for Social Responsibility
Pugwash Conferences on Science and World Affairs
Scientists for global responsibility
SIPRI – Stockholm International Peace Research Institute
Transnational Institute TNI.org
War Resisters' International (WRI) – International Secretariat
La Segreteria Nazionale della campagna è attiva presso la Casa della Nonviolenza via Spagna, 8 37123 Verona telefono e fax 045/8009803 info@difesacivilenonviolenta.org
NOTE:
1 (BORDER WARS. THE ARMS DEALERS PROFITING FROM EUROPE'S REFUGEE TRAGEDY https://www.tni.org/files/publication-downloads/border-wars-report-executive-summary-english1207.pdf (luglio 2016)
2 Leonardo è un'azienda globale ad alta tecnologia e uno degli attori chiave nel mercato mondiale dell'industria dell'Aerospazio, Difesa e Sicurezza. Con sede in Italia, conta oltre 47.000 dipendenti, dei quali circa il 37% all'estero http://www.leonardocompany.com/chisiamo-aboutus/profilo-profile-chisiamo-aboutus-2 .
3 To Launch a Nuclear Strike, Clinton or Trump Would Follow These Steps. Dave Merrill, Nafeesa Syeed and Brittany Harris September 7, 2016 http://www.bloomberg.com/politics/graphics/2016-nuclear-weapon-launch/
4 http://stimson.org/sites/default/files/file-attachments/B61-Life-Extension-Program.pdf
5 http://www.trunews.com/article/nuclear-weapons-being-moved-from-incirlik-air-base-to-romania-sources#sthash.0JCvUrUi.dpuf
6 https://sputniknews.com/military/20160801/1043815343/incirlik-nato-turkey-purge-coup.html
7 http://www.euractiv.com/section/global-europe/news/us-moves-nuclear-weapons-from-turkey-to-romania/
__________________________________
Elena Camino è membro della rete TRANSCEND per la Pace, Sviluppo e Ambiente e Gruppo ASSEFA Torino.
Go to Original – serenoregis.org
DISCLAIMER: The statements, views and opinions expressed in pieces republished here are solely those of the authors and do not necessarily represent those of TMS. In accordance with title 17 U.S.C. section 107, this material is distributed without profit to those who have expressed a prior interest in receiving the included information for research and educational purposes. TMS has no affiliation whatsoever with the originator of this article nor is TMS endorsed or sponsored by the originator. "GO TO ORIGINAL" links are provided as a convenience to our readers and allow for verification of authenticity. However, as originating pages are often updated by their originating host sites, the versions posted may not match the versions our readers view when clicking the "GO TO ORIGINAL" links. This site contains copyrighted material the use of which has not always been specifically authorized by the copyright owner. We are making such material available in our efforts to advance understanding of environmental, political, human rights, economic, democracy, scientific, and social justice issues, etc. We believe this constitutes a 'fair use' of any such copyrighted material as provided for in section 107 of the US Copyright Law. In accordance with Title 17 U.S.C. Section 107, the material on this site is distributed without profit to those who have expressed a prior interest in receiving the included information for research and educational purposes. For more information go to: http://www.law.cornell.edu/uscode/17/107.shtml. If you wish to use copyrighted material from this site for purposes of your own that go beyond 'fair use', you must obtain permission from the copyright owner.