Syria: A "Grim" Set of Alternatives
SYRIA IN CONTEXT, 31 Oct 2016
Noam Chomsky interviewed by Saul Isaacson and Dan Falcone | Z Net – TRANSCEND Media Service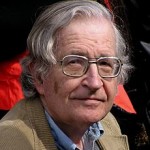 28 Oct 2016 – With the recent insertion of Russian military power into Syria and the continued use of American air power in the region, the situation in Syria has gotten tenser than ever, especially since the allegedly accidental September 17, 2016, attack on a Syrian military position that killed dozens, followed by the dismissive comments about the incident that US Ambassador to the UN Samantha Power made at a UN press conference on September 17. Former acting CIA Director Michael Morell recently said, "The Russians and Iranians need to pay a little price for their actions in support of Assad."
In light of these developments, New York City teachers Saul Isaacson and Daniel Falcone recently sat down with Professor Noam Chomsky in his MIT office to discuss Syria and US foreign policy.
Saul Isaacson: In light of recent developments in the media propaganda blitz against Syrian President Bashar al-Assad, are you concerned that a Clinton presidency would seek to confront Russia, on Syrian soil — are we now seeing the opening salvos?
Noam Chomsky: I pretty much doubt it. The Russians have an impregnable position. What they're doing is pretty horrible, but there's no way to impede it except by a nuclear war, which no one's going to do. So I think the West will watch.
You don't see Syria as the next place to install a democracy or seek "regime change," as they call it?
Only if you want to destroy the world. There is a major Russian military presence, and you can't confront that.
So it's the old Cold War doctrine: when the Russians move one step forward, American policy must be prepared to move one step back, and vice versa. There is a great deal of concern among progressive writers that this doctrine will lead to a confrontation with the Russians.
There is, but I think it's misplaced. I mean, I don't like Clinton at all, but I think she's really being demonized. She's no worse than the European leaders, for example. So, for example, in Libya she was terrible, but [former French President Nicolas] Sarkozy and [former UK Prime Minister David] Cameron were worse. And on some things, she's surprisingly dovish…. There's a leak of a private discussion that she had with a couple of anti-nuke people, national security specialists who were critical of the nuclear buildup — not [defense secretary for President Bill Clinton] William Perry, but [former Defense Department official] Andrew C. Weber — and she was probably accommodating to them, but the statements that she made were not bad — if you hold her feet to the fire and make her pursue that, it would make sense.
So she expressed some skepticism about Obama's trillion-dollar nuclear modernization plan. She came out in opposition to the most dangerous part of it — the development of smaller nuclear-tip missiles, which can be adapted, scaled down for battlefield usage. She opposed that and made a couple of other reasonable comments, which were probably in reaction to her audience, since politicians say what people want to hear, but it's something that she could be pressed on by popular movements — "OK, you're on the record for this, so stop this."
Do you believe that Syria and Assad are being demonized as well by the press? Do you believe barrel bombs, for example, are dropped by Assad?
There's strong evidence for that. He's pretty horrible. In this case, I don't think he's really being demonized. It's pretty awful.
Many observers are coming to the defense of Assad (for example, see Mike Whitney's discussion of Putin's "progress" in Syria) and saying this is not a place to build a new regime, and sometimes they give the example of Libya and Iraq.
That's a separate question. [Muammar] Gaddafi was not a nice guy either, but it was no reason to destroy the country. However, in this case, it's not even an option. Because if you tried anything like what was done in Libya, you'd have a world war.
Recently, Obama has sent something like 250 more troops to Iraq. I think there are 5,000 now. Does that concern you? As obviously there's a buildup to attack Mosul.
It does, but for reasons that actually were pretty well expressed in an op-ed in The New York Times by Jamal al-Dhari. The fact is that when the US-backed forces attacked Ramadi and Fallujah, they practically destroyed them. Now these are the main Sunni cities. And Mosul is the last Sunni city. This is what he [said]: If you just wipe the place out, it'll lay the basis for a much more vicious conflict. If you just destroy things without looking at the roots of what's there, it's just going to get worse. That's why ISIS grew out of al-Qaeda in Iraq. Smash up one thing, don't deal with the sources, the result will be worse.
Are you hopeful that we're going to take a broader approach than just a military one under Hillary Clinton?
Not really, but it's not easy to say what to do. ISIS is pretty awful, but you just have to deal with the roots of it … the whole ethnic sectarian conflict, which was an outgrowth of the Iraq War. And the Sunni populations do feel threatened by the Shiite majority and the Shiite militias. And unless something is done to lead to an accommodation there, it'll be pretty brutal out there.
Is there any hope for working with Russia on this?
There may be some hopes. In the case of Syria, there's simply no alternative (no realistic alternative, short of destroying Syria) to having some kind of transitional government with Assad certainly involved, maybe in power. It's ugly, but there's no alternative. My good friend [Gilbert Achcar] has an article in The Nation [that] says — although he wrote it right before the cease-fire — that the cease-fire will never last, because as long as Assad remains in power, the opposition will continue to fight until the death of Syria. So he says we have to do something to get Assad out of power, but that can't be done. That's the problem.
That's such a grim set of alternatives.
It's pretty grim, yeah. And for Syria, it's just horrendous. And the one saving grace is, if you look at history, at the end of the First World War in Syria, it was just about as bad as what's happening now, and they probably had the worst casualties per capita of any country in the world during the First World War. It was very brutal, with hundreds of thousands killed. It was a much smaller country then, but they did recover somehow, so it's conceivable, but it's pretty awful. And it's just very hard to think of any recommendations. I mean, I don't know what Obama could've done that's better [than] what he did do.
____________________________________
Avram Noam Chomsky is an American linguist, philosopher, cognitive scientist, historian, logician, social critic, and political activist. Sometimes described as "the father of modern linguistics," Chomsky is also a major figure in analytic philosophy, and one of the founders of the field of cognitive science. He has spent more than half a century at the Massachusetts Institute of Technology (MIT), where he is Institute Professor Emeritus, and is the author of over 100 books on topics such as linguistics, war, politics, mass media, US foreign policy, social issues, Latin American and European history, and more.
Daniel Falcone is an independent journalist, interviewer, researcher, activist and teacher. He has a graduate degree in modern American history and first started interviewing public intellectuals Howard Zinn and Noam Chomsky after September 11, 2001. He writes for several publications that cover current affairs, political science, history and education. He teaches and resides in New York City.
Saul Isaacson studied at Columbia University and The University of Pennsylvania. He has taught English at Trinity School in New York for over two decades. Aside from his interest in current affairs, Isaacson is an avid supporter of film studies.
Note: This interview has been edited for clarity and concision.
DISCLAIMER: The statements, views and opinions expressed in pieces republished here are solely those of the authors and do not necessarily represent those of TMS. In accordance with title 17 U.S.C. section 107, this material is distributed without profit to those who have expressed a prior interest in receiving the included information for research and educational purposes. TMS has no affiliation whatsoever with the originator of this article nor is TMS endorsed or sponsored by the originator. "GO TO ORIGINAL" links are provided as a convenience to our readers and allow for verification of authenticity. However, as originating pages are often updated by their originating host sites, the versions posted may not match the versions our readers view when clicking the "GO TO ORIGINAL" links. This site contains copyrighted material the use of which has not always been specifically authorized by the copyright owner. We are making such material available in our efforts to advance understanding of environmental, political, human rights, economic, democracy, scientific, and social justice issues, etc. We believe this constitutes a 'fair use' of any such copyrighted material as provided for in section 107 of the US Copyright Law. In accordance with Title 17 U.S.C. Section 107, the material on this site is distributed without profit to those who have expressed a prior interest in receiving the included information for research and educational purposes. For more information go to: http://www.law.cornell.edu/uscode/17/107.shtml. If you wish to use copyrighted material from this site for purposes of your own that go beyond 'fair use', you must obtain permission from the copyright owner.