What Happens When a Small Farmer Migrates?
DEVELOPMENT, 17 Oct 2016
Baher Kamal – Inter Press Service-IPS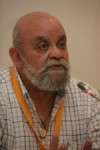 13 Oct 2016 – Now that world attention is focused on the fast growing process of urbanisation, with 2 in 3 people estimated to be living in towns and cities by the year 2030, an old "equation" jumps rapidly to mind: each time a small farmer migrates to an urban area, equals to one food producer less, and one food consumer more.
Such an equation especially impacts developing countries, where small farmers produce between 60 and 80 per cent of all food.It also affects the living conditions in urban centres, with negative repercussions on the policies aimed at achieving the sustainability of world's cities, which is scheduled to be top on the agenda of HABITAT III conference in Quito, Ecuador on October 17-20.
IPS interviewed Dr. Peter Wobst at the United Nations leading agency dealing with food and agriculture, to assess the impact of rural migration on food production.
"Every smallholder moving out is one producer less – that's for sure… But the reality is complex…," says Wobst, who is senior advisor on the Strategic Programme on Rural Poverty Reduction at the Rome-based Food and Agriculture Organization of the United Nations (FAO).
According to Wobst, migration (mobility of people, largely comprising of labour mobility) is a common phenomenon that occurs during the economic and social transformation of societies/economies.
"We want this to happen for economies and regions to develop. Today, in a more integrated world economy, more than ever. And the numbers speak for themselves – one billion people not living in the communities where they were born."
Hence, as the rural areas (including agriculture) transform, new production systems require different compositions of skills, which in turn needs to be taken into account in the relevant education systems (basic education as well as vocation training), Wobst adds.
While some people find new opportunities in the changing rural economy, others are seeking opportunities in nearby towns or cities or ultimately move abroad. This is all fine as long as people improve their relative livelihoods condition, he says.
"What obviously we do not want to see is that people move because of economic distress, because they cannot cope with the changing rural (economic) environment and do not see any other viable livelihoods opportunity in their communities of origin. To be beneficial, migration should be a choice, not a necessity."
Wobst then explains that "we at FAO are therefore working on 'addressing the root causes of distress migration', dealing with the socio-economic issues that drive people out of rural areas."
Now, back to the farmer moving to the city. According to Wobst, for an individual, that "equation" seems obvious… But in a time continuum and over a large number of farmers it does not hold.
Wobst goes further to explain why the equation "each time a farmer migrates to an urban area, means one food producer less and one food consumer more" does not necessarily hold.
"As economies undergo structural transformation, the movement of people in search of better employment opportunities elsewhere is inevitable. Farmers can migrate to an urban area, but also to other rural areas, and can do this on a short-term (including seasonal/cyclical migration) or long-term basis."
However, even in the case of rural-urban migration, generally the "equation" (rural migration to urban centres implying less food production and more food consumption) does not hold, Wobst adds.
"If properly managed, safe and regular migration can reduce pressure on local labour markets and foster a more efficient allocation of labour and higher wages in agriculture."
"Some farmers may find a much more productive occupation in urban areas. Some may still have a farm back home that they support to become more productive through the remittances they send as well as the new knowledge and skills they have acquired."
Some of those remaining farmers in the rural areas become more productive over time (fostered by agricultural transformation, advancement in technologies, agricultural investment, better vocational training, extension services, etc.), says Wobst.
And adds that agricultural and rural transformation will lead to more integrated food systems, with further occupational opportunities up the value chain (including processing, packaging, transport, wholesale, and retail).
Wobst also explains that remittances from family members who migrated can relax liquidity constraints and foster investments in agriculture and other rural economic activities with potential for job creation in rural areas of origin.
"Further, migrants can acquire new knowledge, skills and networks which will allow them to engage in more productive and attractive employment and entrepreneurial opportunities linked to agriculture upon their own return or simply facilitate those opportunities for the remaining farm household or community members."
IPS asked Wobst about the latest figures. In 2015, there were 244 million international migrants, including 150 million migrant workers. About one third of them are aged 15-34, he said.
Internal migration is an even larger phenomenon, with 740 million internal migrants in 2013. Around 40 per cent of international remittances are sent to rural areas, reflecting the rural origins of a large share of migrants, Wobst further explained.
Moreover, in 2015, 65.3 million people around the world were forcibly displaced by conflict and persecution.
Regarding the impact of migration, Wobst believes it brings both opportunities and challenges for countries of origin, transit and destination.
In countries of origin, diaspora, migrant networks and return migrants can foster the transfer of skills, know-how and technology, as well as investments to promote agriculture and rural development, he says. In countries of transit and destination migrants can help fill labour shortages.
"However, large movements of people present complex challenges. Rural areas of origin risk losing the younger and often most dynamic share of their workforce, while in transit and destination countries migration can constitute a challenge for local authorities to provide quality public services for migrants and host populations, and further strain the natural resource base."
Hence, the FAO has been working to create alternative and sustainable livelihood options in rural areas, with a special focus on women and youth, and harness the developmental potential of internal and international migration.
______________________________________
Baher Kamal, Egyptian-born, Spanish national secular journalist. He is founder and publisher of Human Wrongs Watch. Kamal is a pro-peace, non-violence, human rights, harmonious coexistence defender among human beings and with Nature, with more than 43 years of professional experience. With these issues in sight, he covered practically all professional posts, from correspondent to chief editor of dailies and international news agencies.
DISCLAIMER: The statements, views and opinions expressed in pieces republished here are solely those of the authors and do not necessarily represent those of TMS. In accordance with title 17 U.S.C. section 107, this material is distributed without profit to those who have expressed a prior interest in receiving the included information for research and educational purposes. TMS has no affiliation whatsoever with the originator of this article nor is TMS endorsed or sponsored by the originator. "GO TO ORIGINAL" links are provided as a convenience to our readers and allow for verification of authenticity. However, as originating pages are often updated by their originating host sites, the versions posted may not match the versions our readers view when clicking the "GO TO ORIGINAL" links. This site contains copyrighted material the use of which has not always been specifically authorized by the copyright owner. We are making such material available in our efforts to advance understanding of environmental, political, human rights, economic, democracy, scientific, and social justice issues, etc. We believe this constitutes a 'fair use' of any such copyrighted material as provided for in section 107 of the US Copyright Law. In accordance with Title 17 U.S.C. Section 107, the material on this site is distributed without profit to those who have expressed a prior interest in receiving the included information for research and educational purposes. For more information go to: http://www.law.cornell.edu/uscode/17/107.shtml. If you wish to use copyrighted material from this site for purposes of your own that go beyond 'fair use', you must obtain permission from the copyright owner.