Adlai Stevenson (5 Feb 1900 – 14 Jul 1965): Reducing Strife without Eliminating Variety
BIOGRAPHIES, 6 Feb 2017
Rene Wadlow – TRANSCEND Media Service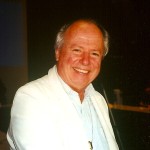 At a time when the narrow nationalism of Donald Trump, expressed in semi-literate style, fills the US media, we can only look back in sadness at the internationalism expressed in an elegant and humorous way by Adlai Stevenson. He was among those who prepared the conference to write the UN Charter during 1944-1945 and later from 1961 to 1965 was the US Ambassador to the United Nations. His clear writing and speaking style had gained national and international attention during his campaign for US President in 1952 and 1956, both times against the World War II general Dwight D. Eisenhower who was easily elected twice.
Adlai Stevenson came from a politically prominent family in Illinois. His grandfather, also called Adlai, was the US Vice President under Grover Cleveland from 1893-1897. Cleveland was a moderately progressive president at a time of general economic prosperity. "A good man in a bad trade" wrote the journalist-editor H. L. Mencken. The first Adlai Stevenson benefited from the image. The second Adlai Stevenson studied at Princeton University on the advice given him by Woodrow Wilson, a friend of his father, graduating in 1922. He then took a law degree at Northwestern Law School near Chicago.
As a young lawyer, he went to Washington DC when President Franklin Roosevelt was creating his "New Deal" institutions. Stevenson worked for the Agricultural Adjustment Agency, newly created to deal with serious economic problems of US farmers. After four years of administration on domestic issues, he returned to Illinois to work with his father who was the publisher of a well-known Illinois newspaper. It was at this time, when war clouds were gathering in Europe that he turned his attention to international affairs.

          He became a member of the executive committee of the World Citizens Association, created in 1939 under the leadership of Quincy Wright, professor of international law at the University of Chicago and of Henri Bonnet, who had been the Director of the International Institute of Intellectual Cooperation of the League of Nations from its inception until 1931 when he became a professor of international relations in Paris. In the late 1930s, Bonnet had moved to New York to teach and to be active in international efforts for peace. The aim of the World Citizens Association was "to develop the world community's awareness of itself so that eventually a world order may be evolved in which races, nations and cultural associations may be harmonized, thus reducing strife without eliminating variety; and to cultivate by all means in its power the habit of looking at problems from the world point of view."
Unfortunately the clouds of war burst before the world community was harmonized. Stevenson was called to Washington to be the head lawyer of the Department of the Navy. However by 1944, work began on what would become the organization of the United Nations, and Stevenson was called to be part of the US team which was to write the UN Charter. As he later wrote "I recall vividly the fears and hopes which filled and inspired us as a second world war ended − fears and hopes which brought us together in an attempt to insure that such a world catastrophe would never again occur. We labored long and diligently; we tried to take into account the interests of all states; we attempted to subordinate narrow national interests to the broad common good." He participated in the General Assembly sessions of 1946 and 1947, but he had already returned to Illinois to help edit his father's newspaper and to start law practice.
In the 1930s, politics in large US cities were run by what were called "political machines" – a combination of political leaders who would trade votes for small services to voters − getting a person a city job, paying back rent etc. By controlling a large city, a political machine had a strong influence on state politics. This was true of many states and was especially true for Illinois where the Democratic Party machine which held Chicago had a large influence on Illinois state politics. Machine politics were rightly regarded as having few political ideas beyond holding power, and there was usually a good deal of corruption − the use of public funds for personal gain.
The Chicago political machine had a particularly bad reputation for corruption and manipulation of ethnic groups. At the end of World War II, many people in the USA wanted to see reflected in domestic politics some of the ideals that had been expressed during the war − democracy, respect for the individual, fairness in public administration. The Chicago machine felt that it needed a few "new faces" who had not been in machine politics before. Paul Douglas, a liberal economics professor at the University of Chicago who had a fine record in combat during the war was chosen to run for US Senator and Adlai Stevenson for Governor of Illinois, though neither had held political office before. Both were elected in the 1948 elections on a wave of demands for political reform. Both Douglas and Stevenson were reform minded and eloquent speakers who attracted the attention of newspapers.(1)
1950 saw the start of the war in Korea, and there was a growing fear among US voters that the US-USSR Cold War which had started in 1945 and hardened in 1948 was going to be a permanent part of world politics. Of the possible candidates for President from the Democratic Party, none had experience in dealing with international issues. The two most likely candidates to succeed Harry Truman, Richard Russell and Estes Kefauver, both from the South, where known only for their positions on domestic issues.
Truman pushed for Stevenson to be the Democratic Party candidate, and although Stevenson had indicated a desire to have a second term as governor, he accepted to run against Eisenhower. Eisenhower was unbeatable, given his role in the Second World War and then as commander of NATO forces. He had the sort of foreign policy experience that many Americans felt was necessary to counter the USSR. On domestic issues, Eisenhower had few views; what views he did express fitted a "middle of the road" ideology held by many.
Stevenson ran against Eisenhower in the 1956 election, and again lost by a large number of votes. When not running for President, Stevenson practiced law in a powerful law firm with offices in Chicago, Washington and New York. It was when John F. Kennedy succeeded Eisenhower as President that Stevenson returned to the international affairs scene. Kennedy appointed Stevenson as the US Ambassador to the UN. Although Stevenson had relatively little say in setting over-all US foreign policy, he was very effective at the UN. His calm eloquence fitted the diplomatic milieu better than the hurly burly of campaigning with appeals to crowds and shacking many hands of people never to be seen again.
Within the limits set by being the representative of a national government, Stevenson conserved the "habit of looking at problems from the world point of view."
NOTES:
For Paul Douglas see: Paul Douglas. In the Fullness of Time. The Memoires of Paul H. Douglas (New York: Harcourt Brace Jananovich, 1971)
For Adlai Stevenson written by a close aide see: John Bartlow Martin. Adlai Stevenson and the World (New York: Doubleday, 1977)
_______________________________________
René Wadlow, a member of the Fellowship of Reconciliation and of its Task Force on the Middle East, is president and U.N. representative (Geneva) of the Association of World Citizens and editor of Transnational Perspectives. He is a member of the TRANSCEND Network for Peace, Development and Environment.
This article originally appeared on Transcend Media Service (TMS) on 6 Feb 2017.
Anticopyright: Editorials and articles originated on TMS may be freely reprinted, disseminated, translated and used as background material, provided an acknowledgement and link to the source, TMS: Adlai Stevenson (5 Feb 1900 – 14 Jul 1965): Reducing Strife without Eliminating Variety, is included. Thank you.
If you enjoyed this article, please donate to TMS to join the growing list of TMS Supporters.


This work is licensed under a CC BY-NC 4.0 License.