Robert Muller (11 Mar 1923 – 20 Sep 2010): Crossing Frontiers for Reconciliation
BIOGRAPHIES, 6 Mar 2017
Rene Wadlow – TRANSCEND Media Service
"The time has come for the implementation of a spiritual vision of the world's affairs. The entire planet must elevate itself into the spiritual, cosmic throbbing of the universe."
— Robert Muller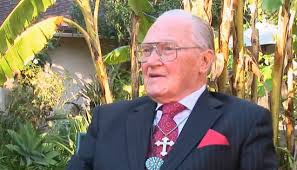 Robert Muller, whose birth anniversary we mark on 11 March, was the former Assistant Secretary-General for Economic and Social Service of the United Nations, and, after his retirement, he served as Honorary President of the Association of World Citizens. He was brought up in Alsace-Lorraine still marked by the results of the First World War.   As a young man, he joined the French Resistance movement during the Second World War when Alsace-Lorraine had been re-annexed by Germany. At the end of the War, he earned a Doctorate in Law and Economics at the University of Strasbourg. Strasbourg was to become the city symbolic of French-German reconciliation and is today home of the European Parliament.
Determined to work for peace having seen the destructive impact of war, he joined the United Nations Secretariat in 1948 where he worked primarily on economic and social issues. For many years, he was the Secretary of the United Nations Economic and Social Council. His work with ECOSOC brought him into close contact with NGOs whose work he always encouraged
In 1970, he joined the cabinet of the then Secretary-General U Thant, who was Secretary-General from 1961 to 1971.   U Thant had a deep impact on the thinking of Robert Muller. U Thant's inner motivations were inspired by a holistic philosophy drawn from his understanding of Buddhism, by an intensive personal discipline and by a sense of compassions for humans. U Thant had been promoted to his UN post by the military leaders of Burma who feared that had he stayed in the country, he would have opposed their repressive measures and economic incompetence. Although U Thant was reserved in expressing his spiritual views in public speeches, he was much more willing to discuss ideas and values with his inner circle of colleagues. U Thant held that "the trouble of our times is that scientific and technological progress has been so rapid that moral and spiritual development has not been able to keep up with it."
Muller agreed with U Thant's analysis. As Muller was a good public speaker, he often expressed these views both in UN meetings and in addresses to NGOs and other public meetings. Muller became increasingly interested in the views of the French Jesuit philosopher Pierrre Teihard de Chardin who had lived his last years of his life in New York City. For Teihard, as he wrote in Phenomenon of Man "No longer will man be able to see himself unrelated to mankind neither will he be able to see mankind unrelated to life, nor life unrelated to the universe."
Muller saw the UN as a prime instrument for developing a sense of humanity as all members of one human family and for relating humans to the broader community of life and Nature. As Muller wrote "We are entering one of the most fascinating and challenging areas of human evolution. In order to win this new battle for civilization, we must be able to rely upon a vastly increased number of people with a world view. We need world managers and servers in many fields."
I had the pleasure of knowing Robert Muller well as he was often in Geneva for his UN economic and social work and, at that time, had a home in France near Geneva, where he did much of his writing. Muller was also deeply influenced by the thinking of another Alsatian, Albert Schweitzer who had also spent most of his life outside France. I had known Albert Schweitzer when I was working for the Ministry of Education of Gabon in the early 1960s. Both Schweitzer and I, influenced by Norman Cousins, had been active against A-Bomb tests in the atmosphere, and so I had been welcomed for discussions at the hospital in Lambaste. For Muller, Schweitzer with his philosophy of reverence for life and the need for a spiritual – cultural renewal was a fellow world citizen and a model of linking thought and action.
For Muller, the UN was the bridge that helped to cross frontiers and hopefully to develop reconciliation through a common vision of needs and potential for action.
Notes:
For two autobiographic books, see Robert Muller. What War Taught Me About Peace (New York: Doubleday ) and Robert Muller. Most of All, They Taught Me Happiness (New York: Doubleday, 1978)
_______________________________________

René Wadlow, a member of the Fellowship of Reconciliation and of its Task Force on the Middle East, is president and U.N. representative (Geneva) of the Association of World Citizens and editor of Transnational Perspectives. He is a member of the TRANSCEND Network for Peace, Development and Environment.
This article originally appeared on Transcend Media Service (TMS) on 6 Mar 2017.
Anticopyright: Editorials and articles originated on TMS may be freely reprinted, disseminated, translated and used as background material, provided an acknowledgement and link to the source, TMS: Robert Muller (11 Mar 1923 – 20 Sep 2010): Crossing Frontiers for Reconciliation, is included. Thank you.
If you enjoyed this article, please donate to TMS to join the growing list of TMS Supporters.


This work is licensed under a CC BY-NC 4.0 License.