Monsanto Hires Internet Trolls to Cover Up Roundup's Cancer Risk
ORGANIC, GMO, GENETIC ENGINEERING, 15 May 2017
Josh Gay | EcoWatch – TRANSCEND Media Service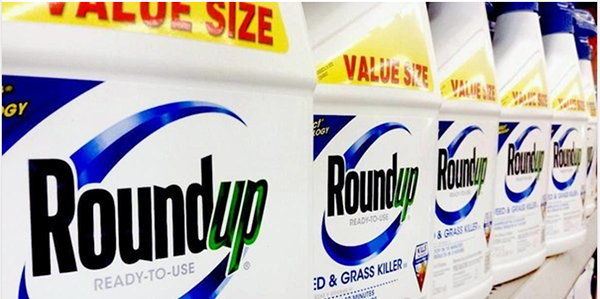 11 May 2017 — Internet trolls, paid for by Monsanto, have been scouring the internet to hide the ugly truth about the herbicide Roundup and the dangers of glyphosate, while the chemical giant worked with government regulators to declare the product safe to use, even though it "probably" causes cancer.
According to court documents, Monsanto hired third parties to search out negative comments about their products and counter them with pseudo-scientific research commissioned by the company itself.
Mike Papantonio, of America's Lawyer, predicts that Monsanto will pay heavily in a jury trial and describes how the company even has trolled The Ring of Fire, while manipulating the U.S. Food and Drug Administration and the U.S. Environmental Protection Agency (EPA).
While Monsanto's despicable practices are nothing new, the latest round of accusations stem from new research confirming that chemicals in Roundup are carcinogenic.
In March of 2015, the International Agency for Research on Cancer (IARC), an arm of the World Health Organization (WHO), declared that glyphosate, the key ingredient in the popular weed killer, "probably" causes non-Hodgkin's lymphoma, a form of cancer. Monsanto quickly attempted to discredit the report, demanding that the WHO explain their findings.
In the wake of that report, Monsanto stepped up their efforts to keep the public in the dark about the dangerous product. Dr. William Moar, a Monsanto executive, said at a conference in 2015 that the company had "an entire department" with the sole purpose of "debunking" science that threatened their bottom line, like the IARC report.
In fact, as internal emails revealed, Monsanto had staffers ghost-write favorable studies about glyphosate. The company would then pay experts to "just edit & sign their names" to the "findings." The documents also show that this is not the first time Monsanto undertook such efforts: "Recall that is how we handled Williams Kroes & Munro, 2000." That quote is in referencing the April 2000 study on Roundup that declared "that there is no indication of any human health concern." Monsanto, predictably, denies that they took part in ghost-writing scientific studies, saying that the allegations stem from a "single comment in a single email out of context."
Kara Cook-Schultz, toxics director at the U.S. Public Interest Research Group blasted the company for the practice in a statement:
"Monsanto tells us that Roundup is safe because scientists say it is safe. But apparently scientists sign their names, while Monsanto signs the checks. This calls into question multiple studies written or possibly ghostwritten, by agricultural scientists."
Monsanto's deception does not stop with scientific studies—government agencies are also eating out of the chemical giant's palm. In a statement, a representative for Monsanto said that:
"[N]o regulatory agency in the world considers glyphosate a carcinogen."
Of course, that claim is not without its own controversy. In March, Bloomberg reported that an EPA official bragged to Monsanto that he interfered with an investigation by the U.S. Health and Human Service Department. "If I can kill this I should get a medal," Jess Rowland, a manager within the EPA's pesticide division, told an official at Monsanto.
Shortly after the Bloomberg piece was published, Representative Ted Lieu of California called for the Department of Justice to open an investigation into the EPA's collusion with Monsanto:
"Reports suggest that a senior official at the EPA worked to suppress a U.S. Department of Health and Human Services review of glyphosate, and may have leaked information to Monsanto. I believe that a Department of Justice investigation is warranted to look into any potential misconduct by employees of the EPA. I also believe a congressional hearing is immediately warranted."
Additionally, court documents also show that Monsanto created a program called "Let Nothing Go," which sought to respond to any and all negative social media comments and posts about Roundup and its other products. The documents say:
"[T]hrough a series of third parties, ["Let Nothing Go"] employs individuals who appear to have no connection to the industry, who in turn post positive comments on news articles and Facebook posts, defending Monsanto, its chemicals and GMOs."
The program has become so prevalent that concerned citizens on social media have had to purposefully misspell the company's name to thwart the online trolls. One of the top comments on a Reddit discussion thread highlights the practice: "Everyone should spell Monsant0 with a zero, it allows rational discussion without the Monsant0 shills showing up."

It is no surprise that Monsanto is working so fiercely to defend their deadly chemicals. In 2015, the company achieved nearly $4.76 billion in herbicide sales, with the global market for glyphosate set to approach $10 billion within 5 years.
As for the trolls, our own Mike Papantonio offers this advice:
"Next time you're scrolling through social media, YouTube or even this website's comment section, remember that the trolls attacking you for no apparent reason may in fact be receiving an annual salary."
DISCLAIMER: The statements, views and opinions expressed in pieces republished here are solely those of the authors and do not necessarily represent those of TMS. In accordance with title 17 U.S.C. section 107, this material is distributed without profit to those who have expressed a prior interest in receiving the included information for research and educational purposes. TMS has no affiliation whatsoever with the originator of this article nor is TMS endorsed or sponsored by the originator. "GO TO ORIGINAL" links are provided as a convenience to our readers and allow for verification of authenticity. However, as originating pages are often updated by their originating host sites, the versions posted may not match the versions our readers view when clicking the "GO TO ORIGINAL" links. This site contains copyrighted material the use of which has not always been specifically authorized by the copyright owner. We are making such material available in our efforts to advance understanding of environmental, political, human rights, economic, democracy, scientific, and social justice issues, etc. We believe this constitutes a 'fair use' of any such copyrighted material as provided for in section 107 of the US Copyright Law. In accordance with Title 17 U.S.C. Section 107, the material on this site is distributed without profit to those who have expressed a prior interest in receiving the included information for research and educational purposes. For more information go to: http://www.law.cornell.edu/uscode/17/107.shtml. If you wish to use copyrighted material from this site for purposes of your own that go beyond 'fair use', you must obtain permission from the copyright owner.