(Italiano) In scena "La foresta che cresce". In Evergreen. Torino. Parco della Tesoriera.
ORIGINAL LANGUAGES, 17 Jul 2017
Silvia Berruto – TRANSCEND Media Service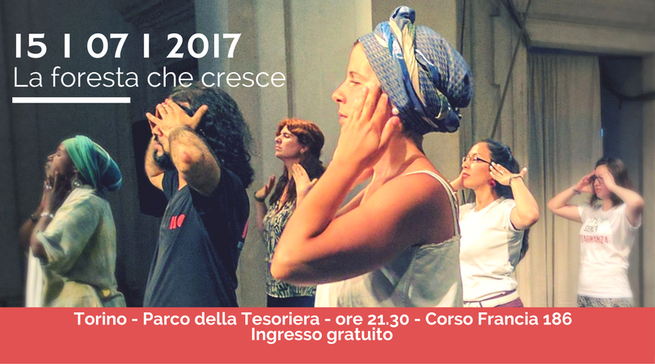 Torino, Piemonte, Italy  sabato 15 luglio 2017, ore 21.30
Va in scena LA FORESTA CHE CRESCE.
"Fa più rumore un albero che cade di un'intera foresta che cresce"
Il progetto è vincitore del bando MigrArti, indetto dal Ministero dei Beni e delle Attività culturali e del Turismo – direzione Spettacolo.
E' realizzato da Tedacà, Acti e Almateatro, in collaborazione con Isola di Ariel, LVIA, Arte Migrante e Equilibri d'Oriente.
E' l'unico progetto in Piemonte selezionato e finanziato per il settore teatro.
Per non ascoltare solo il rumore dell'albero che cade.
Questo l'obiettivo di un progetto che diviene anche uno spettacolo teatrale.
L'immigrazione è, e si fa, occasione di crescita per la comunità.
Lo spettacolo affronta l'immigrazione come occasione imprescindibile, e imperdibile, di incontro, riflessione, scambio e  partecipazione fra giovani italiani, migranti di recente arrivo e giovani di origine straniera nati o cresciuti in Italia.
Il tutto centrato sul dialogo.
Progetto e spettacolo sono stati ideati e diretti da Gabriella Bordin, Beppe Rosso e Simone Schinocca.
I tre registi, con le tre rispettive compagnie teatrali, hanno condotto, a Torino, laboratori teatrali con la collaborazione e per la consulenza di Valentina Aicardi, Ornella Balestra, Suad Omar, Sara Consoli e Vesna Scepanovic.
Oltre 40 i giovani partecipanti: migranti del C.A.R.A. (centro accoglienza per richiedenti asilo), giovani immigrati di seconda generazione e cittadini italiani.
A San Salvario, basso San Donato e Porta Palazzo (San Pietro in Vincoli) sono stati condotti i laboratori e il lavoro con i giovani di seconda generazione è stato effettuato in collaborazione con LVIA, Arte Migrante ed Equilibri d'Oriente.
E' stato un lavoro minuzioso, preciso, tenace: convinto che sarà certamente convincente.
Frutto della sinergia e della messa in comune dei saperi specifici e diversi, propri di ogni compagnia, che si sono uniti al know-how delle operatrici culturali di Almateatro – animatrici e attiviste storiche impegnate quotidianamente sul territorio per il dialogo interculturale – che si sono uniti ai saperi dei giovani del gruppo Arte Migrante.
Perché l'inclusione sociale si fa anche con l'arte.
Dall'incontro al dialogo, all'elaborazione di linguaggi creativi comuni.
Da questa esperienza è nata una comunità artistica che promuove e produce cambiamenti collettivi:  il superamento delle paure ma anche della fatica che implica ogni nuovo incontro, la nascita di una nuova società e di una società nuova. Nel tentativo di armonizzare le contraddizioni culturali, insite in ogni collettività. Contro stereotipi e violenze, anche linguistiche.
A partire dal vissuto e dalle aspirazioni di ogni giovane, dall'ascolto e dal rispetto reciproco, sono stati espressi e condivisi tutti gli stati d'animo.
Ogni vissuto è stato vissuto: storie personali, emozioni, disagi e conflitti sono così divenuti i costituenti l'azione drammaturgica.
L'Arte – in questo caso, scenica è, e diviene, STRUMENTO di DIALOGO.
Alla ricerca di modi, metodi, parole e soluzioni che favoriscano e facilitino processi di convivenza civile allargati ma soprattutto costruttivi. In questo senso i giovani di seconda generazione, per la loro storia personale, sono già testimoni e promotori di una società nuova che gia esiste. Sono testimoni privilegiati (purtroppo spesso solo in senso sociologico), soggetti portatori di istanze politiche uniche che non possono essere simulate da altri pari o da altri adulti. Si ascoltino le loro voci per spiegare un sapere, un saper fare e un saper essere, che nessuno può sostituire. Ogni  amministratrice e ogni amministratore, così come ogni cittadina e ogni cittadino italiano, ha il dovere di imparare da questi giovani COME si costruisce una vita e una LEGGE sullo Ius Soli.
Altrimenti, come si diceva un tempo per gli spazi  gli spazi si occupano, non si chiedono!  i giovani, TUTTI I GIOVANI, di origine straniera di seconda generazione, di recente arrivo o italiani per sangue, si ri-prendano il ruolo che compete loro e indichino vie e prospettive.
Agli adulti il compito, dopo aver ascoltato e ben compreso, il dovere umano, politico e sociale di produrre, insieme ai giovani e alle persone appena arrivate in Italia, convivenze civili.
In prospettiva.
Per futuri, possibili, complementari o diversi da quelli già esistenti, come diciamo NOI,  dell'Espace Populaire di Aosta, che oggi festeggia 12 anni di lotte e di r-esistenze politica, culturale, sociale e di libertà: (un laboratorio di pace) per mondi diversi migliori dell'esistente!
"Attraverso storie, amori e desideri di chi oggi, GIOVANE, vive in Italia" *
L'action dal palcoscenico, in forma "transumante", si snoderà fra gli alberi secolari del Parco della Tesoriera.
Con contaminazioni fra teatro, danza e video testimonianze.
Da non perdere !
_____________________________________

Silvia Berruto – giornalista contro il razzismo, antifascista, amica e persuasa della nonviolenza.
Go to Original – silviaberruto.wordpress.com
Tags:
Dialogue
,
Immigration
,
Social inclusion
DISCLAIMER: The statements, views and opinions expressed in pieces republished here are solely those of the authors and do not necessarily represent those of TMS. In accordance with title 17 U.S.C. section 107, this material is distributed without profit to those who have expressed a prior interest in receiving the included information for research and educational purposes. TMS has no affiliation whatsoever with the originator of this article nor is TMS endorsed or sponsored by the originator. "GO TO ORIGINAL" links are provided as a convenience to our readers and allow for verification of authenticity. However, as originating pages are often updated by their originating host sites, the versions posted may not match the versions our readers view when clicking the "GO TO ORIGINAL" links. This site contains copyrighted material the use of which has not always been specifically authorized by the copyright owner. We are making such material available in our efforts to advance understanding of environmental, political, human rights, economic, democracy, scientific, and social justice issues, etc. We believe this constitutes a 'fair use' of any such copyrighted material as provided for in section 107 of the US Copyright Law. In accordance with Title 17 U.S.C. Section 107, the material on this site is distributed without profit to those who have expressed a prior interest in receiving the included information for research and educational purposes. For more information go to: http://www.law.cornell.edu/uscode/17/107.shtml. If you wish to use copyrighted material from this site for purposes of your own that go beyond 'fair use', you must obtain permission from the copyright owner.