(Français) On saura que le Venezuela est devenu une dictature le jour où les médias arrêteront d'en parler
ORIGINAL LANGUAGES, 14 Aug 2017
31 juillet 2017 – Au Venezuela (comme ailleurs), la différence entre une dictature de droite et une dictature de gauche est la suivante : sous une dictature de droite, les opposants "disparaissent". Sous une dictature de gauche, les opposants passent tous les soirs à la télé et dans tous les médias internationaux pour dénoncer la dictature.
Comme toujours, vous commencez par soulever un sourcil. Alors voici un test : citez-moi une seule dictature de droite. J'entends par là un régime de droite que les médias qualifient de dictature. L'Arabie Saoudite ? Raté. l'Arabie Saoudite n'est pas une « dictature » mais un « royaume », et elle n'est pas « de droite » mais « théocratique ». (*) Autre exemple ?
Vous séchez, et c'est normal.
Au Venezuela (comme ailleurs), la question de « qui est qui ? » est ignoré, sauf pour un des « qui ». Comme si le contexte n'avait aucune importance, comme si la nature de l'adversaire d'un processus ne déterminait pas le cours du processus. Annoncer 100 morts lors de manifestations sous-entend une foultitude de choses, aussi fausses les unes que les autres. Cela sous-entend que tous ces morts sont des « opposants ». Cela sous-entend qu'il n'y a aucun représentant des forces de l'ordre parmi les victimes. Ce que cela ne sous-entend pas, par contre, c'est la petite entorse à l'éthique journalistique – qui me paraît éminemment volontaire – qui consiste à ne pas trop insister sur l'identité de ces morts. Car cela démontrerait une chose : rarement un gouvernement aura fait preuve d'autant de retenue devant des violences systématiques, des violences qui cherchent à faire des victimes. Et rarement les forces de l'ordre d'une dictature (qu'elle soit instaurée ou en devenir) n'auront compté dans leurs propres rangs autant de victimes sans une réaction, disons, « déterminée ».
Cela sous-entend aussi que le nombre est « exceptionnel » (sinon, pourquoi en parler ?). Alors qu'on parle d'un pays qui a vu – mais c'était pendant la démocratie douce et bucolique d'antan – des manifestations se solder par des milliers de morts, fauchés à l'arme lourde par l'armée de l'époque. Cela sous-entend qu'on n'a jamais découvert des dizaines de charniers dans la Colombie voisine – dont certains contenaient jusqu'à 2000 cadavres – sous le règne d'une classe qui y est encore et toujours au pouvoir et qui – ô ironie – trouve le gouvernement vénézuélien peu fréquentable. La liste est longue de ceux qui l'ouvrent et feraient mieux de la fermer – les dirigeants des Etats-Unis en tête. Mais ils ne sont pas les seuls.
Il y a quelques jours sur France-Inter, un des préposés aux commentaires du matin s'est fendu d'une nouvelle attaque contre le président du Venezuela, Nicolas Maduro. Il expliquait qu'une vidéo appelant les électeurs à voter lors de l'élection de l'Assemblée constituante (qui vient d'avoir lieu) passait à la télévision, et que cette dernière était « bien-entendu, contrôlée par le régime ». Et dans des millions d'esprits d'auditeurs évoluant encore dans leurs brumes matinales, l'image s'imprègne d'un pays où les médias sont « contrôlés » par le pouvoir. Peu sauront, entendront ou comprendront que c'est exactement le contraire, et que les dits médias y sont d'une virulence extraordinaire.
Une coutume bien implantée – à gauche, notamment, encore dans sa phase d'auto-flagellation pour cause de recherche de crédibilité auprès des médias – voudrait que j'entame ici la ritournelle genre « certes, le gouvernement vénézuélien a commis des erreurs, je ne nie pas les problèmes, etc… ». Ne comptez pas sur moi. Oui, oui, je sais, camarades. Il faut éviter de soutenir des processus qui ne le méritent pas. Mais si vous attendez un processus qui mérite d'être soutenu en observant le monde à travers le prisme de vos grands médias préférés, vous allez attendre longtemps.
A chaque élection, à chaque consultation, à chaque référendum, le Venezuela « fait un pas vers la dictature ». Seulement voilà : il y a un an, le Venezuela était déjà qualifié de dictature par les médias. Maintenant, il ne l'est plus tout à fait mais ne va pas tarder à l'être alors qu'il l'était déjà avant de le devenir. Vous allez voir qu'un jour ils auront raison. Et vous saurez exactement quand, car ce sera justement le jour où ils arrêteront d'en parler.
(*) pour ceux et celles à qui l'ironie de la phrase aurait échappé : l'Arabie Saoudite est évidemment une dictature de droite… mais jamais (ou très rarement) présentée comme telle.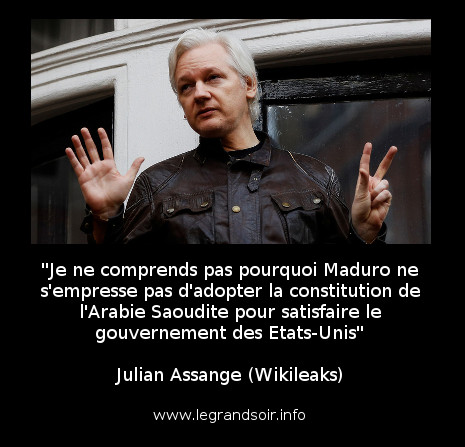 Go to Original – legrandsoir.info
Tags:
Dictatorship
,
Media
,
Venezuela
DISCLAIMER: The statements, views and opinions expressed in pieces republished here are solely those of the authors and do not necessarily represent those of TMS. In accordance with title 17 U.S.C. section 107, this material is distributed without profit to those who have expressed a prior interest in receiving the included information for research and educational purposes. TMS has no affiliation whatsoever with the originator of this article nor is TMS endorsed or sponsored by the originator. "GO TO ORIGINAL" links are provided as a convenience to our readers and allow for verification of authenticity. However, as originating pages are often updated by their originating host sites, the versions posted may not match the versions our readers view when clicking the "GO TO ORIGINAL" links. This site contains copyrighted material the use of which has not always been specifically authorized by the copyright owner. We are making such material available in our efforts to advance understanding of environmental, political, human rights, economic, democracy, scientific, and social justice issues, etc. We believe this constitutes a 'fair use' of any such copyrighted material as provided for in section 107 of the US Copyright Law. In accordance with Title 17 U.S.C. Section 107, the material on this site is distributed without profit to those who have expressed a prior interest in receiving the included information for research and educational purposes. For more information go to: http://www.law.cornell.edu/uscode/17/107.shtml. If you wish to use copyrighted material from this site for purposes of your own that go beyond 'fair use', you must obtain permission from the copyright owner.