Haiti in Crisis: What Next after the Stolen Election?
LATIN AMERICA AND THE CARIBBEAN, 23 Oct 2017
Robert Roth | Haiti Action Committee – TRANSCEND Media Service
Addressing an overflow audience in Oakland in late April, Dr. Maryse Narcisse, presidential candidate of Fanmi Lavalas, the party of former president Jean-Bertrand Aristide, spoke about the necessity of reforming the justice system, investing in education and health, and the decisive role of women in the fight for democracy. Reflecting on the devastation wrought by both the 2010 earthquake and Hurricane Matthew, she focused on the growing threats posed by climate change to the island nation and the need for a vigorous environmental campaign to meet that threat. She emphasized that the Lavalas movement "places human beings at the center."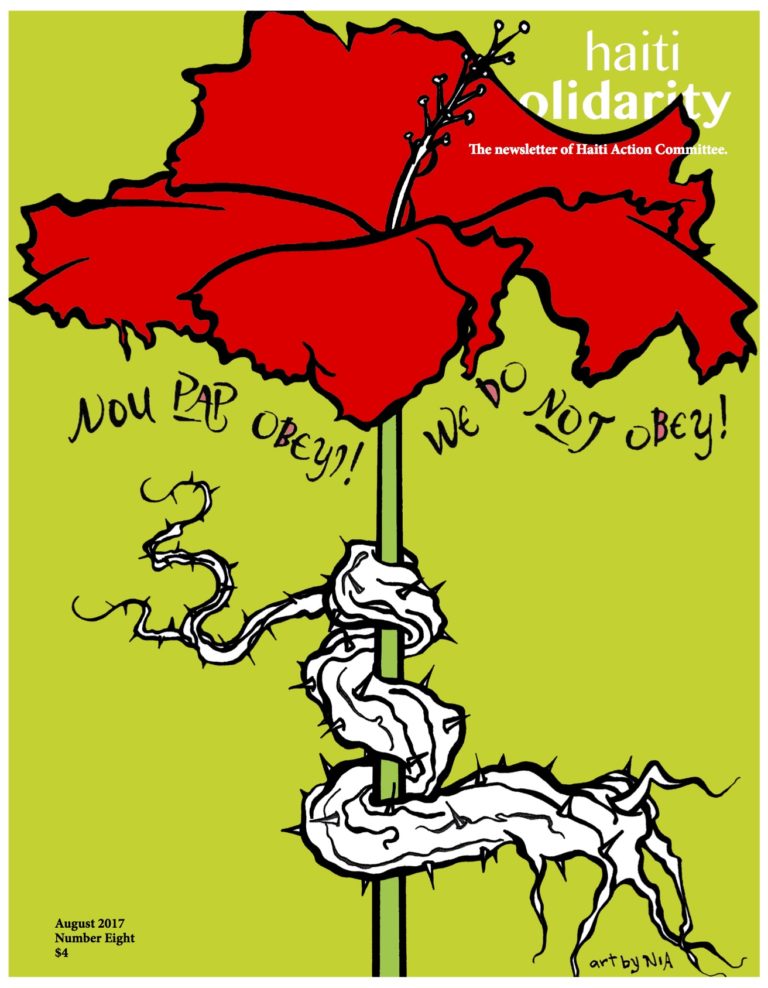 Dr. Narcisse spoke in the wake of the selection of Haiti's new president, Jovenel Moise, a right-wing businessmen and protégé of former president Michel Martelly, who took office via an electoral process so replete with fraud and voter suppression that opposition forces called it an "electoral coup." She denounced the stolen elections and the corrupt electoral commission that validated the outcome.  But she reiterated that the deteriorating economic and social conditions in Haiti would be the catalyst for renewed protest in the days and months ahead. "There is no choice," she stated, "but for the people to resist. And Lavalas will be there to support them."
We can see the truth of this throughout Haiti. Market women – the very heart of Haiti's economy and the foundation of so many Haitian families' ability to survive—have been targeted by police trying to move them off the streets of Port-au-Prince, where they have been selling their goods for generations.  When the women organized themselves and refused to move, police burned down their stalls.
On July 10–12, 2017, during three days of peaceful protest for an increase in the minimum wage, Haitian police attacked the workers from the industrial park in Port-au-Prince with tear gas, batons and cannons shooting a liquid skin irritant. They beat a woman who had recently returned to work from giving birth. A few days later, a young book vendor was shot to death in Petionville, on the outskirts of Port-au-Prince, by a police officer in front of horrified witnesses, who tried to prevent the police from quickly removing the body and covering up the crime. They were attacked with batons and tear gas.
There has been a 35 cents increase in the price of gasoline—which was already higher than what we pay here in the United States. The government has also announced plans to reduce government subsidies for oil and gas, which will send the price even higher. The rise in the cost of transportation combined with a hike in the price of food has made already untenable living conditions even worse for the vast majority of Haitians.
Former president Michel Martelly came to power in 2011 touting his plan to build new schools and make education free for all.  Instead, investment in public education has remained stagnant while tuition for private schooling has skyrocketed. Teachers have been on strike for months, demanding that they be paid after not receiving their salaries for up to two years.  This despite the fact the Haitian government adds a surcharge to every international phone call and money transfer, supposedly to fund education. Students have also protested, both in support of their teachers and to denounce the failure of the government to invest in their education. They too have been met with violent repression, exemplified by a recent incident when the rector of the National University of Haiti used his SUV to run over a student protester, landing the student in the hospital in critical condition.  A video captured the gruesome sequence. No charges have been filed in the case.
The Haitian government has a solution for the crisis in education—more prisons. There are now more than 10,000 Haitians locked up in prison, the majority of whom have never been charged or sentenced.  Prisoners are frequently beaten, receive no health care, and live in overcrowded cells, where epidemics spread rapidly. When United Nations soldiers from Nepal introduced cholera to Haiti in 2010, the disease swept through Haiti's prisons, killing hundreds. At the recent opening of a new prison in Haiti's central plateau, the head of Haiti's national police, Michel-Ange Gedeon, boasted about the increase in prison construction, saying:  "In every society, whenever schools fail in their mission, prisons are built in a cascade to try to right the ship.  If offenders are to be neutralized, then prisons are needed to contain them."  This is Haiti's version of mass incarceration, so well known to Black and Brown communities here in the U.S.
Now there are new political prisoners – many of them associated with the Lavalas movement – who were arrested during the sustained wave of protests over the stolen elections.  As living conditions worsen and protests sharpen, the prisons will fill even more.
All of this, added to the impact of Hurricane Matthew (the biggest storm to hit Haiti in 50 years) has led more Haitians to flee the country. In early July, the Coast Guard intercepted and sent back to Haiti 107 Haitians in a small, dangerously overcrowded boat south of the Bahamas. There are over 4,000 Haitians right now in Tijuana, living in refugee camps. Recruited by occupying forces of Brazil to work in the Rio Olympics, they were pushed out after the Games ended. Hoping for Temporary Protected Status (TPS) in the United States, which has been granted to Haitians since the 2010 earthquake, they instead have been deported or placed in detention camps if they cross the border. When Haitian president Moise traveled to the United States and met with Vice President Mike Pence in June, he refused to meet with Haitians worried about the changes in their TPS status, telling them to "calm down." In their joint communiqué, Pence and Moise did not mention the migration crisis but did pledge to jointly pursue "an economic reform agenda to attract investment and generate growth." Moise's handshake with Pence symbolized just how much of a compliant partner his regime is with the U.S. government as it seeks even more control over Haiti's economy and future.
The United Nations Military Occupation Forces (MINUSTAH), which has functioned as a colonial overseer since the 2004 coup, is set to scale down its operation, but will remain in Haiti under its new acronym MINUJUSTH (United Nations Mission For Justice Support).  MINUJUSTH will consist of 1185 police officers, and will continue to train and support the Haitian National Police – the same police who beat, tear-gassed and shot pro-democracy protesters during the last electoral cycle.
Lieutenant General Cesar Lopes Loureiro, the head of the Brazilian forces that have been in command of MINUSTAH since the beginning of the occupation, recently issued a glowing report on the accomplishments of MINUSTAH. But he was silent about UN responsibility for the cholera outbreak, and failed to mention the numerous cases of rape and other sexual assaults by UN soldiers. The UN has still not compensated the victims of the cholera epidemic, and it has given impunity to the many soldiers charged with raping Haitians during the long occupation.  And there was not one word about the killings by UN soldiers of people in pro-Lavalas neighborhoods like Cite Soleil and Bel-Air, or in the Port-au-Prince prison. Whether the UN calls its operations MINUSTAH or MINJUSTH, the continued presence of its forces, even in the guise of a reframed mission, is a clear assault on Haiti's sovereignty.
What now looms on the horizon is the resurrection of the Haitian military. This has been a key goal of right-wing Haitian forces since President Aristide got rid of the army in 1995.  Jovenel Moise has stated that he wants the army in place within two years.  The beginnings of that new army have been in the works for years, training at military bases in Ecuador.
In a statement to the Miami Herald, the president of the Haitian Senate, Yuri Latortue, who was a central organizer of the 2004 coup, said, "In Haiti we are used to having an army." Referring to the U.S. occupation of Haiti from 1915-1934, which created the modern Haitian army, Latortue went on to say, "The Americans understood that if we have the police but not an army, we will not get anywhere."
When Haitian activists speak of the Haitian Army, there is a chill in the air. Before Aristide disbanded it, 40% of Haiti's budget went to the military. In a country with fewer than two doctors per 10,000 people, there was one soldier per 1,000 people. The Army has long been Haiti's central institution of repression; the main organizer of coups against elected officials, helping to enforce the Duvalier dictatorships and those that followed before the rise of Lavalas.  It was the Haitian Army that overthrew Aristide in 1991 and initiated a reign of terror that took over 5000 lives before Aristide returned in 1994.
The goal of the 2004 coup, like the 1991 coup that preceded it, was not only to topple the Aristide government, but also to rid the country of the powerful grassroots movement that has activated, energized and given voice to Haiti's poor. That goal has not been accomplished. A stolen election cannot hide this reality.
Throughout her campaign, Dr. Narcisse, often accompanied by former President Aristide, was greeted by tens of thousands of supporters in the poorest communities of Haiti. A vibrant Lavalas presence was evident across the country. In the face of decades of COINTELPRO-style counterinsurgency, including imprisonment, the killing and exile of thousands, attempts to buy off activists and encourage internal strife, Lavalas once again showed its significant base among Haiti's majority population.  In or out of government, this strength will serve as a bulwark against the harsh austerity program already being put into place by Moise and his U.S. sponsors.
At the end of her speech in Oakland, Dr. Narcisse highlighted the grassroots work of the Aristide Foundation for Democracy. In the midst of the cholera epidemic, mobile health clinics from the Foundation treated patients who had nowhere else to go.  After the devastation caused by Hurricane Matthew, President Aristide and Lavalas activists went to Les Cayes, Jeremie and other hard-hit areas to provide medical support, food and clothing. On Haitian Mother's Day, hundreds of women filled the Foundation to get medical care for themselves and their children. Other clinics took place in mid-July, including on President Aristide's birthday on July 15th. And the University of the Aristide Foundation (UNIFA) continues to grow, providing higher education for over 1,200 students, most of whom could never afford other universities in Haiti.
This is a movement that is not going away. As Lavalas digs in for the long haul, those in solidarity with Haiti have to do so as well.
________________________________________
Robert Roth is an educator and co-founder of Haiti Action Committee.
The Haiti Action Committee is a Bay-Area based network of activists who have supported the Haitian struggle for democracy since 1991.Our members travel frequently to Haiti and are in close touch with Haitian grassroots activists, legal and human rights workers, and victims of repression. Through demonstrations and civil disobedience, Congressional lobbying and educational events, publications and community organizing, we are working to build a strong Haiti solidarity movement.
Go to Original – haitisolidarity.net
DISCLAIMER: The statements, views and opinions expressed in pieces republished here are solely those of the authors and do not necessarily represent those of TMS. In accordance with title 17 U.S.C. section 107, this material is distributed without profit to those who have expressed a prior interest in receiving the included information for research and educational purposes. TMS has no affiliation whatsoever with the originator of this article nor is TMS endorsed or sponsored by the originator. "GO TO ORIGINAL" links are provided as a convenience to our readers and allow for verification of authenticity. However, as originating pages are often updated by their originating host sites, the versions posted may not match the versions our readers view when clicking the "GO TO ORIGINAL" links. This site contains copyrighted material the use of which has not always been specifically authorized by the copyright owner. We are making such material available in our efforts to advance understanding of environmental, political, human rights, economic, democracy, scientific, and social justice issues, etc. We believe this constitutes a 'fair use' of any such copyrighted material as provided for in section 107 of the US Copyright Law. In accordance with Title 17 U.S.C. Section 107, the material on this site is distributed without profit to those who have expressed a prior interest in receiving the included information for research and educational purposes. For more information go to: http://www.law.cornell.edu/uscode/17/107.shtml. If you wish to use copyrighted material from this site for purposes of your own that go beyond 'fair use', you must obtain permission from the copyright owner.