The Jerusalem Votes at the UN
TRANSCEND MEMBERS, 25 Dec 2017
Richard Falk | Global Justice in the 21st Century – TRANSCEND Media Service
23 Dec 2017 – What struck me as the most significant dimension of the Jerusalem votes in the Security Council and General Assembly has been oddly overlooked by most commentary in the media. The public discourse has, of course, been correct to identify the isolation of the United States with respect to the rest of the world as well as regarding the majority position as a defiant rejection of Trump's leadership and bullying tactics. Although as some have noted, without the bullying by Ambassador Haley (including, I will report yes votes to the president; those that vote for the resolution will not receive economic assistance in the future; we are watching; "America will remember this day;" "the vote will make a difference on how Americans look at the UN."), there might been as many as 150 positive votes for the resolution instead of 128, with fewer abstentions (35) and fewer absences from the vote (21).
Nevertheless, 128-9 is a clear expression of an overwhelming moral and legal sentiment, and deserves to be respected by any government that values the role of the General Assembly as the arbiter of legitimacy with respect to sensitive global issues. Although far weaker and more subject to geopolitical manipulation than is desirable, these main political organs of the UN provide the best guide that currently exists as to what global policy should be if the global and human interest is to be protected, and not merely an array of national interests and their multilateral aggregation to achieve cooperative results.
What this discussion glosses over in this instance without stopping to observe its significance is the degree to which issues of substance prevailed over matters of geopolitical alignment. Not one of America's closest allies (UK, France, Germany, and Japan) heeded the fervent arguments and pleas of Haley and Trump. Beyond this, every important country in the world backed the General Assembly Resolution on December 21, 2017 regardless of geography or political orientation (China, Russia, India, Brazil, Turkey, India, Pakistan, Saudi Arabia, Iran). This unanimity enhances the quality of the consensus supportive of the resolution repudiating Trump's arrogant decision to recognize Jerusalem as Israel's capital as 'null and void.' Such an impression is strengthened by listing the nine governments that voted against the resolution (Guatemala, Honduras, Marshall Islands, Israel, Miscronesia, Nauru, Palau, Togo, and the U.S.).
Should these striking results be interpreted as the demise, or at least twilight, of geopolitics? Any such speculation would be wildly premature. What seems to have swayed many governments in this case is the negative fallout expected to follow from Trump's unilateralism that disregards decades of international practice and agreement about the status and treatment of Jerusalem, as well as the gratuitous neglect of Palestinian rights and aspirations by taking such an initiative without even pretending to take account of Palestinian grievances. In this regard, Trump's poor international reputation as a result of pulling out of the Paris Climate Change Agreement, decertification of the Nuclear Agreement with Iran, and withdrawal from negotiations to fashion an agreed approach to the global migration crisis undoubtedly help tip the scales on the Jerusalem resolution, especially among European governments. Trump's unpopular implementation of his diplomacy of 'America, First' is arguably morphing into the disturbing perception of 'America, Last' or the United States as 'rogue superpower.' Consciously or not, the UN vote was a distress signal directed at Washington by friends and adversaries alike, but as near as can be told, it will be disregarded or angrily rebuffed by the White House and its spokespersons unless they decide to pass over these happenings in silence.
As has been observed, the Jerusalem decision was not part of a carefully crafted international approach to the Israel/Palestine struggle. It seemed mainly to be a payoff to domestic support groups of Trump's presidential campaign in the United States (large pro-Israeli donors and Christian Evangelists wedded to a (mis)reading of the Book of Revelations), as well as a further display of post-Obama affection for Bibi Netanyahu. Apparently, for Trump being adored in Tel Aviv seems worth being discredited with allies and leading states throughout the rest of the world. As for the threatened major aid recipients (Afghanistan, Egypt, Pakistan, Nigeria, Ethiopia, Tanzania, and South Africa; Kenya was absent during the vote); it was impressive that all of these states ignored the threat and voted for the resolution. If Washington follows through on withholding aid it will certainly not serve America's strategic interests as previously understood, particularly in the Middle East, but also in Africa. Yet if it fails to carry its threat, its diplomatic posture will be seen as that of a novice poker player whose untimely bluff has been called.
There is also the question of 'what next?' Will the Jerusalem resolution be remembered as a moment in time to be superseded by contrary behavioral trends? In this regard, the U.S. now has its own chance to exhibit defiance and disrespect by quickly and ostentatiously moving its embassy to Jerusalem, which will of course give rise to further anger. The Turkish president, Recep Tayyip Erdoğan has already seized the occasion to reassert its prominence in the Muslim world, first by co-sponsoring (with Yemen) the resolution, and then by explicitly calling on the U.S. Government to rescind its decision to recognize Jerusalem as the capital of Israel. I would darkly imagine that the Trump presidency would opt for World War III before it backed down on Jerusalem.
As widely reported, the Jerusalem resolution is symbolic in nature, and yet it does have serious political consequences for all relevant political actors. Does it clear a political space for the European Union to play a central role in seeking to revive a diplomatic approach on a more balanced basis than what could have been expected from Washington? How does the U.S. Government negotiate the fine line between disregarding the resolution and harming its foreign policy objectives in the Middle East? How unyielding should the Palestinian Authority be about insisting on a parallel recognition of East Jerusalem as the capital of Palestine before it agrees to participate in negotiations with Israel? Will Turkey seek further steps at the UN and elsewhere to back up the resolution, including possibly fashioning realignments throughout the Middle East? Will the second tier of officials in the Trump Administration create pressure to create a foreign policy that more closely reflects U.S. national interests by taking better account of the many dimensions (digital, economic, security) of global integration?
_______________________________________________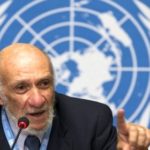 Richard Falk is a member of the TRANSCEND Network, an international relations scholar, professor emeritus of international law at Princeton University, author, co-author or editor of 40 books, and a speaker and activist on world affairs. In 2008, the United Nations Human Rights Council (UNHRC) appointed Falk to a six-year term as a United Nations Special Rapporteur on "the situation of human rights in the Palestinian territories occupied since 1967." Since 2002 he has lived in Santa Barbara, California, and taught at the local campus of the University of California in Global and International Studies, and since 2005 chaired the Board of the Nuclear Age Peace Foundation. His most recent book is Achieving Human Rights (2009).
Go to Original – richardfalk.wordpress.com
Join the BDS-BOYCOTT, DIVESTMENT, SANCTIONS campaign to protest the Israeli barbaric siege of Gaza, illegal occupation of the Palestine nation's territory, the apartheid wall, its inhuman and degrading treatment of the Palestinian people, and the more than 7,000 Palestinian men, women, elderly and children arbitrarily locked up in Israeli prisons.
DON'T BUY PRODUCTS WHOSE BARCODE STARTS WITH 729, which indicates that it is produced in Israel.    DO YOUR PART! MAKE A DIFFERENCE!
7 2 9: BOYCOTT FOR JUSTICE!
DISCLAIMER: The statements, views and opinions expressed in pieces republished here are solely those of the authors and do not necessarily represent those of TMS. In accordance with title 17 U.S.C. section 107, this material is distributed without profit to those who have expressed a prior interest in receiving the included information for research and educational purposes. TMS has no affiliation whatsoever with the originator of this article nor is TMS endorsed or sponsored by the originator. "GO TO ORIGINAL" links are provided as a convenience to our readers and allow for verification of authenticity. However, as originating pages are often updated by their originating host sites, the versions posted may not match the versions our readers view when clicking the "GO TO ORIGINAL" links. This site contains copyrighted material the use of which has not always been specifically authorized by the copyright owner. We are making such material available in our efforts to advance understanding of environmental, political, human rights, economic, democracy, scientific, and social justice issues, etc. We believe this constitutes a 'fair use' of any such copyrighted material as provided for in section 107 of the US Copyright Law. In accordance with Title 17 U.S.C. Section 107, the material on this site is distributed without profit to those who have expressed a prior interest in receiving the included information for research and educational purposes. For more information go to: http://www.law.cornell.edu/uscode/17/107.shtml. If you wish to use copyrighted material from this site for purposes of your own that go beyond 'fair use', you must obtain permission from the copyright owner.