Are the Miserable of the Earth Aware of Davos? Heinous Inequalities (Part 2)
TRANSCEND MEMBERS, 29 Jan 2018
Baher Kamal – Wall Street International Magazine
26 Jan 2018 – While the first part of the series Are the Miserable of the Earth Aware of Davos? Part One. The nation of millions of jobless youth dealt with the alarming situation of over 200 million unemployed human beings worldwide, one third of them are youth with a bleak future, Part Two now focuses on the heinous inequalities dominating the world.
See what is at stake.
As much as 82 per cent of the wealth generated in 2017 went to the richest 1 per cent of the global population, has just warned Oxfam International's report Reward Work, Not Wealth, which was launched as political and business elites gather for the World Economic Forum in Davos, Switzerland on 23-26 January 2018. Meanwhile the 3.7 billion people who make up the poorest half of the world saw no increase in their wealth, warns the report.
Reward Work, Not Wealth how the global economy enables a wealthy elite to accumulate vast fortunes while hundreds of millions of people are struggling to survive on poverty pay.
The new data reveals how the dangerous, inhumane gap between the rich and the poor has been deepening. In fact, in Oxfam International's 2017 report An economy for the 99 per cent already warned that the gap between rich and poor is "far greater than had been feared."
Just know that last year, just eight men own the same wealth as the 3.6 billion people who make up the poorest half of humanity, according to the report elaborated by this international confederation of 19 organisations working in more than 90 countries.
The Deepening Gap
The richest are accumulating wealth at such an astonishing rate that the world could see its first trillionaire in just 25 years. To put this figure in perspective – you would need to spend 1 million dollars every day for 2738 years to spend 1 trillion dollars, the report alerted.
Just for you to compare, here there are some is this year's key findings:
Billionaire wealth has risen by an annual average of 13 per cent since 2010 – six times faster than the wages of ordinary workers, which have risen by a yearly average of just 2 per cent.
The number of billionaires rose at an unprecedented rate of one every two days between March 2016 and March 2017.
It takes just four days for a CEO from one of the top five global fashion brands to earn what a Bangladeshi garment worker will earn in her lifetime.
In the US, it takes slightly over one working day for a CEO to earn what an ordinary worker makes in a year.
It would cost 2.2 billion US dollars a year to increase the wages of all 2.5 million Vietnamese garment workers to a living wage.
This is about a third of the amount paid out to wealthy shareholders by the top 5 companies in the garment sector in 2016.
According to the report, the key factors driving up rewards for shareholders and corporate bosses at the expense of workers' pay and conditions, include:
The erosion of workers' rights;
The excessive influence of big business over government policy-making;
The relentless corporate drive to minimise costs in order to maximise returns to shareholders.
Winnie Byanyima, Executive Director of Oxfam International said: "The billionaire boom is not a sign of thriving economy but a symptom of a failing economic system. The people who make our clothes, assemble our phones and grow our food are being exploited to ensure a steady supply of cheap goods, and swell the profits of corporations and billionaire investors."
Women, Major Victims
Women workers often find themselves off at the bottom of the heap. Across the world, women consistently earn less than men and are usually in the lowest paid and least secure forms of work. By comparison, 9 out of 10 billionaires are men.
"Oxfam has spoken to women across the world whose lives are blighted by inequality. Women in Vietnamese garment factories who work far from home for poverty pay and don't get to see their children for months at a time. Women working in the US poultry industry who are forced to wear nappies because they are denied toilet breaks," said Byanyima.
Also here, the spectre of inequalities has been further advancing. Last year's report informed that while just eight individuals, all of them men, own the same wealth as 3.6 billion people —half of world's total population, women bear the brunt of inequalities. Often employed in low pay sectors, women face high levels of discrimination in the workplace, and who take on a disproportionate amount of unpaid care work, often find themselves at the bottom of the pile. "On current trends it will take 170 years for women to be paid the same as men."
Oxfam interviewed women working in a garment factory in Vietnam who work 12 hours a day, 6 days a week and still struggle to get by on the 1 dollar an hour they earn producing clothes for some of the world's biggest fashion brands.
Once more, Oxfam has called is for governments to ensure our economies work for everyone and not just the fortunate few:
Limit returns to shareholders and top executives, and ensure all workers receive a minimum 'living' wage that would enable them to have a decent quality of life. For example, in Nigeria, the legal minimum wage would need to be tripled to ensure decent living standards.
Eliminate the gender pay gap and protect the rights of women workers. At current rates of change, it will take 217 years to close the gap in pay and employment opportunities between women and men.
Ensure the wealthy pay their fair share of tax through higher taxes and a crackdown on tax avoidance, and increase spending on public services such as healthcare and education. Oxfam estimates a global tax of 1.5 per cent on billionaires' wealth could pay for every child to go to school.
Results of a new global survey commissioned by Oxfam demonstrate a groundswell of support for action on inequality. Of the 70,000 people surveyed in 10 countries, nearly two-thirds of all respondents think the gap between the rich and the poor needs to be urgently addressed.
Byanyima has managed to depict the current situation in these few words: "It's hard to find a political or business leader who doesn't say they are worried about inequality. It's even harder to find one who is doing something about it. Many are actively making things worse by slashing taxes and scrapping labour rights." Still wondering why the victims migrate, seek refuge, flee imporverishment and the devastating impact of climate change that they have not caused?
Still asking why some of the poorest fall easy prey to human smugglers and traffickers?
And why so many of them end up as slaves while world's richest pundits talk about them in Davos' luxurious resort?
___________________________________________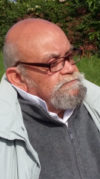 Baher Kamal, a member of the TRANSCEND Network for Peace Development Environment, is an Egyptian-born, Spanish national, secular journalist, with over 45 years of professional experience — from reporter to special envoy to chief editor of national dailies and an international news agency. Baher is former Senior Advisor to the Director General of the international news agency IPS (Inter Press Service) and he also contributed to prestigious magazines such as TRANSCEND Media Service, GEO, Muy Interesante, and Natura, Spain. He is also publisher and editor of Human Wrongs Watch.
DISCLAIMER: The statements, views and opinions expressed in pieces republished here are solely those of the authors and do not necessarily represent those of TMS. In accordance with title 17 U.S.C. section 107, this material is distributed without profit to those who have expressed a prior interest in receiving the included information for research and educational purposes. TMS has no affiliation whatsoever with the originator of this article nor is TMS endorsed or sponsored by the originator. "GO TO ORIGINAL" links are provided as a convenience to our readers and allow for verification of authenticity. However, as originating pages are often updated by their originating host sites, the versions posted may not match the versions our readers view when clicking the "GO TO ORIGINAL" links. This site contains copyrighted material the use of which has not always been specifically authorized by the copyright owner. We are making such material available in our efforts to advance understanding of environmental, political, human rights, economic, democracy, scientific, and social justice issues, etc. We believe this constitutes a 'fair use' of any such copyrighted material as provided for in section 107 of the US Copyright Law. In accordance with Title 17 U.S.C. Section 107, the material on this site is distributed without profit to those who have expressed a prior interest in receiving the included information for research and educational purposes. For more information go to: http://www.law.cornell.edu/uscode/17/107.shtml. If you wish to use copyrighted material from this site for purposes of your own that go beyond 'fair use', you must obtain permission from the copyright owner.