Daughters of a Lesser God
TRANSCEND MEMBERS, 12 Mar 2018
Baher Kamal – Wall Street International Magazine
Indigenous Women Raped for Land Grabbing
7 Mar 2018 – While women worldwide have organised massive demonstrations to claim for their due legitimate rights on the occasion of the International Women's Day, tens of thousands of women and girls are "silenced" victims of sexual violations and all kinds of abuses without being protagonists in the news. This is the dramatic case of indigenous women.
While totalling over 370 million self-recognised indigenous peoples, and in spite of the very fact that their lands guard 80 per cent of the world's biodiversity, the original inhabitants of planet Earth, in particular women and girls, have been systematically falling victims of natural resources and land grabbers.
See what a major international organisation supporting indigenous peoples' struggle for human rights and self-determination says: indigenous peoples "have long stood at the frontline of resistance against land grabbing caused by, for example, deforestation; mineral, oil, and gas extraction; and the expansion of plantations, national parks, agribusiness, dams and infrastructure."
In fact, the International Working Group for Indigenous Affairs (IWGIA) reports that global race for economic growth and the increasing material consumption and trade have consequences for indigenous peoples globally. "Their lands and territories have been appropriated, grabbed, sold, leased or simply plundered and polluted by governments, private companies and powerful individuals." And many indigenous peoples have been uprooted from their land "through discriminatory government policies or armed conflict," a trend that goes beyond Bangladesh.
Land Grabbing
Land grabbing causes forced evictions and other forms of gross human rights abuses, which happen on a large scale in Africa and Asia, the Copenhagen-based organisation further reports, adding that this is driven by very strong forces and is exacerbated by the fact that many indigenous peoples suffer from a weak legal protection of their lands.
Therefore –it adds – indigenous peoples' lands are often seen as fertile ground for natural resource exploitation since there is no 'visible' use or occupation of the land – or simply because the use of the land is not seen as profitable/adequate.
Brutal Sexual Violence
In some states like Bangladesh indigenous women and girls have been reportedly increasingly raped and abused in land-related conflicts, especially in militarised areas.
The case has been revealed by IWGIA, which has warned just ahead of the International Women Day on 8 March that "the latest example of brutal sexual violence against indigenous women and girls in Bangladesh sparked international attention last month, when two young indigenous Marma sisters were allegedly raped and assaulted by security forces in Rangamati Hill District."
According to the organisation, 20 years after the government of Bangladesh signed a peace accord to solve long standing territorial and natural resources conflicts, "violence against indigenous women and girls is intensifying as a tool in the midst of the unresolved land conflict."
Unspoken Struggle
For its part, the Human Rights organisation for Indigenous Peoples of Bangladesh, the Kapaeeng Foundation has reported that the incidents of violence against indigenous women have been increasing every year.
"In this densely populated country, the struggle over land and resources is extremely present in the everyday life of the communities. Rape continues to be the type of assault that indigenous women are most often victims of."
Kapaeeng Foundation's latest research –to be published soon– indicates that only in 2017 an estimated 56 indigenous women were sexually or physically assaulted by 75 alleged perpetrators, most of them non-indigenous.
"What is more, most of the rape victims were children and girls below 18 years old. All of this without contemplating the many cases that go unreported because the victims fear both retaliation by the offenders and social ostracism."
On this, Pallab Chakma, Director of the Kapaeeng Foundation, stressed, "What is important to understand is that this violence is driven by unresolved land disputes. The perpetrators are part of an organised strategy to grab their lands, using terror and rape as its main weapon to suppress indigenous peoples' claims."
According to the International Working Group for Indigenous Affairs indigenous women and girls are left alone in a fragile state of unprotectedness. "They face challenges while accessing medical treatment and legal justice, particularly in remote areas, where they navigate a justice system that does not recognise their indigenous languages and cultural traditions."
Hostages
This is the case of a continuous struggle driven by land grabbing. About it, IWGIA explains that the Chittagong Hill Tracts (CHT) – situated in the South-Eastern part of Bangladesh – is home to 11 different indigenous peoples, with a population estimated at 700,000 by the last census in 2011.
Land grabbing in the name of 'development' interventions, militarisation, corporate greed, energy and forestry projects on their ancestral lands have pushed the survival of indigenous peoples in Bangladesh to an alarming state, warns IWGIA.
The Kapaeeng Foundation reported that "evidence also shows that many victims were unable to properly file a complaint with relevant authorities due to language barriers, cultural barriers, lack of awareness of the laws, and lack of resources to access judicial support."
The Foundation's research has also found that doctors at hospitals delay health check-ups abetting the evidence to disappear. "Even though military presence is argued for promoting conflict resolution, many claim that it has instead worsened the conflicts. Military personnel are often the alleged perpetrators and had largely enjoyed impunity. A study report commissioned by the CHT Commission reveals that not a single conviction had taken place out of 215 cases occurred in the CHT documented by them."
Signe Leth, senior advisor on Land Rights in Asia at IWGIA, explains that the root of the escalating violence comes down to discrimination at its core. And that for indigenous peoples discrimination most often means being deprived of the right to their land – this is the case all over Bangladesh. "It is unspoken that this is one of the most heavily militarised areas in the world with 1 military person per 6 indigenous peoples," she adds.
Access to Justice
Meanwhile, "some of the areas where the violence takes place are so remote that you can only reach them by walking", explains lawyer Projjal Chakma at Kapaeeng Foundation. For him, besides the obstacles of geographical location, the challenge is that there is very little expertise and resource allocation within the justice system to deal with cases against indigenous women.
According to Projjal Chakma, at the end of 2016 the CHT district had a total of 5,000 cases waiting to be solved, of which an average of 15 are filled on the ground of violence against indigenous women and girls. "Given the fact that there is only one district court with one judge handling all cases, that meant that maybe 5 of the cases could be processed a day. As a result of this, the system in itself encourages the victims to settle their disputes outside of the courtroom."
Here, Amnesty International in its report Hidden Bangladesh: Violence and Brutality in the Chittagong Hill Tracts says the following:
"When you think of Bangladesh you may think of a vibrant nation of teeming people in the Ganges delta. The Chittagong Hill Tracts are altogether different: impossibly green, forested mountains rise above lakes in a verdant, uncrowded land – a side of Bangladesh most people never see. This is hardly surprising: since March 2015, access to outsiders is tightly controlled and the indigenous people are forbidden to speak to foreigners without supervision."
"The Chittagong Hill Tracts in Bangladesh have been affected by what has been described as "genocide" or "ethnic cleansing" for many year."
"In the 1960s and 1970s, thousands were forced off their lands to make way for reservoirs and hydroelectric schemes, a displacement made worse by massacres against the Jumma people (the collective name for all indigenous peoples in the region), and nearly twenty years of conflict against a military dictatorship and also with the democratic government of Bangladesh."
"This only ended in 1997 when a peace accord recognised the rights of the Jumma people over their lands. This accord remains largely unimplemented and the Jumma people are not even acknowledged in the Bangladesh constitution."
"The Bangladesh government has settled hundreds of thousands of Bengali people in the Chittagong Hills, and they now make up the majority of the population in the region. Settlement has not been peaceful. In a number of violent clashes, tobacco, rubber and tea planters have seized Jumma lands at will, usually with military support."
"By 2012 the situation had become so bad that one indigenous woman told Amnesty International: "We are now left with no land to farm and grow crops, or forest to go to for collecting fuel, wood, and fruit. Life has become very hard as we have [the] army at very close proximity and I feel very insecure even walking short distances."
Last but not least: the website of the Ministry of Chittagong Hill Tracts Affairs of Government of the People's Republic of Bangladesh does not provide detailed, specific information about the issue.
__________________________________________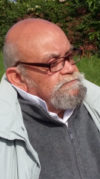 Baher Kamal, a member of the TRANSCEND Network for Peace Development Environment, is an Egyptian-born, Spanish national, secular journalist, with over 45 years of professional experience — from reporter to special envoy to chief editor of national dailies and an international news agency. Baher is former Senior Advisor to the Director General of the international news agency IPS (Inter Press Service) and he also contributed to prestigious magazines such as TRANSCEND Media Service, GEO, Muy Interesante, and Natura, Spain. He is also publisher and editor of Human Wrongs Watch.
DISCLAIMER: The statements, views and opinions expressed in pieces republished here are solely those of the authors and do not necessarily represent those of TMS. In accordance with title 17 U.S.C. section 107, this material is distributed without profit to those who have expressed a prior interest in receiving the included information for research and educational purposes. TMS has no affiliation whatsoever with the originator of this article nor is TMS endorsed or sponsored by the originator. "GO TO ORIGINAL" links are provided as a convenience to our readers and allow for verification of authenticity. However, as originating pages are often updated by their originating host sites, the versions posted may not match the versions our readers view when clicking the "GO TO ORIGINAL" links. This site contains copyrighted material the use of which has not always been specifically authorized by the copyright owner. We are making such material available in our efforts to advance understanding of environmental, political, human rights, economic, democracy, scientific, and social justice issues, etc. We believe this constitutes a 'fair use' of any such copyrighted material as provided for in section 107 of the US Copyright Law. In accordance with Title 17 U.S.C. Section 107, the material on this site is distributed without profit to those who have expressed a prior interest in receiving the included information for research and educational purposes. For more information go to: http://www.law.cornell.edu/uscode/17/107.shtml. If you wish to use copyrighted material from this site for purposes of your own that go beyond 'fair use', you must obtain permission from the copyright owner.