(Italiano) L'arte della pace. In memoria di Ekkehart Krippendorff
ORIGINAL LANGUAGES, 19 Mar 2018
Francesco Comina ed Enrico Peyretti – Centro Studi Sereno Regis
28 febbraio 2018 – È morto ieri, 27 febbraio 2018, nella "sua" Berlino, Ekkehart Krippendorff, 84 anni, uno dei pionieri degli studi per la pace in Europa. Da cinque anni si era ritirato e non aveva più risposto ai molti inviti che gli venivano anche dall'Italia, sua seconda patria. Ebbi la fortuna di passare un giorno con lui nel 2013 a Berlino dove progettammo un incontro sulla poesia della pace con l'intento di coinvolgere soprattutto i giovani e gli studenti. Ma già l'anno successivo non se la sentì di realizzare questo progetto e declinò all'ultimo l'invito del Centro per la pace del Comune di Bolzano di partecipare ad un convegno sull'altopiano del Renon sul tema "Mai più la guerra / Nie wieder Krieg" che lo vedeva come protagonista: «Non mi sento molto bene – disse in quell'occasione – abbiate pazienza rimedieremo in seguito». Poi non si riuscì più a contattarlo.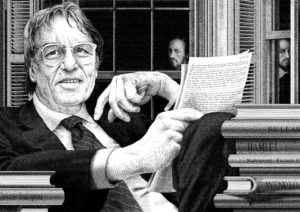 Krippendorff cominciò a farsi conoscere in Germania già alla metà degli anni Sessanta per il suo attivismo politico e come guida dei movimenti del Sessantotto tedesco tanto da dover lasciare gli incarichi che aveva alla Freie Universität di Berlino. Il salto alla politica attiva fu breve e alla fine degli anni Sessanta entrò nell'Spd. Dopo complicati tentativi di inserirsi, come docente stabile, nelle università tedesche (il ministro dell'interno del tempo gli proibì di assumere quel ruolo perché "politicamente non adatto"), insegnò in varie università degli Usa, che conosceva, di cui stimava la democrazia e criticava la strategia imperialistica. Dal 1978 al 1999 ha ricoperto l'incarico di professore ordinario di scienza politica nell'Istituto di Studi Nordamericani "John F. Kennedy" presso la Freie Universität (libera Università) di Berlino, per poi diventarne, in seguito al pensionamento, professore emerito fino ad oggi.
In Italia ha collaborato con varie università, è stato professore di Relazioni Internazionali alla Johns Hopkins University di Bologna e all'Università di Siena, e ha contribuito a progetti di educazione alla pace come il Centro di ricerca per la pace (Irene) a Udine e la fondazione di un festival per la pace.
La sua ricerca sulla pace è stata condizionata molto dalle esperienze che ha fatto nel dissenso tedesco degli anni Sessanta e di quello americano durante la guerra del Vietnam e successivamente come oppositore alla guerra in ex Jugoslavia e alle guerre del Golfo. Il rigetto della guerra come strumento di soluzione delle controversie – ma in particolar modo la sua critica acerrima nei confronti di una violenza endemica e strutturale del mondo – lo hanno portato a posizioni anche radicali di un pacifismo che però si è misurato sempre sulla tradizione classica del pensiero e della letteratura.
Nel suo libro più famoso Staat und Krieg, Lo stato e la guerra (traduzione italiana di Francesco Pistolato, Centro Gandhi, Pisa 2008, originale 1985) vede la nascita dello Stato moderno come intimamente legata all'apparato militare, per difendere le classi borghesi e aristocratiche da minacce esterne, con un esercito però formato in gran parte dalle classi subalterne, e dunque un esercito classista. Il sottotitolo del libro è L'insensatezza delle politiche di potenza. L'ideologia degli stati moderni è il realismo politico, che Krippendorff, con stringente e brillante argomentazione, dimostra essere insensato, sostanziale stupidità, accecamento di cui soffrono i potenti, a danno delle popolazioni che governano.
Altro testo che ha fatto discutere è Die Kunst, nicht regiert zu werden, L'arte di non essere governati, col sottotitolo Politica etica da Socrate a Mozart (trad. ital.  di Vinicio Parma, Fazi 2003, orig. 1999). Il libro punta l'attenzione su una forma di governo di derivazione anarchica colta. E indica alcune figure di riferimento come la Arendt, Gandhi, Wagner, Mozart, Confucio, Lao Tse, Socrate, Platone, Tolstoj,. …  Di lui Tiziano Terzani ha scritto: «Mai come ora è indispensabile che la politica torni ad essere anche morale. Il libro di Krippendorff mi ha ridato speranza: è un incoraggiamento a riscoprire, attraverso la nostra stessa storia, il meglio dell'uomo».
È da segnalare anche Politica internazionale. Storia e teoria (originale 1986, trad. ital. di Antonella Cipriani e Elisa De Costanzo, Liguiri 1991). Il sistema internazionale attuale è il risultato di quella grande cesura nella storia umana che è la rivoluzione capitalistica del XV e XVI secolo. Segnaliamo pure Critica della politica estera (trad. ital. di Elisabetta Dal Bello, Roma, Fazi Editore, 2004).
Uomo di una cultura vastissima, di sensibilità artistica raffinata, amava ripercorrere la grande storia letteraria, musicale e teatrale dell'occidente per trovare i semi della pace e della pietas umana come antidoto alla barbarie. La morte di Krippendorff pesa molto sulla cultura sociale e politica dell'Europa.
Egli amava l'Italia, ed è venuto più volte anche a Torino, al Sereno Regis per convegni e seminari (di uno, del 3 novembre 1998, possiedo appunti precisi), e al Goethe Institut, per la presentazione del suo libro da Socrate a Mozart (mi disse, sottovoce, di non essere stato ben compreso). Ho avuto il piacere di incontrarlo e ascoltarlo anche a Osnabruck, a Berlino, a Udine e in qualche altro luogo. Avevamo conoscenze comuni a Ratingen, presso Düsselforf, legate a ricordi di comportamenti di pace durante la guerra. A Torino notò, con l'occhio dell'ospite, che la nostra città è piena di monumenti militari. È vero, eredità sabauda, ma cè anche un busto di Gandhi nei Giardini Cavour e, lì accanto, il tiglio di Nanni Salio. Ora, chi vuole, vi trova anche un itinerario di luoghi di pace (www.serenoregis.org). Di carattere aperto e cordiale, Krippendorff lasciava però trasparire con mitezza il segno dei contrasti sofferti. I suoi libri sono originali, ricchi di sensibilità morale, artistica, e di ampia cultura storica critica.
Per chi desidera approfondire il pensiero di Ekkehart Krippendorff è possibile scaricare i seguenti documenti (in formato PDF):

Stato, esercito e guerra, intervento al seminario tenutosi il 3 novembre 1998 presso il Centro Studi Sereno Regis (Archivio Enrico Peyretti)

L'arte di non essere governati: Astrazione e dominio, intervento alla quarta edizione del World Social Agenda, 2-4 maggio 2003, Padova (Archivio Nanni Salio)
_________________________________________
Francesco Comina, Bolzano

Enrico Peyretti è membro della Rete TRANSCEND per la Pace, Sviluppo e Ambiente.
Go to Original – serenoregis.org
DISCLAIMER: The statements, views and opinions expressed in pieces republished here are solely those of the authors and do not necessarily represent those of TMS. In accordance with title 17 U.S.C. section 107, this material is distributed without profit to those who have expressed a prior interest in receiving the included information for research and educational purposes. TMS has no affiliation whatsoever with the originator of this article nor is TMS endorsed or sponsored by the originator. "GO TO ORIGINAL" links are provided as a convenience to our readers and allow for verification of authenticity. However, as originating pages are often updated by their originating host sites, the versions posted may not match the versions our readers view when clicking the "GO TO ORIGINAL" links. This site contains copyrighted material the use of which has not always been specifically authorized by the copyright owner. We are making such material available in our efforts to advance understanding of environmental, political, human rights, economic, democracy, scientific, and social justice issues, etc. We believe this constitutes a 'fair use' of any such copyrighted material as provided for in section 107 of the US Copyright Law. In accordance with Title 17 U.S.C. Section 107, the material on this site is distributed without profit to those who have expressed a prior interest in receiving the included information for research and educational purposes. For more information go to: http://www.law.cornell.edu/uscode/17/107.shtml. If you wish to use copyrighted material from this site for purposes of your own that go beyond 'fair use', you must obtain permission from the copyright owner.