(Italiano) Russia, Russia, Russia: il teatro dell'assurdo USA
ORIGINAL LANGUAGES, 9 Apr 2018
Gary Corseri | Centro Studi Sereno Regis – TRANSCEND Media Service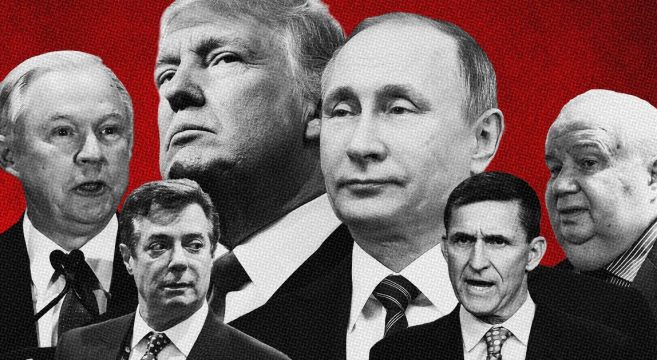 25 marzo 2018 – Il recente articolo di Matt Taibbi di Rolling Stone – v. link in calce – scorre un bel po' di roba; con completezza, arguzia e chiarezza di pensiero.
Per lo più, Taibbi puntualizza quanti guai e quanta confusione siamo riusciti a creare a noi stessi e al nostro mondo dal fatidico 11 settembre. Persi nei nostri labirinti, siamo rotolati giù per la tana del coniglio con Alice, e stiamo vagando per un Paese delle Meraviglie costruito dal Cremlino da almeno gli ultimi due anni! (Ci si chiede: Quand'è che dei cittadini di una vera "democrazia" sono stati così creduloni, e così fuorviati?) Quello di Taibbi è un bell'articolo (e raro!) per varie riflessioni; seguono alcune delle mie:
Forse il nostro più grosso problema è come tutto sia divenuto così sfocato. Dove sono le righe nitide di separazione fra verità, mezze-verità, falsità; fra fantasia e realtà? Nella nostra Neo-realtà, abbiamo perso i nostri paletti, confini, limiti, i nostri sistemi di credenze e di base salda. Senza  confine e limiti, siamo costantemente invasi da immagini, frammenti caotici e diatribe del nostro nuovo Teatro dell'Assurdo — cioè i nostri stessi media di "notizie" guazzabuglio.
Da ragazzino guardavo un ancora acerbo Johnny Carson in uno show di New York City intitolato "Di chi ti fidi?" Il palinsesto di quella TV dei primordi comprendeva "Dire la verità" e "Verità e conseguenze" L'Ora di Walt Disney proponeva "Terra di fantasia" e "Terra di domani" oltre una sciapa "Terra di frontiera" su Davy Crockett e l'assedio all'Alamo. Nel 2018 viviamo in "Terra d'America" – un impero di fantasia dove siamo stati addestrati a non fidarci di chicchessia e aver paura della nostra ombra. Viviamo con una tale paura, paranoia e schizofrenia, diamo per scontato di dover assolutamente avere armi di tipo militare per proteggerci dai "russi" intriganti e dal nostro stesso governo, dagli "altri," addirittura dai nostri sé ombra.
Il mio solo problema con l'articolo di Taibbi era quando alla fine si riferiva a Trump come a un "cazzone fradicio/vizzo" [sleazeball]. Il problema con un tal genere di caratterizzazione è che riduce a figuranti complici circa 60 milioni di americani che hanno votato per Trump. Il che non farà altro che offendere e indurire le posizioni tutt'attorno.
"Il centro non può tenere" scrisse Yeats "Per il mondo viene rilasciata pura anarchia".
Ogni sorta di disastro è probabile entro I prossimi anni con l'implodere dell'Impero (come le Torri Gemelle!), che si sbroglia e lacera a brandelli sé stesso e il nostro pianeta. Ovviamente disastri  geofisici e climatici. Epidemie di malattie nuove e rianimate. Violenza forsennata d'armi da fuoco.  Esplosioni e armi chimiche. Depressione economica. Dissoluzione dell'UE, movimenti separatist in USA, Europa, etc. (Se dietro tutto questo c'è Putin, dovrebbe essere la persona più intelligente e scaltra mai vissuta – un misto di Leonardo da Vinci e Machiavelli!)
Solevano esserci uomini saggi che scrivevano dei begli articoli su roba come il NewYork Times, e parlavano occasionalmente in TV.  (Allora non si rappresentavano abbastanza donne e "minoranze", ma qualcuno come Ruth Benedict, Denise Levertov, Richard Wright, James Baldwin, Lorraine Hansburry potevano affermarsi. Anime luminose come Martin Luther King edificavano tutti quelli che potevano sentire le sue verità risonanti. Anche JFKennedy riusciva a ispirare un'intera nuova generazione con un' "Alleanza per il progresso" e dei "Corpi di Pace" — idealismo che cercava incarnazione). Adesso per lo più il reportage e l'analisi saldi, ragionati, equilibrati,  sono moribondi o defunti. L'idea di Santayana d'imparare dalla storia è sempre valida; ma faremmo meglio a imparare come immaginare anche un mondo migliore, più sano di mente – o cuoceremo lentamente nella nostra agonia definitiva.
Superficialmente, non siamo mai stati più connessi – ma siamo molto disconnessi dalle nostre radici e tradizioni: i nostri ancoraggi intellettuali, filosofici e spirituali. (Dimentichiamo il passato: è "irrilevante!" Avanti, sempre avanti…, ma verso quale fine? Osiamo fare pausa per riflettere? Quanti americani leggono ancora libri? Quanti dialogano piuttosto di twittare?)
"Non leggete Times, leggete re Eternità" ammoniva già Thoreau.
Abbiamo bisogno di un Rinascimento culturale, un'era globale d'illuminismo…, ma con robot a rosolarci gli hamburger, 60.000 senza tetto in LosAngeles, un'epidemia di oppioidi che reclama più vite americane ogni anno e mezzo di quante ne abbia reclamate il nostro barbarismo imperiale in Vietnam in 10 anni, le nostre prospettive sono critiche e troppo smorte da discernere.
E, in cima a tutto questo po' po' di guai … c'è la Russia!
Quand'ero bambino c'era un dentifricio che si chiamava "Ipana". Aveva un sapore normale, ma quel che ne rammento di più è una cantilena insensata che un grosso castoro-cartone animato cantava spazzolandosi i due enormi incisivi sporgenti davanti a uno specchio. Il castoro cantava: "StRussia, stRussia, stRussia con il nuovo Ipana…è meglio per I tuoi denti!"
Ogni volta che sento la parola "Russia" di questi tempi, sento la voce di un castoro coi grossi incisivi e tutti gli pseudo-"patrioti" in un coro confuso, che cantano "Russia, Russia, Russia…con il nuovo Ipana…è meglio per i tuoi denti".
Ecco il link per l'eccellente avventura di Taibbi: Russiagate and the New Blacklist
___________________________________________

Il dr. Gary Steven Corseri è membro della Rete TRANSCEND per Pace Sviluppo Ambiente. Ha pubblicato e postato articoli, fiction e poesie in centinaia di sedi, compresi  TMS (Transcend Media Service), The New York Times, Village Voice, Redbook Magazine e Counterpunch. Ha pubblicato 2 romanzi e 2 collezioni di poesia, e suoi drammi sono stati prodotti da PBS-Atlanta e altri. Ha presentsto sue poesie alla biblioteca e al museo Carter Presidential e ha insegnatoin università negli USA e in Giappone, e in public school e prigioni USA. Contatti: Gary_Corseri@comcast.net.
Titolo originale: Russia, Russia, Russia: America's Theater of the Absurd – TRANSCEND Media Service
Traduzione di Miki Lanza per il Centro Studi Sereno Regis
Go to Original – serenoregis.org
DISCLAIMER: The statements, views and opinions expressed in pieces republished here are solely those of the authors and do not necessarily represent those of TMS. In accordance with title 17 U.S.C. section 107, this material is distributed without profit to those who have expressed a prior interest in receiving the included information for research and educational purposes. TMS has no affiliation whatsoever with the originator of this article nor is TMS endorsed or sponsored by the originator. "GO TO ORIGINAL" links are provided as a convenience to our readers and allow for verification of authenticity. However, as originating pages are often updated by their originating host sites, the versions posted may not match the versions our readers view when clicking the "GO TO ORIGINAL" links. This site contains copyrighted material the use of which has not always been specifically authorized by the copyright owner. We are making such material available in our efforts to advance understanding of environmental, political, human rights, economic, democracy, scientific, and social justice issues, etc. We believe this constitutes a 'fair use' of any such copyrighted material as provided for in section 107 of the US Copyright Law. In accordance with Title 17 U.S.C. Section 107, the material on this site is distributed without profit to those who have expressed a prior interest in receiving the included information for research and educational purposes. For more information go to: http://www.law.cornell.edu/uscode/17/107.shtml. If you wish to use copyrighted material from this site for purposes of your own that go beyond 'fair use', you must obtain permission from the copyright owner.